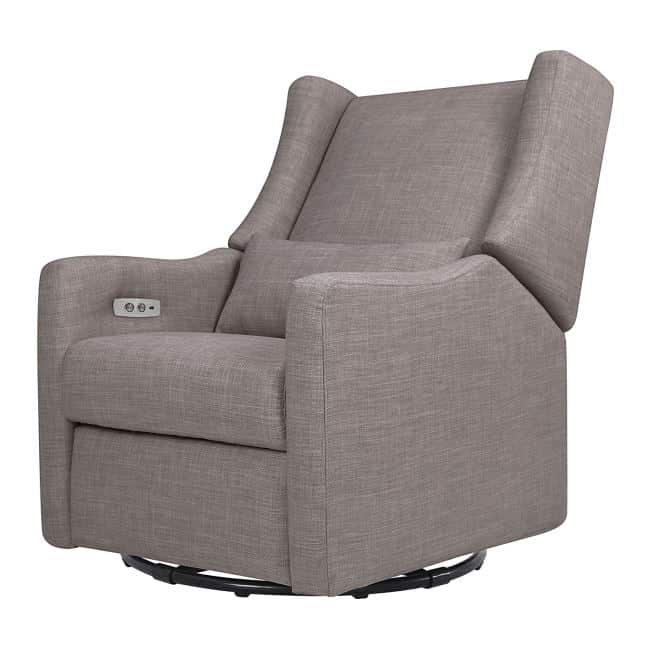 10 Best Power Recliners with Lumbar Support
Physical pain, and how we deal with it, is a very individual and personal experience. Back pain is a widespread health issue in the world today. If you are one of those back pain sufferers, then you will probably benefit from using a reclining chair with lumbar support. But not all reclining chairs have lumbar support; some recliners are better for mid or upper back pain. Here we have listed ten great recliners with lumbar support that offer a variety of features.  
Most Recommended Recliners in 2021
10 Best Power Recliners with Lumbar Support
---
RECLINER NO. 1 – Electronic Power Recliner and Swivel Glider with USB Port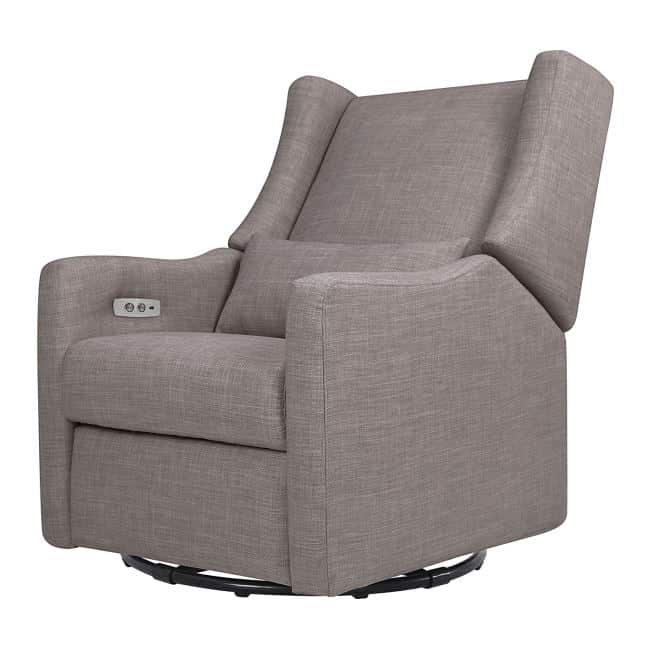 The gorgeous, modern recliner has more than just fashion and style going for it. This electronic-controlled chair comes with a USB port to keep your gadgets charging while you take a nap. Wires are not an issue when it comes to adjustments. This chair offers an easy-to-operate remote control for you to adjust the settings according to the position you desire. So as not to disfigure the chair, the electronic control panel is hidden within the armrest. Another great feature is the swivels that are capable of turning 270 degrees. On top of that, this recliner offers a one year warranty. On the negative side, this chair is slightly expensive as compared to other brands.
---
RECLINER NO. 2 – Top Grain Leather – Power Recliner – Power Headrest – Powered Lumbar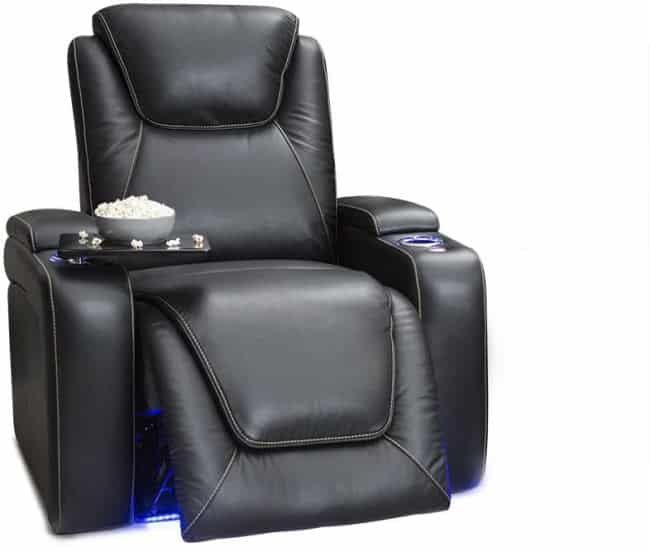 Yet another modern recliner that combines comfort with elegance. It comes with the finest material and genuine top-of-the-line leather upholstery. This leather, as well as the midnight-black color of the chair, adds a luxurious style to your living room.  Additionally, this product offers adjustable headrest and lumbar support that reduces back pain. It features a soft pop-up leg rest, smooth gliding, and 360-degree swivel – suitable for nursing mothers. The recliner gets more attractive with extra features such as the two cup holders and a swivel tray. The downside of this recliner is the LED light. It should have a separate switch to turn off the base light.
---
RECLINER NO. 3 – Electric Power Lift Recliner Chair Sofa for Elderly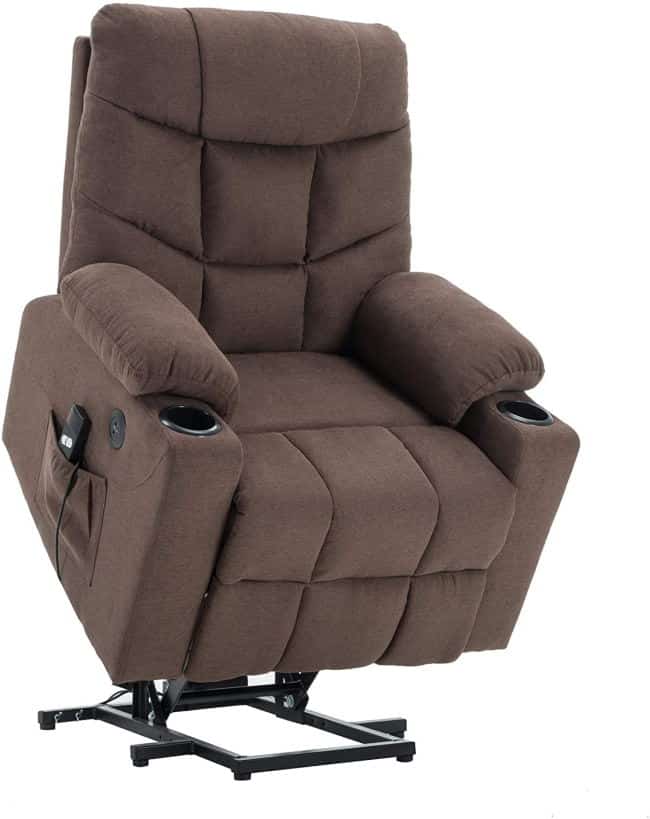 Back pain and muscle pain are among the many health issues these days. But you don't need a masseur everyday to get rid of the pain. This power lift recliner is a powerful recliner chair for back problems. The seat comes with a powerful counter-balanced lift mechanism that pushes the entire chair up. It enables the user to stand easily without asking for assistance. You can smoothly adjust the lifting or reclining position according to your comfort by touching a button. Assembly of this chair is easy since it has color-coded power connections. On the negative side, the chair does not lean back to a horizontal position. 
---
RECLINER NO. 4 – Dark Brown Dual Motor Fabric Lift Chair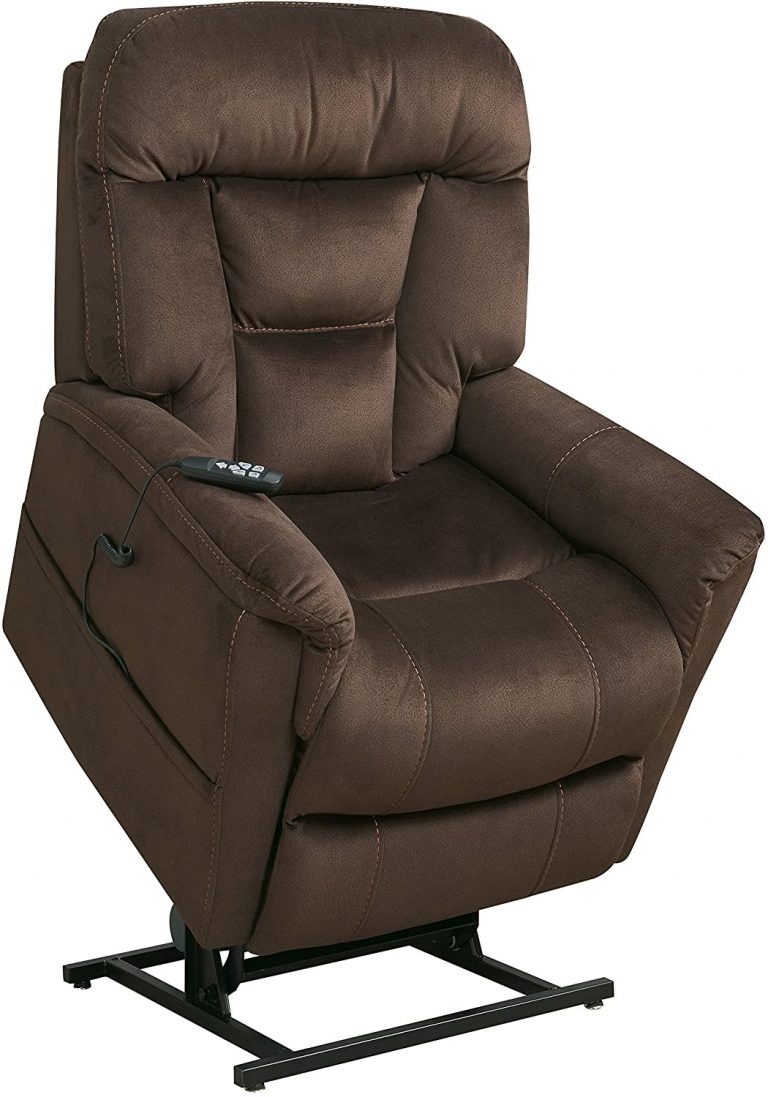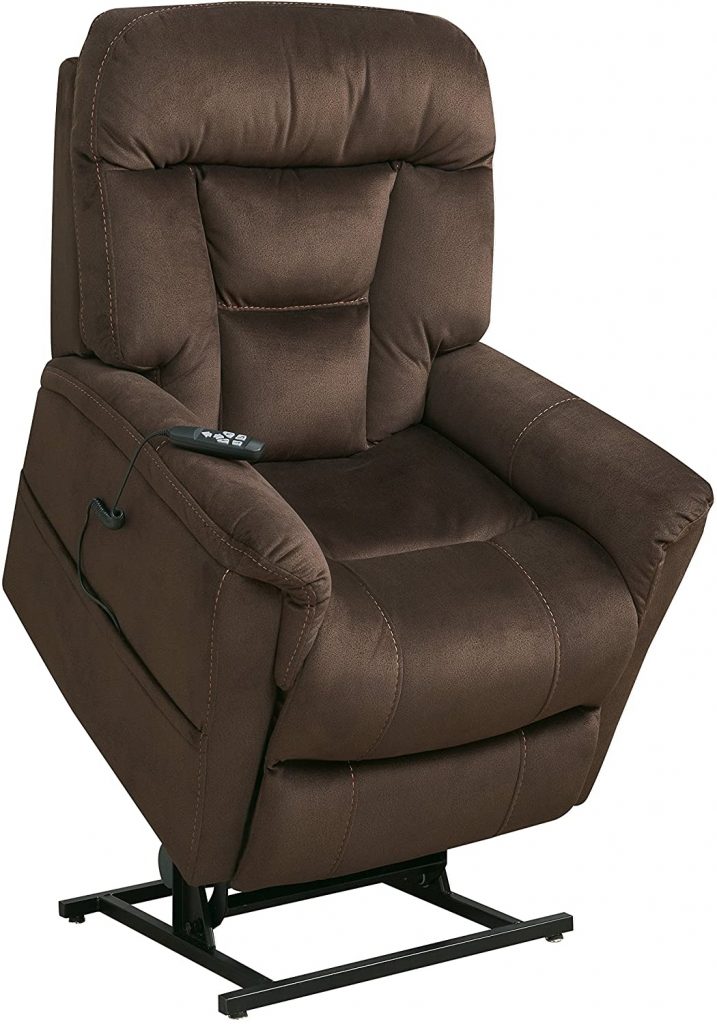 If you love to take a nap or sleep in a recliner in your living room, this recliner is perfect for you. Most users claim that this chair is the best recliner chair that can reduce back pain. This chair comes with excellent features that perfectly satisfy your needs. It offers dual motors that enable the footrest and the back to move independently. Another notable feature is the adjustable lumbar support that is easy to operate. The powered-recline and other impressive features allow your body to experience the magic. The negative side is that it is not a wall hugger; it needs eighteen inches clearance from the wall. 
---
RECLINER NO. 5 – Power Lift Chair Electric Recliner Sofa for Elderly, Fabric Reclining Sofa w/ 8 Point Massage & Lumbar Heat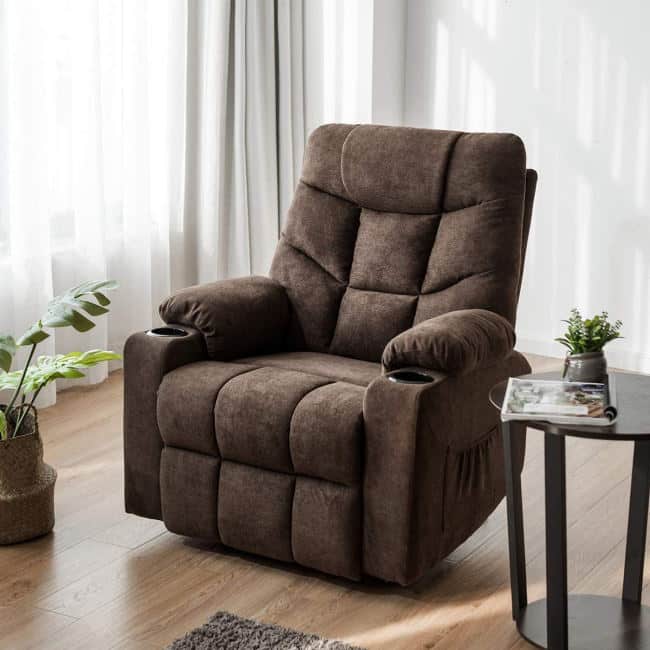 This power lift recliner is extremely stylish and comfortable. It comes with a powered-lift mechanism that lifts you with a gentle and smooth slide. It offers eight vibrating points, four massage areas, five modes, and two intensity levels. For that, it increases the overall comfort of the chair and reduces pain and muscle stress. Additionally, the lumbar heating function works separately with vibration making stiff muscles to relax. Moreover, this chair is suitable for the elderly due to its excellent lumbar support and firm seat cushion. The downfall of this chair is the fabric that appears to be thin. Lastly, the power motor is quite slow in lifting and reclining. 
---
RECLINER NO. 6 – Home Theater Seating Big & Tall 400 lbs Capacity – Top Grain Leather – Power Recline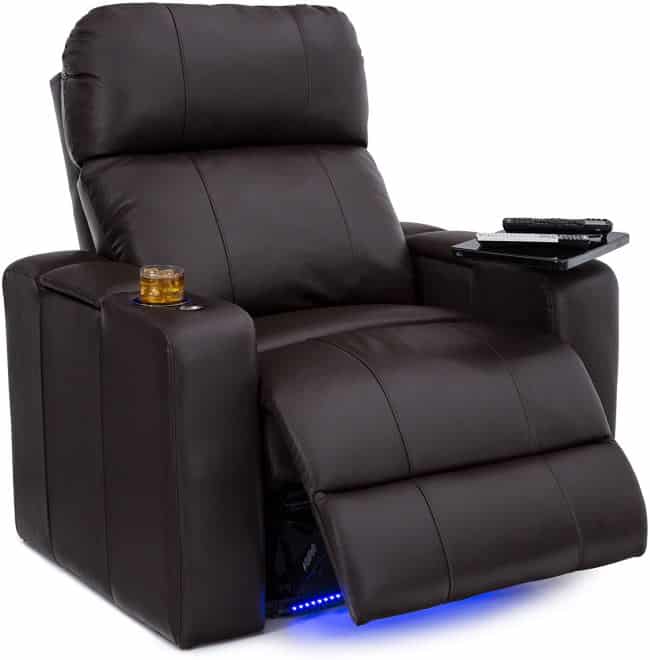 One way to combat the fight against lower back pain is to have an excellent reclining chair. This home theater power recliner is the perfect option. It combines excellence and functionality, making it more attractive to its users. Additionally, this chair curbs and soothes aching backs and muscles; it is indeed worth your investment. This power recliner comes from premium grade leather to ensure unmatched durability. The chocolate-brown color of this chair perfectly blends with your interior décor. The ambient base lighting makes this chair look classy and elegant. The only negative side of this chair is the weight, which is too heavy. 
---
RECLINER NO. 7 – Power Recliner Chair Headrest & Lumbar Support Adjustable with Three Motors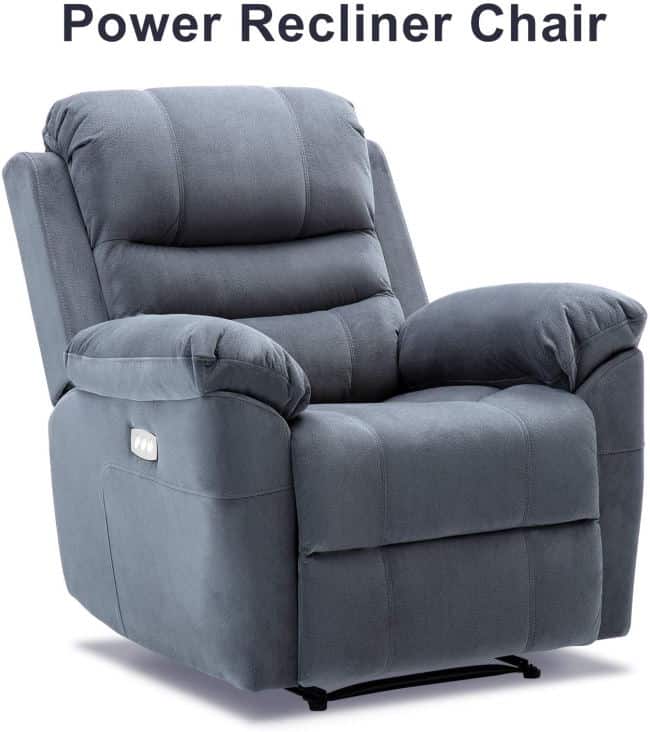 Sitting in an upright position for longer hours can bring a lot of back complications. This recliner chair is the best option to curb back pain and aching muscles. It comes from ultra-soft velvet fabric upholstery, which is stain-resistant and durable. It offers a smooth and effortless lift motion and reclines in an easy and even manner. The handy remote control enables you to adjust the lifting and the reclining position of the chair. This attractive chair is easy to assemble; you don't need any tools to set it up. The negative side of the chair is its size; it is too small for overweight and tall people. 
---
RECLINER NO. 8 – Electric Power Lift Recliner Chair Sofa with Massage and Heat for Elderly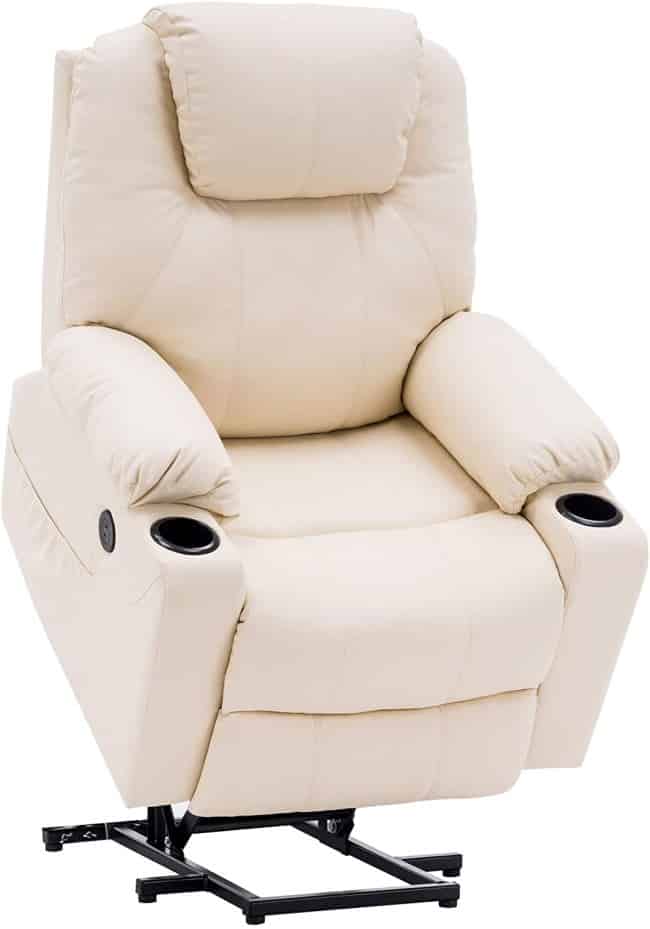 If you have any difficulties due to back pain and stiff muscle, then this recliner is perfect for you. The chair is excellent for people suffering from chronic back pain. It helps people with disabilities as well as the elderly to get out of the chair without assistance. This chair also provides a gentle massage to soothe stiff muscles and joints while relaxing. The other attractions of this recliner chair are the USB ports, remote control, and the cup holders. The only negative side of this chair is the weight, which is too heavy to move. One thing more, the chair does not recline to a flat position.
---
RECLINER NO. 9 – Top Grain Nappa Leather, Power Reclining, Power Lumbar Support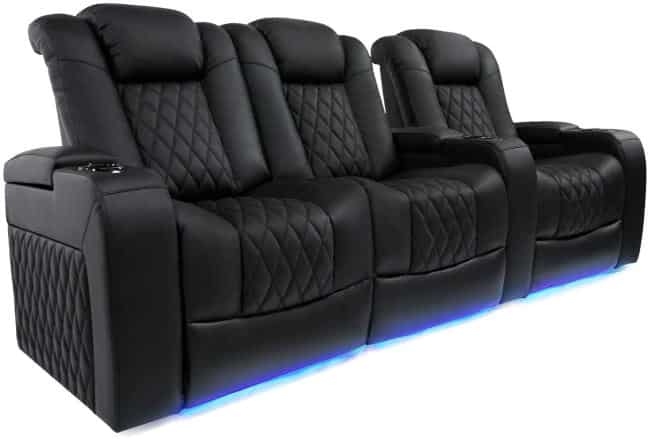 This amazing theater set is one of the top recommendations of many users all over the globe. It comes with a genuine and premium-grade leather material that is breathable. This chair provides multiple remarkable features for maximum comfort and convenience. The easy to use control system helps you to adjust its settings according to your desire. Additionally, this chair offers a storage compartment at an arm's reach to keep your stuff. A USB port comes along with this chair, so you can charge your gadget while taking a nap. On the negative side, the chair is too heavy to move if you are alone, and it is expensive as well.
---
RECLINER NO. 10 – Wall Hugger Power Lift Heated Vibrating Massage Recliner Chair with Wheels/Control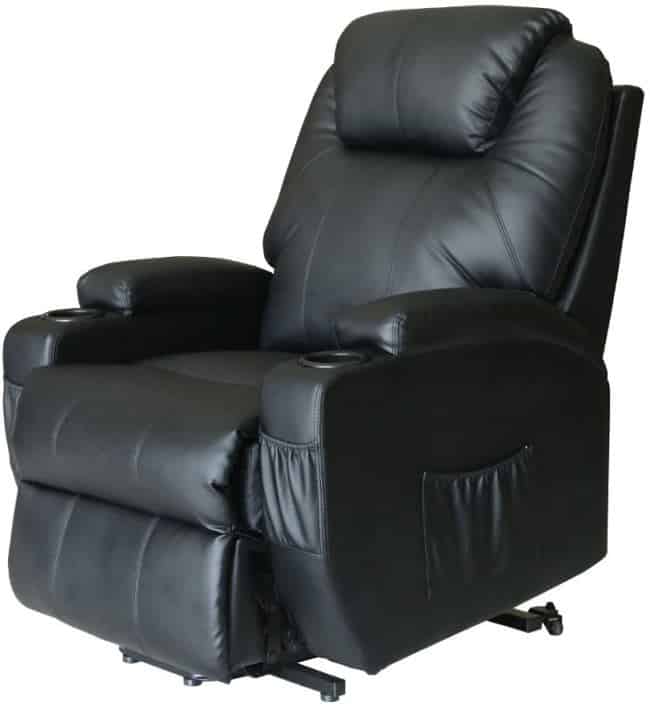 Nothing is more daunting than having back pains and aching muscles. However, relaxing your body and muscles is simple nowadays. All you need is a recliner chair with a heated-vibrating massage like this model. It comes with breathable PU leather that is water-resistant and easy to clean. It is by far a superior lift and massage chair with a classy look. The thickly-padded back and armrest ensure extreme comfort, making it ideal for back pain sufferers. Additionally, this chair comes with eight massage points that target four zones – the upper back, the lumbar, the thigh, and the lower legs. The downfall of this chair is the height that does not fit taller people. Lastly, the chair does not fully recline. 
---