5 Best Nursery Gliders for Your Babies in 2023
Recliners Guide is reader-supported. We may earn a commission through products purchased using links on this page. Learn more about our process here.
Just like you need spurtles in your kitchen, a vacuum in your living room, you should have a cozy glider for your baby room. Your glider needn't only be functional or cheaper, it should also be equally cozy and stylish one that adds value to the aesthetics of your bedroom. You can feed your baby on a glider perhaps in a more manageable manner than you used to be. An ideal recliner should recline with the touch of a button and swivels with ease. Our editors have rounded up the most popular nursery gliders to soothe your littles.
5 Best Nursery Gliders for Your Babies in 2023
---
(i) Babyletto Madison Swivel Glider in Ivory Boucle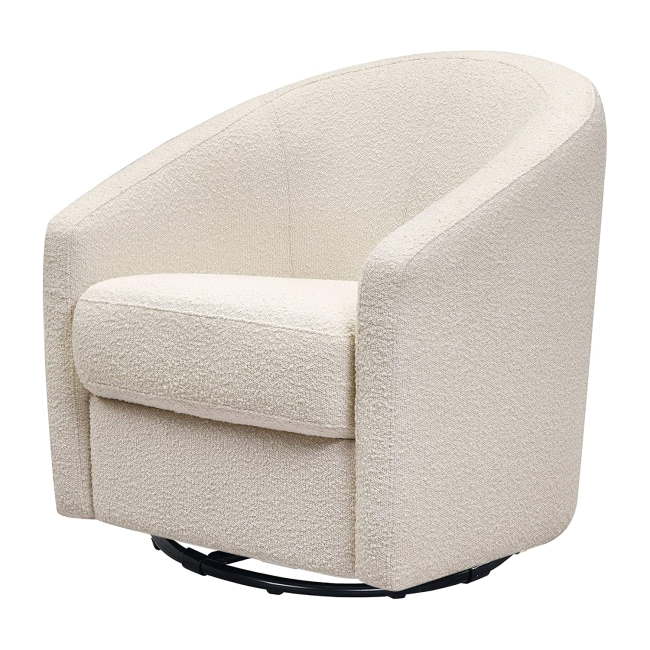 The Babyletto Madison Swivel Glider does all the required functions like rocking, gliding, and rotating not to mention its pleasing beautiful color in an appealing price. The ivory or beige color is almost entirely universal one that suits all moms. The glider is sturdy and it lasts longer with the compact size. If you've a lower back issue this particular chair will provide reasonably good lumbar support. One of the reviewer says, "it it moves smoothly without making noise, and works well with their matching footstool". It doesn't take too much space but the chair isn't small at all. It's perfect for nearly all individuals. If you're concerned about spilling anything on it then you should now that the microsuede can be cleaned or washed away easily and it'll be as good as new. The recliner doesn't squeak or crack at all.
(ii) Evolur Raleigh Upholstered Plush Seating Glider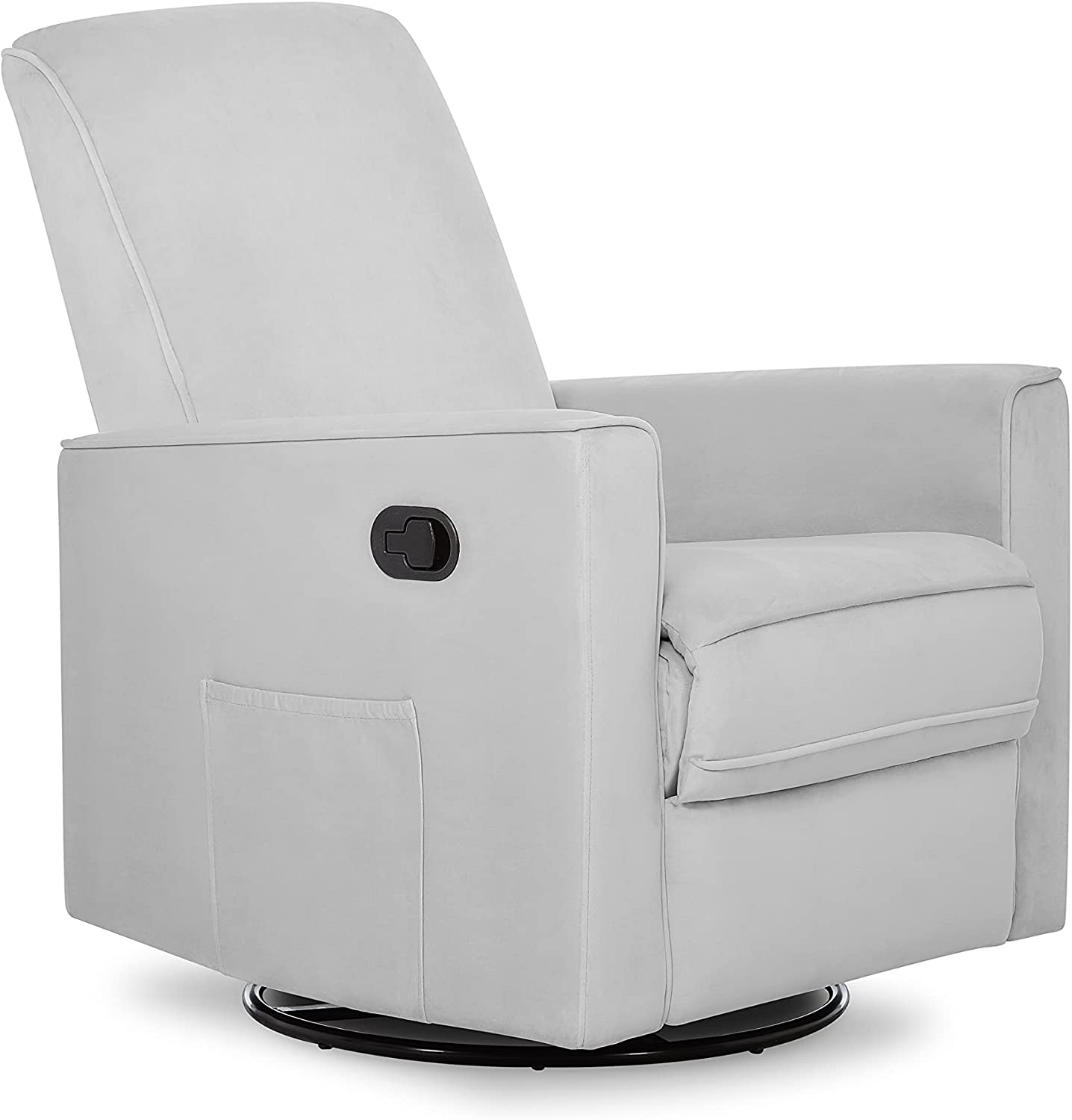 The Evolur Raleigh Upholstered Plush Seating Glider is neither too big nor too small that you can't fit in comfortably. While the assembly is comparatively easy the only concerned was the footrest. It's a little hard for moms to kick the footrest especially when they're baby is asleep. It's not that difficult but you do need strong legs. The overall score of this glider is extremely good and reviewers are pretty happy about it. It also offers a range of different shades and the metal base is strong enough to support the weight.
(iii) Storkcraft Premium Hoop Glider and Ottoman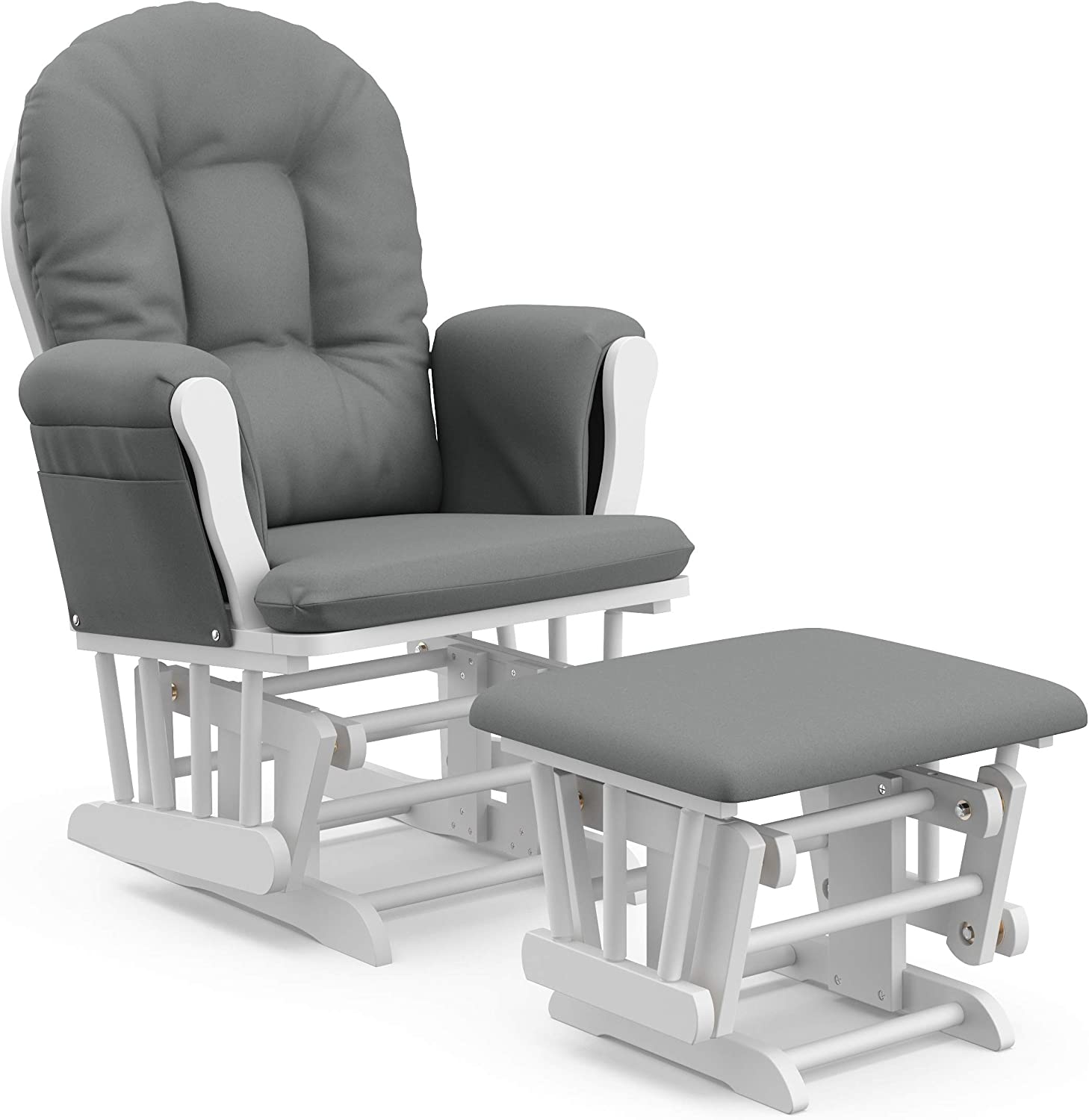 If you're low on a budget and you're looking for a glider that isn't only affordable and stylish but also promises many years of sitting then the Storkcraft Premium Hoop Glider and Ottoman is probably the right choice for you. The glider is small and is limited to many feeding positions but it never produces a jerky motion as you can easily feed your baby. The seat isn't heavily padded at all but then again it doesn't make you sink in it with an easy-to-clean polyester. You can put your babies to bed without any worries and the seat is so cushy that your cat or a dog may claim it when you're not around. The assembly is simply straightforward but you are not really concerned about it with this price range. Your baby's head can bump into the arm so it's better to put some blanket or a towel to the end of its arm.
(IV)
Babyletto Kiwi Electronic Power Recliner and Swivel Glider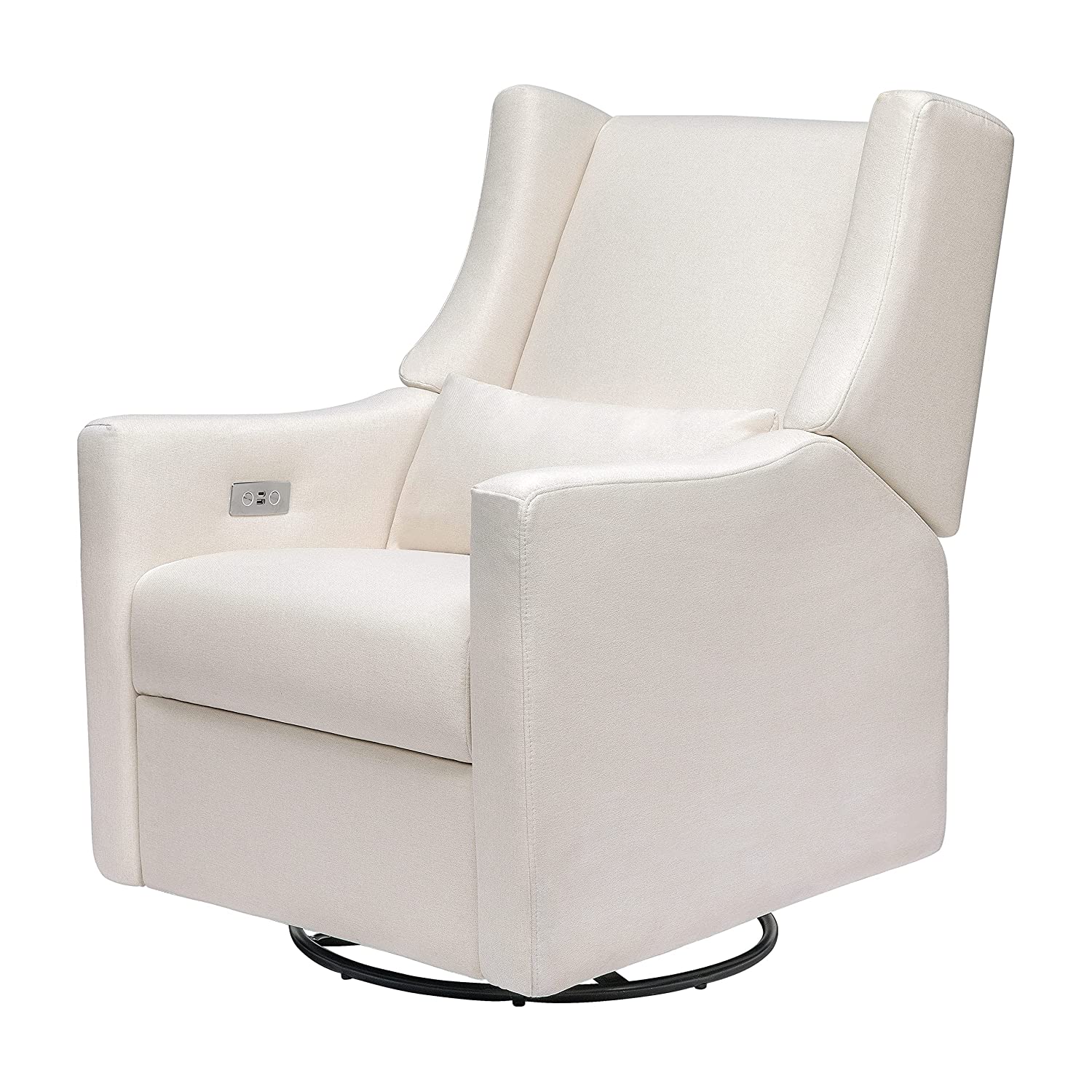 On the Babyletto Kiwi Electronic Recliner all you need is to sit back and relax and maybe spend some time with your pet dog. The glider chair will take up much of your chores for you. A baby feeding isn't an easy task especially if you don't get support from anyone. The Kiwi electronic glider will make you feel like you're left alone. You don't have to see the clock every time you feed your baby. In fact you'll feel better than your baby. Unlike most other cheap recliners, this one has a footrest that goes down with the touch of a button. The reclining mechanism is super quiet. The USB charging port is right next to the button so you can charge your cellphone too.
(V)
Babyletto Cali Pillowback Swivel Glider in Performance Cream Eco-Weave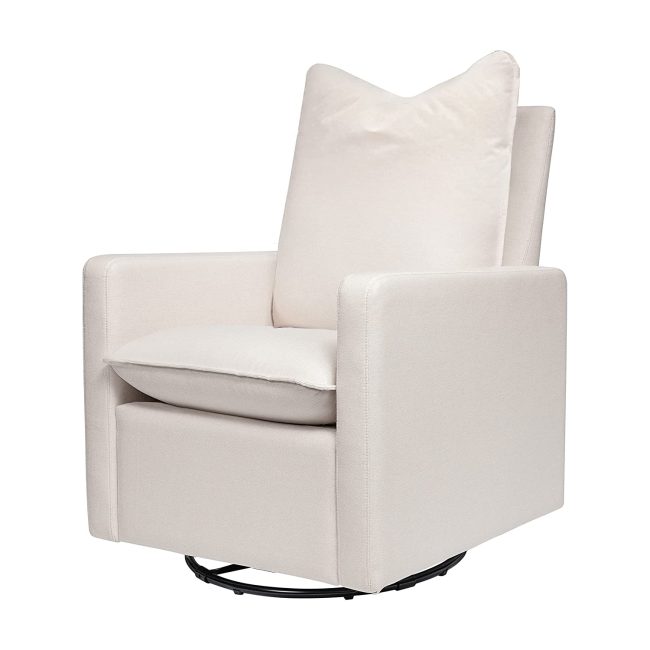 What i really like about the Babyletto Cali Pillowback Swivel Glider is that it perfectly complements your bedroom decor. The expensive beige fabric isn't only easy to clean it feels great to your hands. The super soft cushion will ease your back while you feed your little ones. We highly recommend this glider for the price. The rocking chair is durable and will last for years. The pillow back is so comfy and soft that you can easily fall asleep at night. The back cushion might leave just a little gap on the bottom but you can put a pillow on it which would hide the gap.
---
What to Consider While Choosing a Rocker or Glider?
Glider or Rocker
Prominent among the nursery chairs are gliders or rocking chairs. Rocking chair allows you to move forward and backward especially for mothers whose babies are just a little fussy. The rocking chair's frame is mostly made of classic wood. However, the rocker takes space as compared to gliders. Furthermore, your baby can get hurt if he/she crawls on a rocker. Their little hands can get stuck in the recliner's parts.
Unlike rockers, gliders aren't only super quiet and comfy they take less space. But gliders are limited to their positions with a few can swivel 360 degrees.
Comfort and Support
No wonder, comfort is probably the number one priority for most mothers while choosing their feeding chair. But you do need some levels of padding to make you feel rather more comfortable at night. A few gliders does seem to leave a gap at the bottom while others have not-so-soft armrests. Adding pillow to these chairs will make your day. As a mother you shouldn't fancy buying glider that is too soft so you won't get up easily with the baby on hand. The depth of the chair as well as your height will make you choose the specific glider.