Top 5 Stylish Low Profile Recliners – 2023 Reviews
The low profile recliner is simply a recliner that stands very low to the ground or simply just a short recliner chair. These types of recliners are out on the market in various shapes, sizes, upholsteries, and functionalities. Also, there are available options you can choose from – the manual or the power recliners. Like other recliner chairs, the low profile recliners offer some benefits. Among the many benefits are better support, durability, and height itself. Remember, the lower the height, the easier to stand and exit from the chair. Apart from the benefits, these low profile chairs offer various amazing features such as: 
Adjustable and relaxing reclining position options.

A retractable thickly-padded footrest or Ottoman.

Allows your legs to freely touch the ground or floor while sitting. 

Keep side table at an arm's reach or even items dropped on the floor. 

Saves space since most low profile chairs are small and compact.
If you are planning to purchase a low profile recliner chair, please read on. The below listed items will help you get the best low profile recliner chair.
Top 5 Stylish Low Profile Recliners – 2023 Reviews
---
RECLINER NO. 1 –
Pritchard Classic Dark Grey Recliner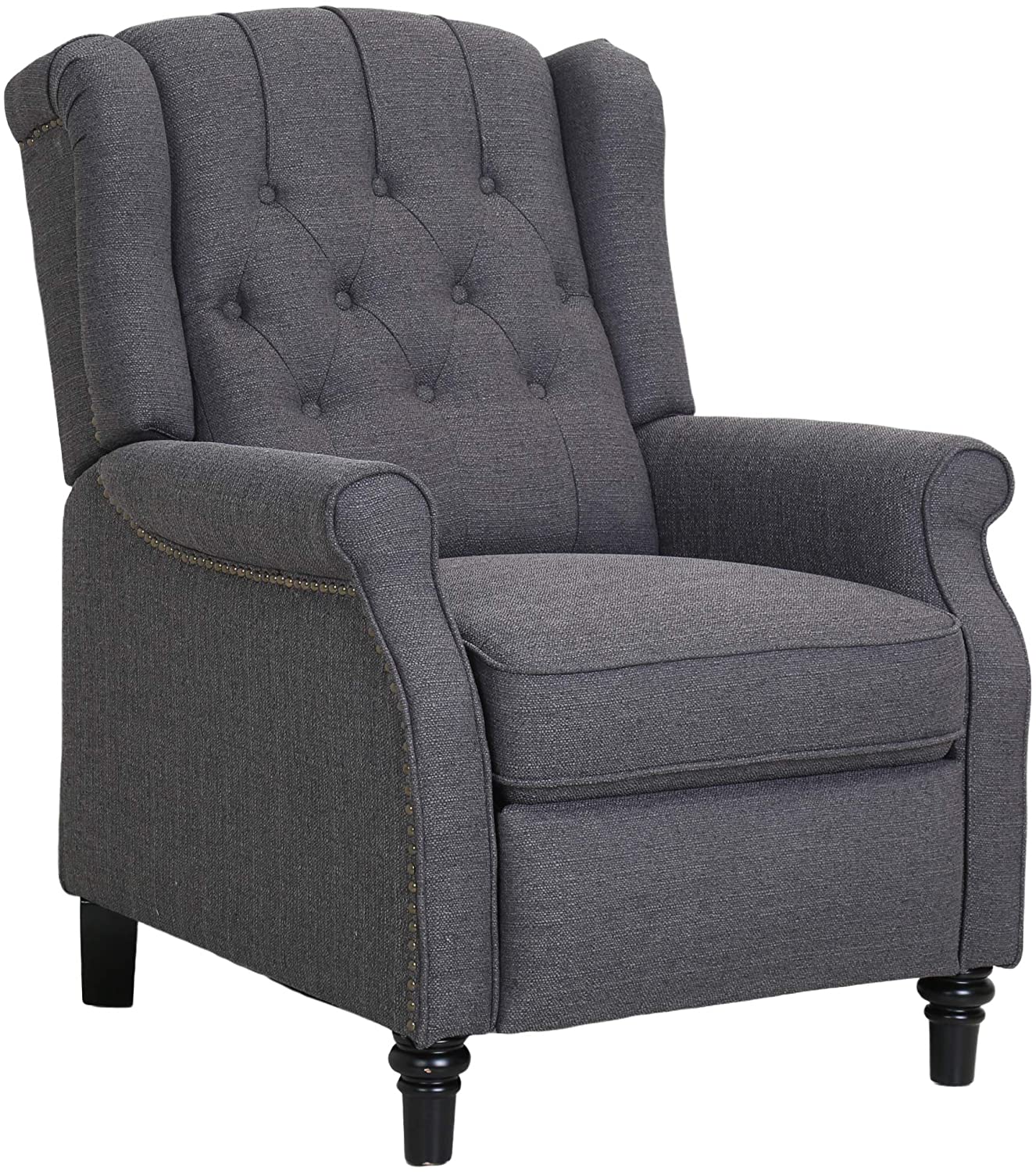 The fashionable fabric-covered recliner looks like a combination of a modern and classic design chair but has a reclining back feature. This popular recliner boasts its durability with the use of premium metal frames and high-grade fabric over the fiberboard. It comes with richly thick padded cushions to make you feel more comfortable while taking a nap. Despite the thick cushions, the upholstery gives enough firmness to provide adequate back support.  The chair reclines easily without using a switch or a lever; all you have to do is to lean back. If you want to retract, just push down the footrest; it will automatically return to its sitting position. Also, the chair is quite large and spacious that it can hold tall people with large body-built. The other notable feature of this item is it is easy to assemble and install. Moreover, the negative aspect of this product is the manual pushback that might give difficulties to the elderly. 
---
RECLINER NO. 2 – Pushback Recliner Chair, Tufted Armchair with Padded Seat, Backrest
If leaning back is not enough for you, then this chair is just the right option. You can easily recline it with just a simple push back. It is a perfect companion in your living room or nursery. This chair is a combination of style and functionality rolled into one. This functional sofa comes with an adjustable backrest and retractable footrest for extra-comfort and relaxation. It is ideal for those who do a lot of leg-work for the entire day. This recliner delivers thickly-padded seats stuffed with a soft and cottony sponge to make you more comfortable when relaxing.  Despite its softness, the padding is firm enough to provide ample back support. Moreover, this recliner is rather small for large individuals. It is not suitable for individuals weighing more than 250 pounds and stands more than 6 feet. Lastly, this chair is easy to assemble; it does not need any tools to do it.
---
RECLINER NO. 3 – Push Back Recliner Chair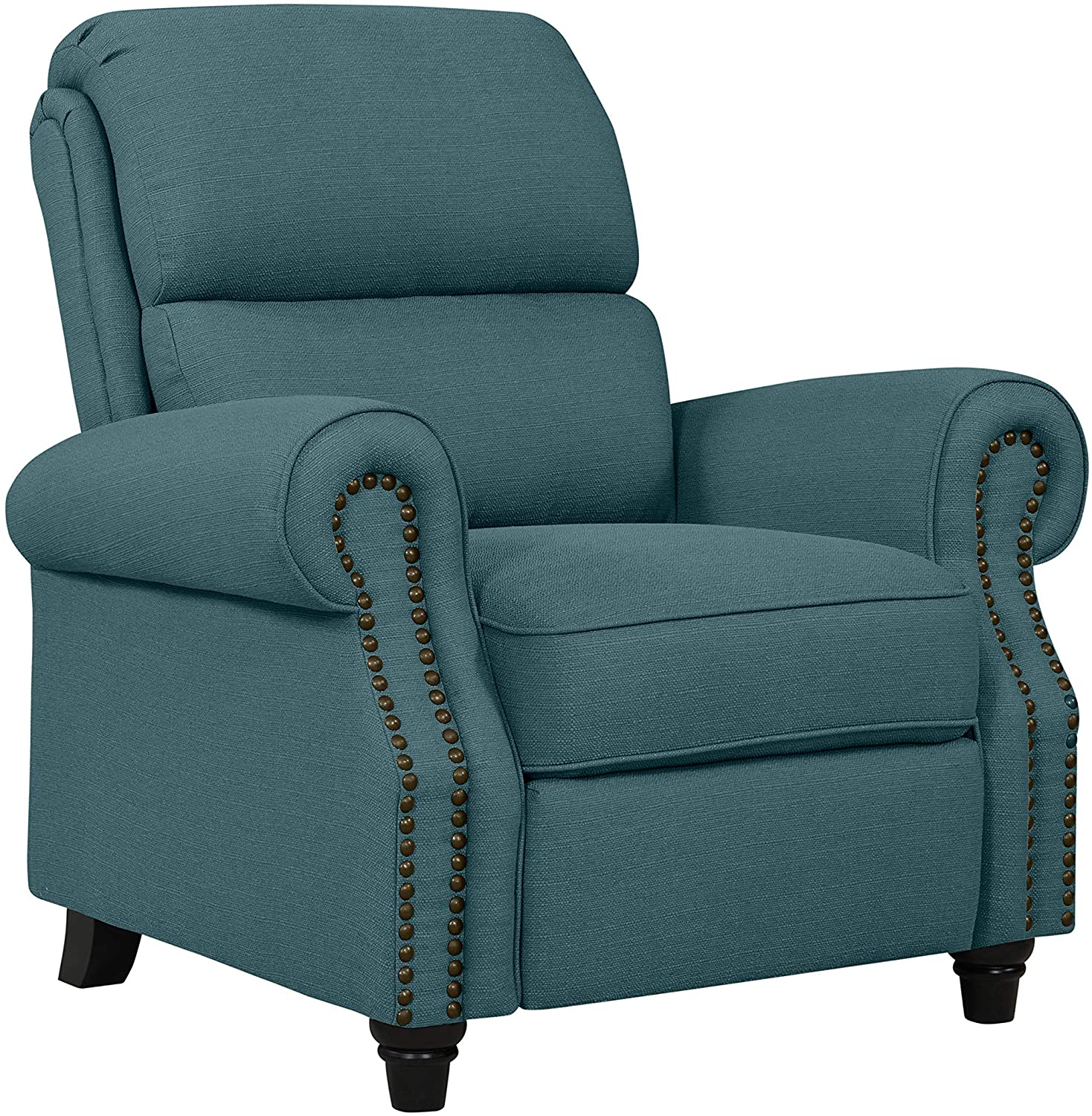 This classic Linen Fabric recliner chair is one of the most popular furniture on the market these days. Its lush blue color complements with any furniture in the office or home furnishing.  The intuitive recliner design allows you to simply lean at the back of the seat to be able to recline. No more buttons or bulky levers to use to obtain your desired comfortable position. The upholstery uses premium quality linen that is gentle on your skin and easy to clean as well. It comes with a pocket coil cushioning, making sure it will last for several years. The bronzed-nail head accents add elegance to the recliner to make it more fashionable. Similar to other recliner chairs, this item is easy to assemble and install as well. Tools are not essential when setting up the item, and it will only take a couple of minutes to set it up. The only downside is the size of the chair. An individual who stands more than 6 feet and weighs more than 300 pounds will find this recliner chair most uncomfortable.
---
RECLINER NO. 4 – Traditional Fabric Recliner, White And Blue Floral Pattered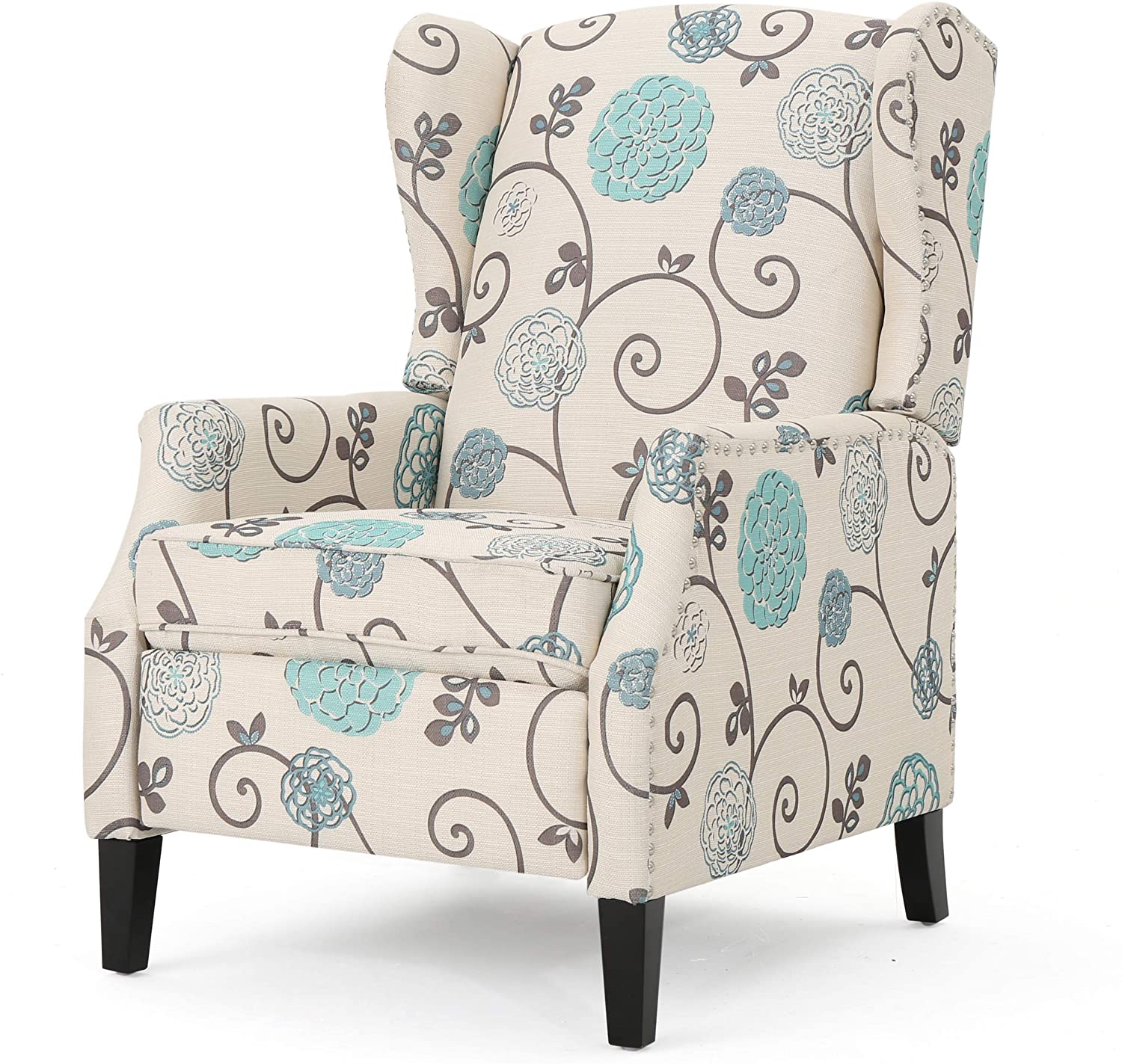 This top of the line wing back classic recliner surely adds beauty and sophistication to your living room. It provides a sleek floral design that adds elegance in the room or office, making it the best-looking recliner. The fashionable pattern, prints, and fabric with studded borders on the sides improve the visual appearance of the room. The fabric that wraps this chair is extra-soft, giving you that smooth plush feeling while sitting on it. It comes with extra padded cottony soft cushions to give you the most comfortable feeling when you take a nap. It is lighter as compared to other recliners; thus, you can easily move it from one place to another. The pinewood frame is sturdy and durable to make sure the sofa will last longer. On top of that, this chair leaves enough clearance from the bottom seat to the floor. This gives ample space for a vacuum sweep through for your weekly or daily cleaning task. A non-waterproof and non-stain resistant fabric is the only downside of this chair. 
---
RECLINER NO. 5 – Grey Fabric Massage Recliner Chair 360° Swivel Heated Ergonomic Lounge Reclining Chair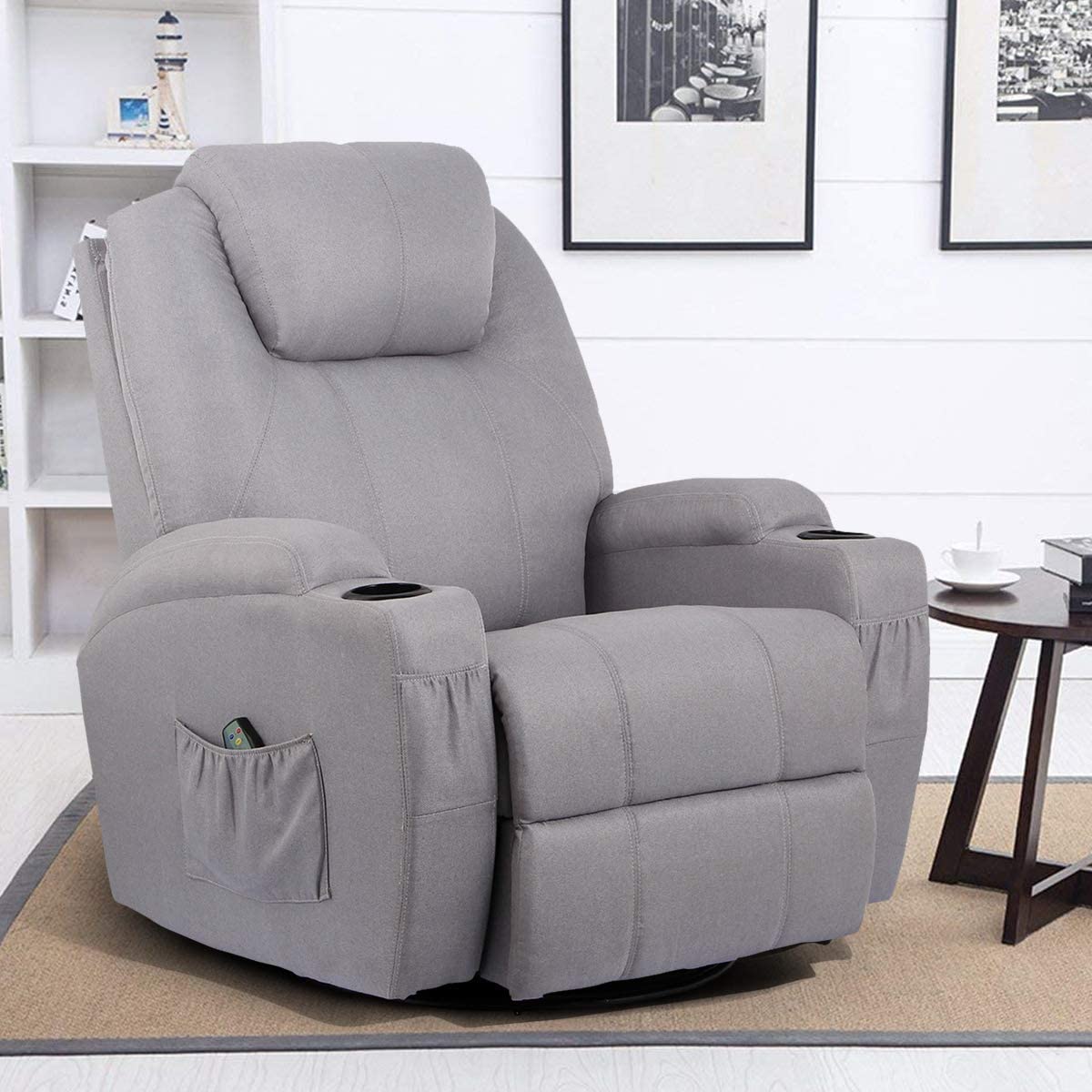 This topnotch fabric massage recliner is one of the leading recliner chairs on the market today. It is the best option to relax your tired body after a long day's work. This functional chair is durable, the most relaxing and comfortable recliner you can have. This chair is not as big as its counterparts, but it is large enough for the vast majority of users. It comes with a thick padded armrest and a supportive back to give you optimum comfort and convenience. Using the remote control, you can choose various massage functions.  The swivel seat that is capable of turning 360 degrees is one of the unique features of this chair. This ergonomic, smooth rocker, and lumbar-heated seat, provides optimum relaxation and comfort after a long tiring day. Most users choose this type of recliner chair because of its breathable PU leather upholstery. The downside of this recliner is its size that cannot accommodate people with large body built. Another minus factor is the cup holders that are not capable of holding whiskey glass or coffee mug.