9 Best Recliners with Heat and Massage in 2023 Reviews & Guide
Recliners Guide is reader-supported. As an Amazon Associate, I earn from qualifying purchases. Learn more about our process here.
There are many different kinds of massage recliners out there. Some of these are made of leather while others are wrapped in microfiber upholstery. The heat and massage works great in cooler nights, especially for elderly who are cold often. Whether you've achy muscles or back pain, the massage feature vibrates your body and relieves your frazzled nerves. Typically, it isn't a rolling massage but only vibration-like motion, but enough to relax your muscles. Likewise, the heating works great in cooler nights as it warms up your lower body area quite nicely.
Quick Links
9 Best Recliners with Heat and Massage in 2023
---
(1)
MCombo Fabric Electric Power Recliner Chair with Heat and Massage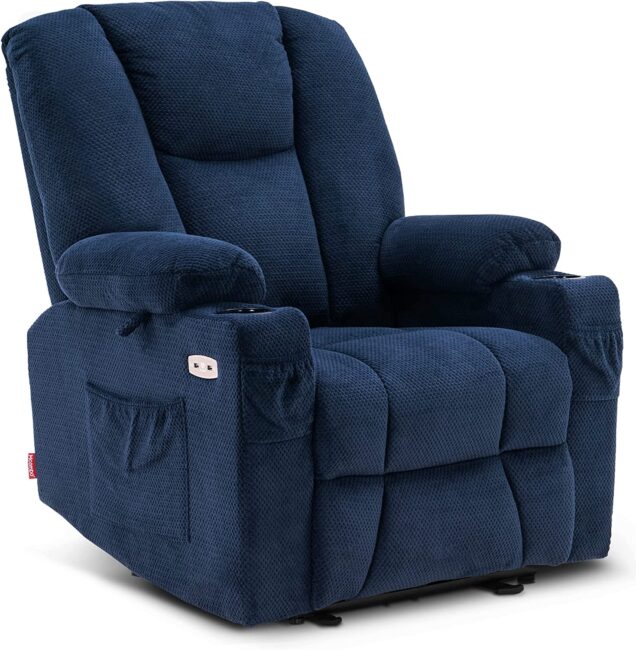 The MCombo Fabric recliner is super quiet and it's relatively easy to put together. This will probably exceed your expectations because of its comfort and price. It comes with the remote for heat and massage function. The heat feature will reasonably warm your body but not too much however the massage feature is ideal. You'll be pleased with its overall built quality and special features.
Special Features
Comfortable and stylish.
Reasonable price.
You'll literally feel the massage.
It comes with remote control.
Pockets and cup holders.
---
(2)
Magic Union Power Lift Chair Electric Recliner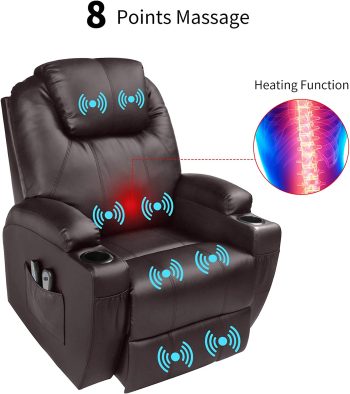 The Magic Union Power Lift Recliner offers quite many functions like padded headrests, two convenient cup holders, four pockets, and high-quality motor that doesn't make any noise at all. While the chair isn't suitable for tall individuals like taller than 5 feet 6 inches it's perfectly ideal for senior citizens. The eight massage functions will primarily focus on your lower back or lumbar region to ease your pain. The ergonomic design as well as its color will complement the over décor of your living room.
Special Features
The armrests and headrests are thickly padded too.
Recliner's seat doesn't sink too much so you can get up with ease.
A quiet operation of a high-quality motor literally adds up to its features.
A faux-leather seat is easy to clean.
The recliner leans up to a maximum angle of 130 degrees.
It also offers as many as four pockets so you can put remote, stationery, and cellphones in it.
---
(3) Power Lift Recliner Chair for Elderly, Lift Chair with Heat and Massage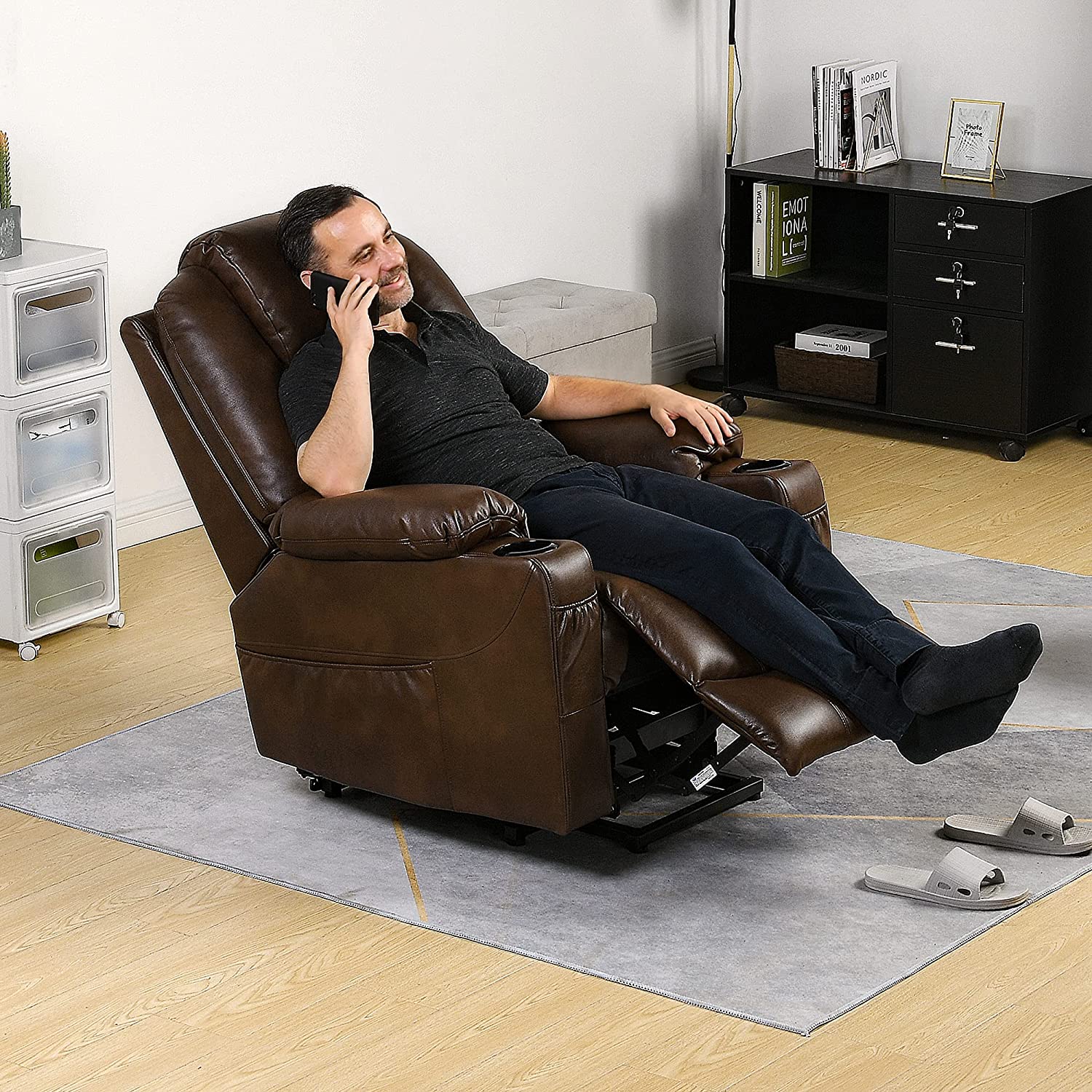 The YITAHOME Power Lift Recliner Chair is all too good and suitable to be doubted. With the weighing capacity of 300lbs the chair can accommodate just about any individual however bulky he/she may be. The footrest and backrest work independently. The only probable downside is that it comes with the black color only. You can also choose the massage area you need to use. Assembly is straightforward with the instruction manual. The chair is an ideal choice for elderly especially for those who struggles to get up on their own after sitting.
Special Features
The recliner is a great value for the price.
The heat and massage function work pretty well for elderly people.
It has thickly padded arms and spacious seat.
Easy to clean easy to assemble.
The reclining motor doesn't make much noise.
A corded remote is useful for elderly because they can't drop it.
---
(4)
Genuine Leather Lift Recliner Chairs for Elderly and Pregnant Woman

The EASELAND Genuine Leather Lift Recliner isn't only going to ease your back pain and anxiety it'll make you feel like it's a bad. The assembly is so simple that you can put it all together in just 10-15 minutes. The recliner is all cozy and is made of genuine leather. The frame is robust that can go the distance and offer multiple features. Unlike most other chairs, the Easeland recliner as many as four pockets so you can put your books or remote in it. If you use cellphone while massaging, the chair has two USB ports too. The massager works perfectly well and the elderly woman can sit and lift up with ease.
Special Features
You do not sink down into the recliner which indeed help you to stand up.
The recliner has 4 pockets, 2 USB ports, and
We also recommend this chair for disabled people.
Its seat is made of genuine leather.
The massaging motor covers all your thighs, legs, lumbar, and of course back. However, the heat is only for your lumbar.
It has a breathable surface one that is easy to clean.
The chair supports a weight of 300 pounds.
---
(5)
Bonzy Home Electric Power Recliner Chair with Heat Massage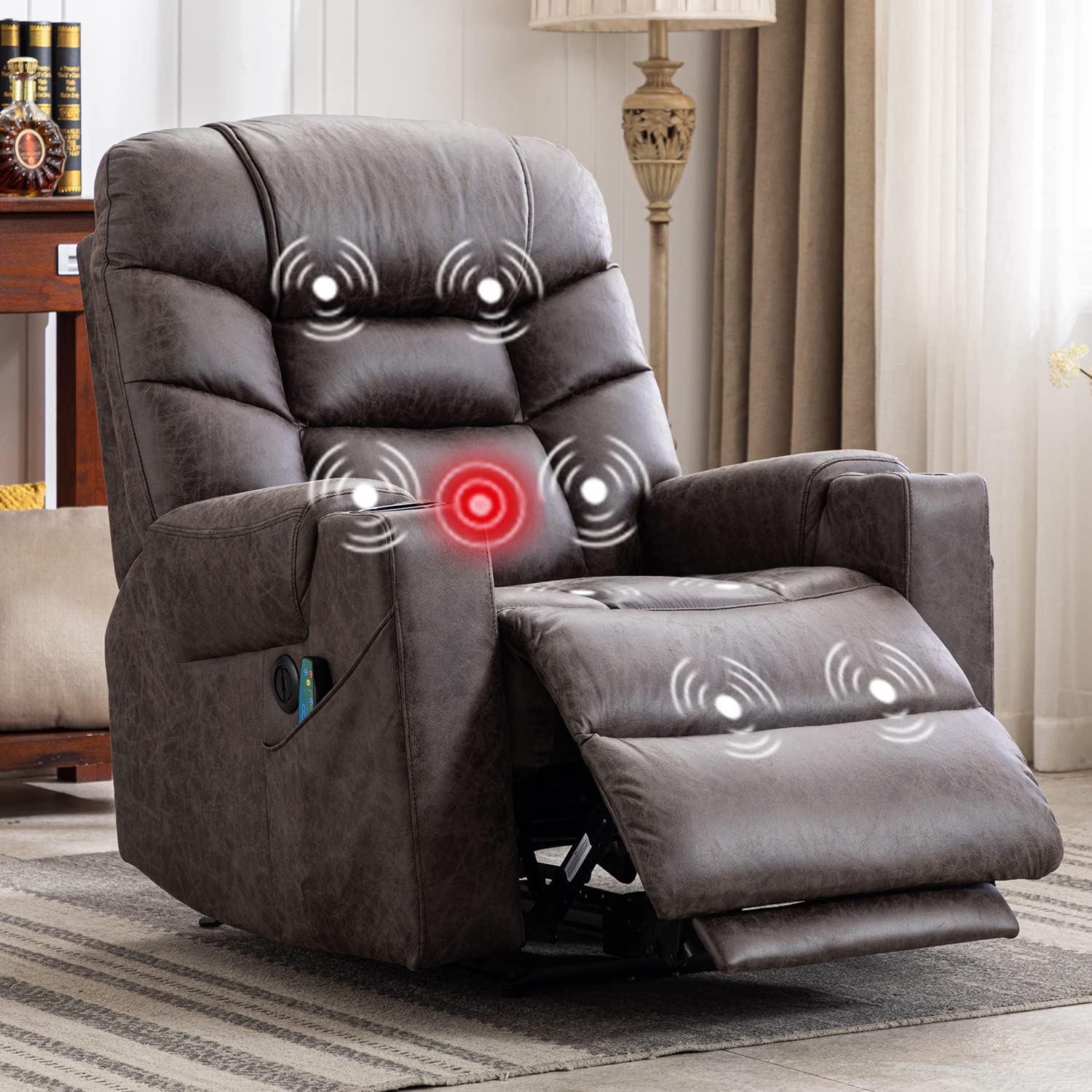 The Bonzy Home Electric Power Recliner Chair isn't just a massage chair it's a theater seat actually. Two side pockets on both sides allow you to put drinks as well as snacks or sandwiches whilst you watch movies. If you wish to recline you can use buttons on the right side of the chair. The chair reclines at a maximum angle of 150 degrees. The overstuffed backseat offers you the cozy experience. Perhaps the most important function is its 8-point vibrating mode one that is super smooth and quiet. The Bonzy chair is an ideal value for the price.
Special Features
The massage chair supports 300 pounds of weight.
It offers as many as eight-vibrating modes.
The chair has a USB charge port.
It has thickly padded seat and the back.
Assembly needs 15 minutes of your time.
The recliner offers sturdiness together with comfort both.
The footrest and the backrest work independently.
---
(6)
Flamaker Power Lift Recliner with Heating and Massage Ergonomic Lounge Chair

The Flamaker Power Lift Recliner Chair comes with the super smooth and quiet motor. It'll prevent you from putting extra force on your knees when you get up from the recliner. Prominent among its features is its four-point massage that'll ease your overall body pain. The heating function is primarily for your lumbar region. More so, the timer function is extremely effective if you wish to set your massaging time.
Special Features
The recliner is made of a durable frame one that ensures that the chair will go the distance.
The chair's backseat and the seat is thickly padded so you feel extremely comfortable.
You do not need any extra tools to assemble the chair.
A PU leather is waterproof and easy to clean.
The chair is however not suitable for people taller than six feet.
Remote controllers are wired but are very simple to get used to.
You can run massage or heat independently.
A great value for the price.
---
(7) Dorel Living Padded Dual Massage Recliner, Tan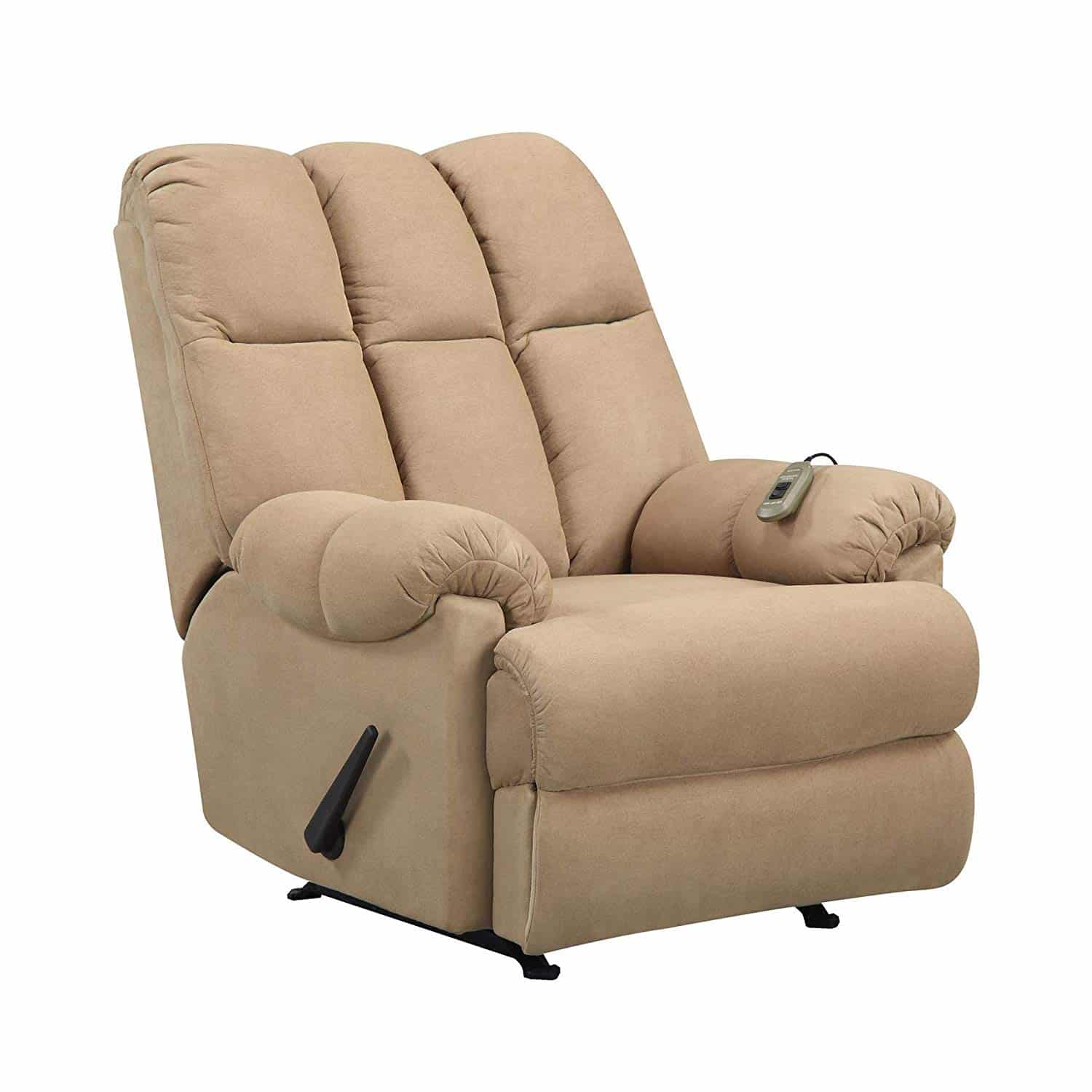 This sofa is wrapped in neutral tan microfiber upholstery, which is soft to the touch and easily cleaned. It features foam seating and sewn-in back and seat cushions. The chair lays all the way back to flat position. This is the perfect chair for persons up to 5'10" or so. But if you're any taller, this couch may be too short. Check out our super collection of recliners for short people. The footrest rises high into a comfortable position and it locks into that position. The recliner is super easy to assemble because it doesn't require any tools. Moreover, it will not take you more than 10 minutes right from the start i.e. from unpacking it to putting it together. The backrest doesn't lock into the reclined position. If you're heavy on the back (or oversized hips), the seat cushion may not be too wide for you. The vibration motion of the massage motor is a little loud. This chair is a tad narrow and it sits slightly low to the ground.
Special Features
The recliner features the massaging function for your back as well as your legs.
The seating is way too comfortable and thickly padded.
You will use the lever to recliner your chair.
Assembly is pretty simple too.
---
(8) MAGIC UNION Power Lift Massage Recliner with 2 Controls Wheels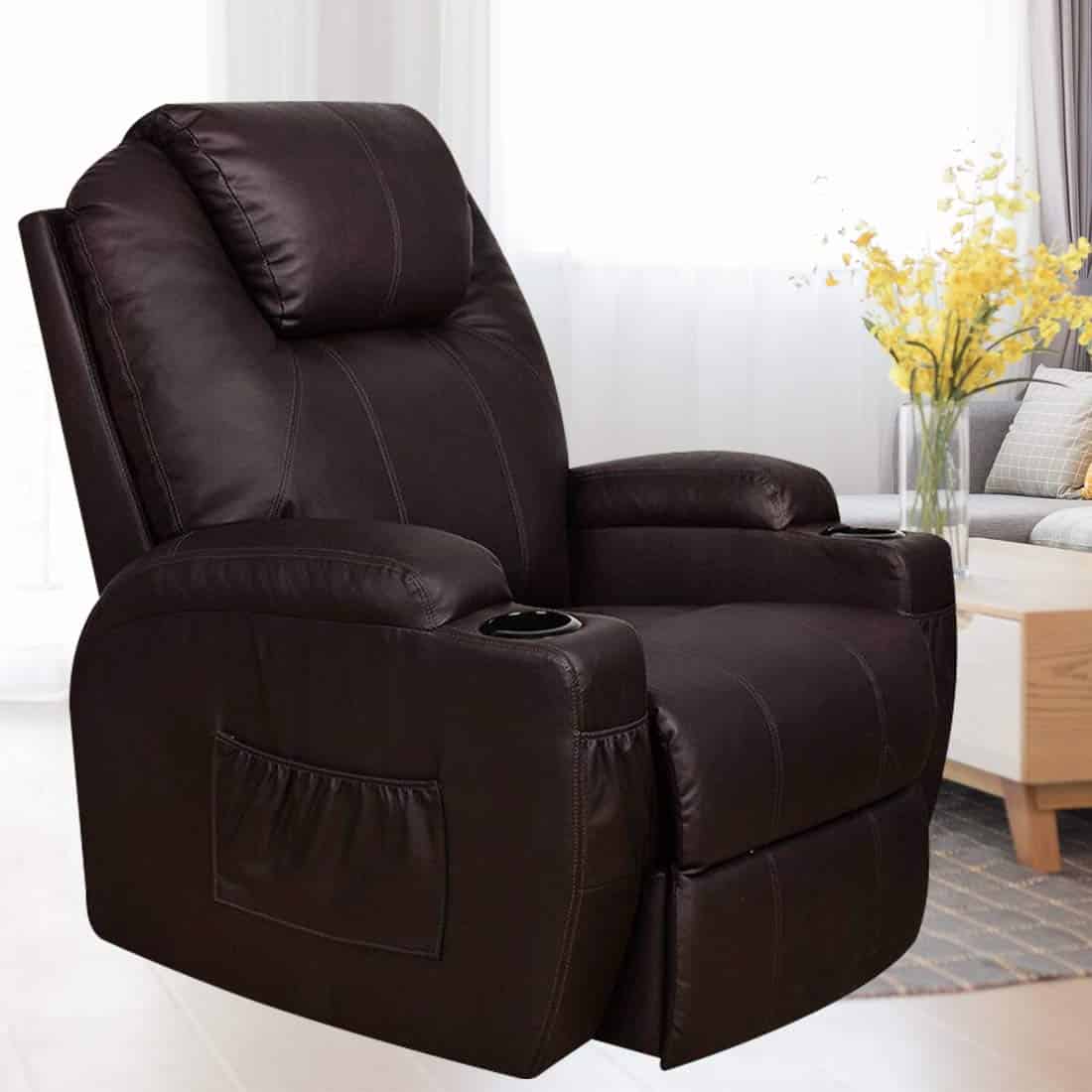 The MAGIC UNION Power Lift Massage Recliner is upholstered with PU leather and solid wooden frame. It has safe, slow and smooth lift mechanism because it is fully powered by 2 remote controls. The heat and massage works great for sore back and they soothe your body's muscles. It is not overly large and therefore, it doesn't occupy a lot of space in the room. You'll have to place it about 17.7" away from the wall in order to fully recline. It doesn't lay all the way back to flat position. The massage motor is a little loud. This chair is on the smaller size.
Special Features
The chair offers the electronic footrest so you don't have to use your force.
It's perfectly ideal for elderly people because they can barely use manual footrest.
The recliner comes with two remote controllers.
It has a massage function that focuses your legs, thighs, lumbar and back.
It has a power lift function which would lift the recliner from its base.
The chair also offers cup holders and pockets.
---
(9) Relaxzen Massage Rocker Recliner with Heat and USB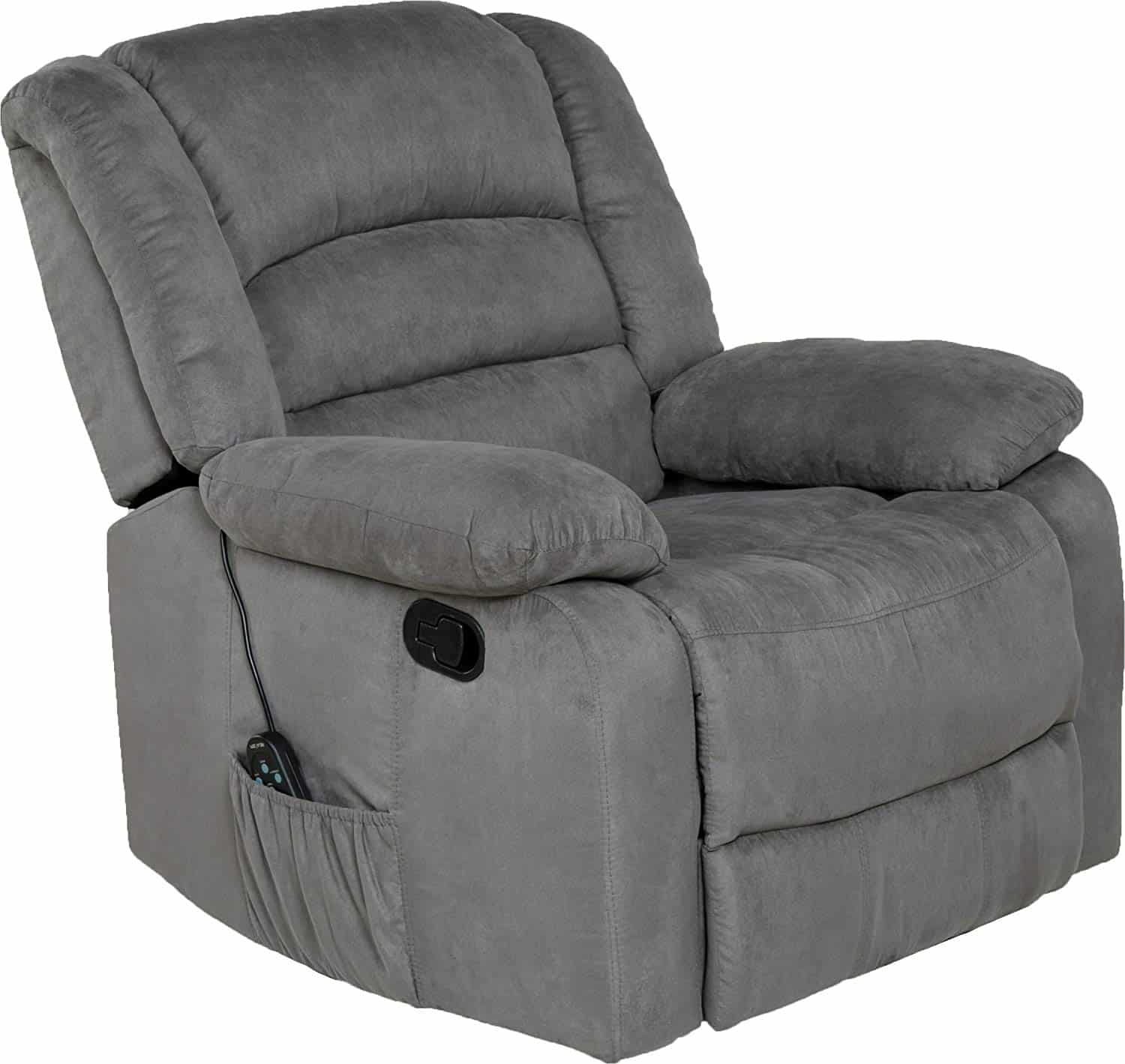 This recliner is made of plush microfiber upholstery, which is easy to wipe down. This micro suede fabric is soft and smooth to the touch. It has 8 strong massage motors and 9 modes for massage. Besides, these are operated by a convenient and easy-reach remote. There is auto timer of up to 30 minutes for massage settings. The massage motor is super silent. The heat function warms up the lower back nicely. This chair is not suitable for seniors or elderly persons. It has a manual footrest which makes it a bit challenging to push it back due to its strong spring.
Special Features
Unlike other massage chairs, this particular one comes with as many as eight powerful massage motors.
USB charging is an added feature.
The seat cushion is neither too hard nor too soft.
Assembly is simple but you do need to follow the instruction manual.