4 Best Big & Tall Power Lift Chairs in 2023
One of the most frustrating questions is that what is the best big and tall power lift chairs in the marketplace and why! Typically, recliners have an exceptional level of comfort since they feature overstuffed backrest and seat cushion, not to mention plush upholstered arms. But they lack one important feature which is why these chairs cannot be called as all-purpose furniture i.e. lift mechanism. For that reason, lift recliner chairs are incredibly helpful because not only do they fulfill the needs of normal adults, but they are also ideal for the elderly, nursing women or people with medical handicaps. The power lift feature lifts up the couch and tilts it a little bit, so that the user may stand upright without putting extra strain on his back or knees.
Top 3 Most Recommended Recliners in 2023
You should consider your requirements when selecting the right powerlift chair for your home. You may want to customize your comfort with the push of a button. These power lift chairs include innovative, state of the art technology; Power Headrest, Power lumbar Support, Power backrest; and Footrest extension
4 Best Big & Tall Power Lift Chairs in 2023
---
1
Ashley Furniture Signature Design – Yandel Power Lift Recliner – Faux Leather Upholstery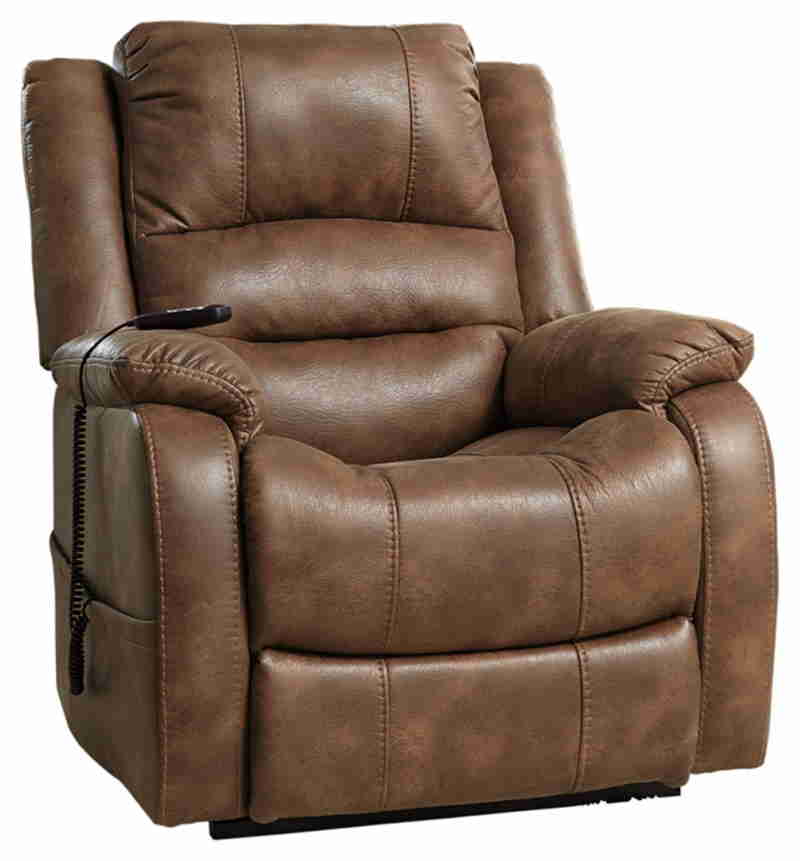 👍Pros
Material
This recliner is wrapped in thick and gorgeous saddle brown poly fiber, which is hard-wearing, soft, smooth and also has feel-good touch.

It gives the look of a top grain leather. In comparison to vinyl, it is not a sticky fabric but it has pretty nice smooth feel. Check out our latest collection of big and tall recliners 500 lbs.

It has high back and thickly padded seat and back cushions for added comfort.

The chair reclines or lifts in a smooth, easy and effortless manner.

It has whisper quiet power motors and these motors are very easy to use with the simple touch of a button.

This chair has very good build quality thanks to its corner-blocked frame and metal reinforced seat.

You can raise the legrest without the backrest leaning back. In other words, the back doesn't recline and you can easily watch TV (or read a book) with your legs stretched out.

The remote control is pretty convenient due to its long cable and ease of use.
Advice Note
👈
It is not only one of the most comfortable recliners, but it is also pleasing to the eyes as it adds an air of elegance to your living room decor.
Cons👎
The footrest doesn't rise too high.

Since there is a lot of metal reinforcement at the base of this chair, it is pretty heavy to lift and move around.

The cushioning on its seat is a tad firm and it is also on the narrow side.

It has slightly low support for your lumbar area.
---
2
Esright Power Lift Chair Electric Recliner Sofa for Elderly, Faux Leather Electric Recliner Chair with Heated Vibration Massage, Side Pocket Cup Holder and USB Port, Dark Brown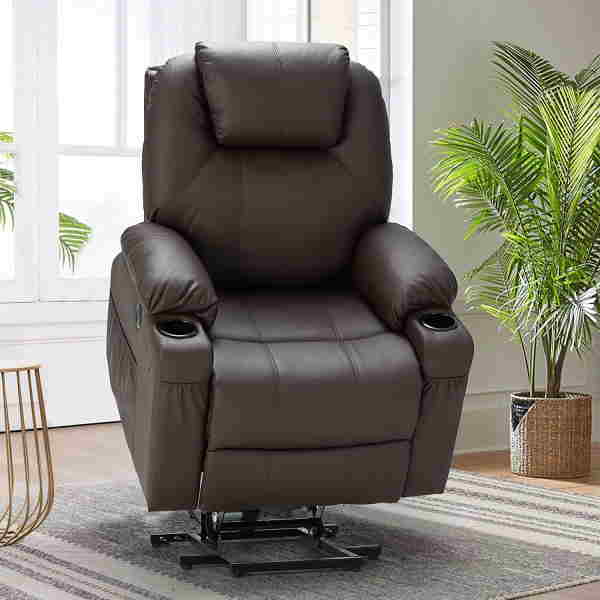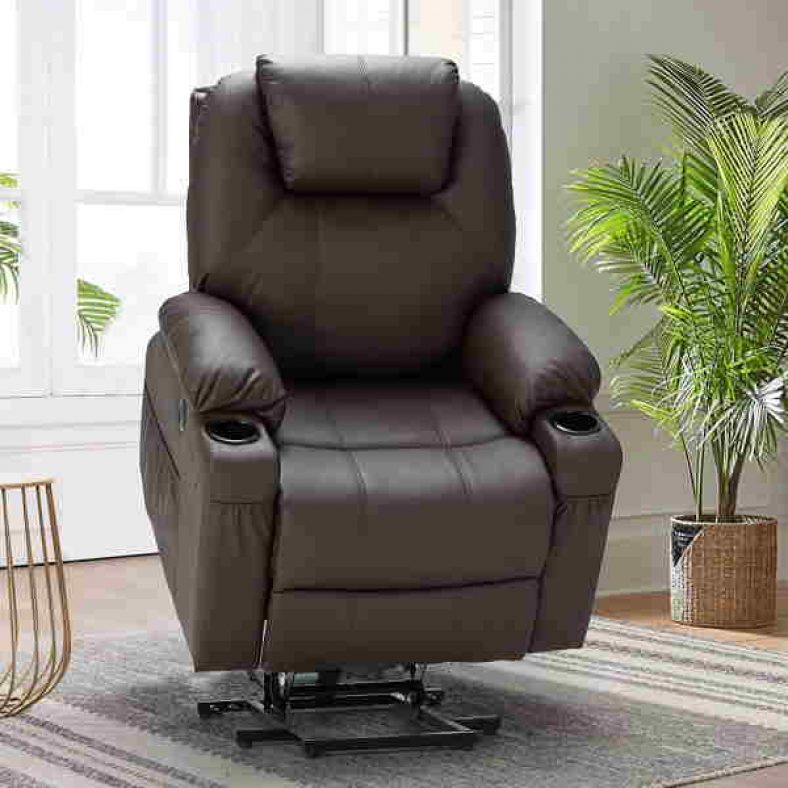 👍Pros
The Esright Power Lift Chair has a super quiet motor one that controls footrest and back simultaneously.
It comes with a variety of modes which will massage your lumbar, thigh, leg, and neck.
The recliner has four side storage pockets enough to accommodate just about any stuff you have while reading or watching series.
You'll be pleased to have it for your elderly grandparents.
The faux leather is extremely soft.
Super easy assembly. You can put it all together in just 20 minutes.
Cons👎
The recliner comes in only one color that is chocolate dark brown color.
---
3
Power Lift Recliner Chair – Heavy Duty and Safety Motion Reclining Mechanism-Antiskid Fabric Sofa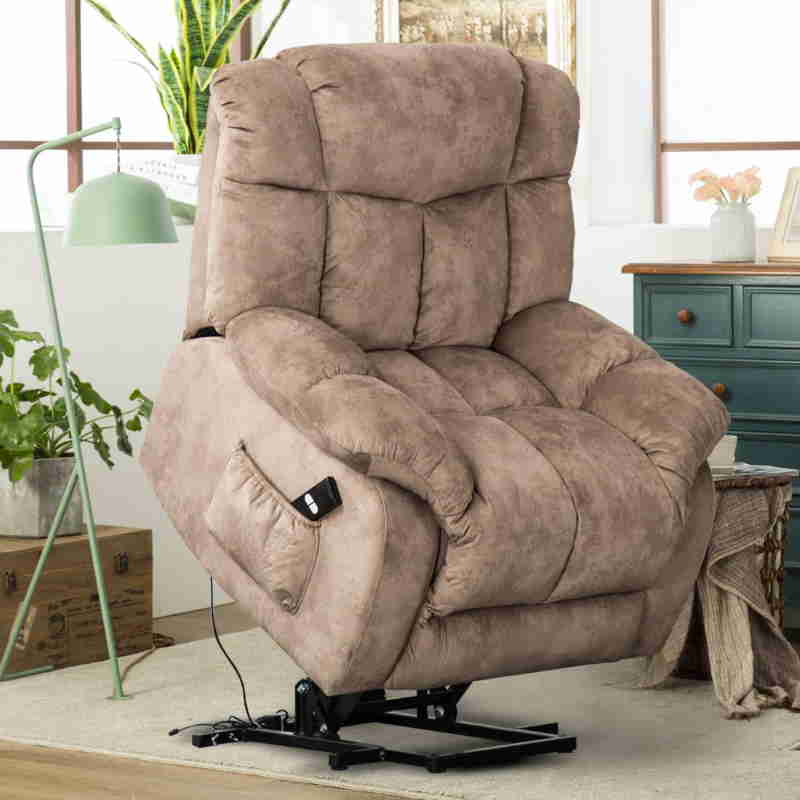 👍Pros
This recliner is wrapped in high grade, anti skid and resilient microfiber upholstery, which is also soft and provides comfortable sitting feel.

The color of this sofa is more like light-brown to tan.

It has high back and there is thickly padded and overstuffed pillow on its backrest, seat and arms.

This is a very well made and sturdy chair, thanks to its heavy-duty mechanism of durable metal frame.

It has super easy and quick assembly. You just have to click the back onto the base and then, screw the four bolts and nuts.

It doesn't have jerky motion, rather it moves smoothly and silently to any customized position.

The remote is easy to use and simple because it features only two buttons i.e. arrow-up button to lift and arrow-down button to lean back.
Advice Note
👈
You can place a blanket over this chair because of its nonskid surface.
Notes of Caution

✋
The side pocket can only accommodate a wired remote control. There is not enough space left for anything else.

Since it is a power lift recliner, it cannot operate manually if it runs out of power.

It is quite a large and bulky recliner. Therefore, it needs a clear path behind in order to recline.
Cons👎
Armrests are pretty low. In order to prop them up, you'll need to place two side pillows.

There is not enough padding on its legrest. It requires about 2 inches of more cushioning to make it comfortable.

It has slightly shorter headrest. (You can use neck roll pillow if it falls short)
---
4
Electric Power Lift Massage Sofa Recliner Heated Chair Lounge w/Remote Control USB Charging Ports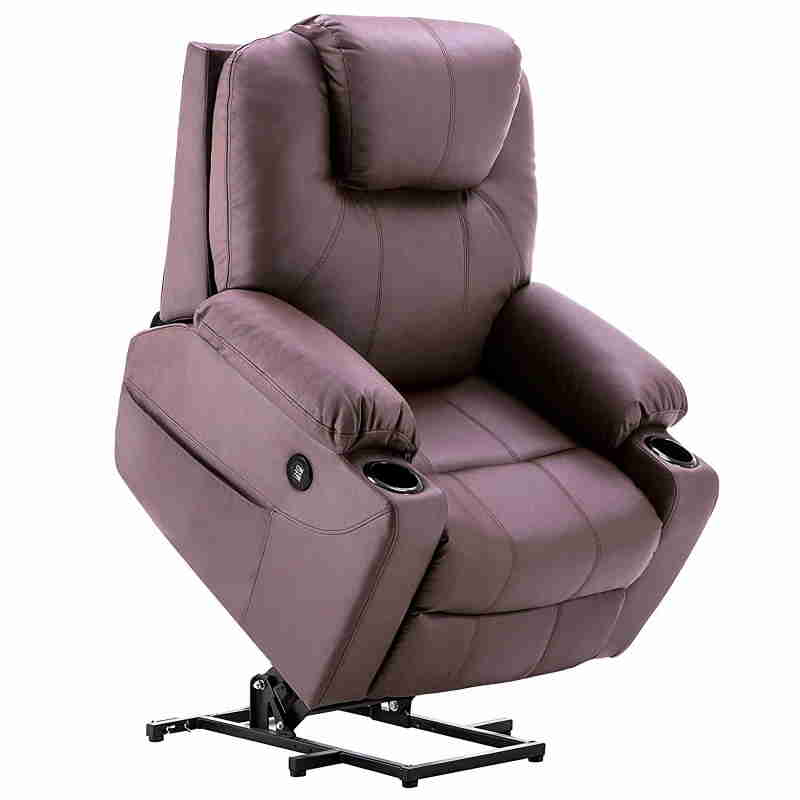 👍Pros
This recliner is wrapped in skillfully-matched faux leather, which is durable and soft to the touch. Moreover, it is pretty easy to wipe down with a damp lint-free or dry cloth.

This couch complements pretty well with most interior decor thanks to its nice medium brown shade.

This sofa lifts up and leans back by means of a corded remote control.

This chair is very easy to put together since it comes with color coded electrical components.

It features various modes for massage, and this chair offers quite mild and soothing vibration.

It has very nice warming feature and this heat function is very useful for elderly in cooler nights.
Note of Caution

✋
After you turn off the massage function, only then you'll be able to use heat feature.
Advice Note
👈
It is a very comfortable recliner that stands you up. However, the recommended height of this couch is from 5'1"to 5'9".
Cons👎
This recliner is pretty heavy to lift and move around.

The backrest is slightly shorter for tall persons i.e. for a 6-foot-person. This is because this chair is fairly small.

It doesn't lay back almost flat.

The instructions are not very clear.
Here are 5 Tips to Help you Choose the Right Lift Chair
---
1) Recliner Type
There are three main types of lift chairs, including infinite, three-position and two-position. The type of lift you need will dictate the type of chair you choose. An infinite lift chair is best for people with poor circulation. This allows the chair to reach the Trendelenburg position in which the feet are higher than their heads. Some people may need their feet raised while they are seated. The infinite lift chair is able to achieve this because it has separate motors that power the footrest as well as the backrest. Two-position chairs are ideal for those who only use the chair to view TV or need assistance in standing up.
2) Recliner Fit
Your comfort is dependent on how well the lift chair fits. Your feet should be able to reach the floor from the "lifted" position of the lift chair. The lower back may not be supported well if the chair is too small. Every lift chair will list the height it can support. Most models will also have sizes such as small, medium, and large. It is important to verify the weight capacity of the lift chair. Visit a local dealer for a fitting and to compare different models to find the one that feels best.
3) Lift Chair Space
Lift chair space should be considered before purchasing. A lift chair that can reclines more than it can is generally required more space. For the chair to fully recline, space must be available behind and in front.
4) Chair Fabric
You can choose from a variety of fabrics, leathers or faux leather when making upholstery. While many of the choices are cosmetic, there are practical ones as well. Although leather is not the best option for people who sweat a lot, it can be a great choice for those who want a chair that is easy on the skin.
5) Purpose
For relaxation purposes only, a 2- or 3 position lift chair will suffice. For those with hypertension and who are homebound, an infinite-position lift chair is better.
6) Budget
A basic 2-position lift chair is more economical than a heavy-duty, dual-motor infinite chair. The cost of adding features to your chair will obviously go up.
7) Dimensions
Other factors that are important to consider include the width and depth of the seat, the back's height, overall height, weight capacity, back style and type of upholstery. A wall hugger lift chair is a space-saving option for those with limited space.
8) Recliner with Additional Features
People with special needs may require additional features. Certain models of lift chairs have heated seats and massage that can be used to help with certain conditions. Cup holders are important for those with restricted reach.
Who the Power Lift Chair is For?
People with disabilities, elderly, infirm and people recovering from knee or shoulder surgery can all benefit from lift chairs. You can get therapeutic benefits from heat and massage for people who have stiff joints, arthritis, back pain and swollen feet, lower legs, ankles and ankles. These features can be modified to improve postures and decrease pressure for spinal curvatures.
The addition of lift chairs to your home decor can be beautiful. Many fabrics and colors are available to complement your home's interiors. There are many options for upholstery, including different colors and designs.
Why You Should Choose the Best Power Lift Chair in 2021
Lift chairs can be used to accomplish different purposes depending on the recline mechanism or footrest positioning. They are divided into three main categories:
Two-position Power Lift Chair
These chairs are powered by a single motor, which is shared with the backrest and footrest. The footrest is raised simultaneously as the back reclines. There are two options:
First, an upright chair is one where the back is in a straight position. A push of a button allows the user to move forward from the chair.
The chair can be repositioned to a maximum 45 degree angle, providing a comfortable viewing position. If the user wishes to get out of the chair, the controller must be used first to bring them to a sitting or standing position.
Three-position Power Lift Chair
The motor for three-position lift chairs is also shared by the back and footrest. Thus, the footrest and back work together. As the back reclines the footrest simultaneously rises. They allow you to have three different positions.
First, an upright chair is one where the back is in a straight position. A push of a button allows the user to move forward from the chair.
The chair can be repositioned at 45 degrees to allow for a comfortable viewing position. The hand controller is used to allow the user to exit the chair from a sitting or standing position.
The user can further recline to a comfortable napping/lying-down position. This is where a V angle between the back of the seat and the back is created. To get up from the chair, press the button with your hand. The chair will then be raised and the back bent forward.
Chairs for Lifting in any Position
These chairs are powered by dual motors for both the back as well as the footrest. The footrest and the back can be adjusted independently by the user, so they can both be adjusted to fit their needs. There are two buttons on the hand controller that can be used to adjust the footrest and the back. The back can be reclined to 180 degrees and further.
Healthy Positions
Trendelenburg position – The user lies on his back and his feet are higher than his head at 15 to 30 degrees. It increases blood circulation in the lower extremities. This has many therapeutic benefits for patients with congestive cardiac failure, edema, and other circulatory conditions. Patients must keep their feet up above their heads for at least a few hours each day.
Zero-Gravity Positions
Zero gravity position. While in a reclined or supine position, the user lifts his feet over the heart and heads to create a torso angle of about 130 degrees. This allows gravity to release the spine from its tension, placing it in neutral and alleviating all kinds of back pains. This position is good for the spine and the heart. This position results in a higher state of relaxation for the whole body.
The Windermere Mega Motion Ultimate Power Lift Recliner is a zero gravity lift chair with lumbar supports is one example. It's a lightweight item that can be moved quickly due to its space-saving design. Fully reclined, the chair can be placed only a few inches from a wall. It uses a durable and long-lasting cushion system made up of steel springs with high-density fortified steel.