5 Best Rocker Recliners with Heat and Massage 2023
Recliners Guide is reader-supported. We may earn a commission through products purchased using links on this page. Learn more about our process here.
Not everybody has the luxury to get a massage every day by a masseur. However, you have the option to get a heated recliner with a massage system. These recliners with heat and massage functions will be your best option. These are some of the benefits you get from these chairs:
Free massage anytime and anywhere

Helps you to relax and rejuvenate

Encourages proper blood circulation
Quick Links
5 Best Rocker Recliners with Heat and Massage 2023
---
(1) Rocker Recliner with Massage, Heat and USB ports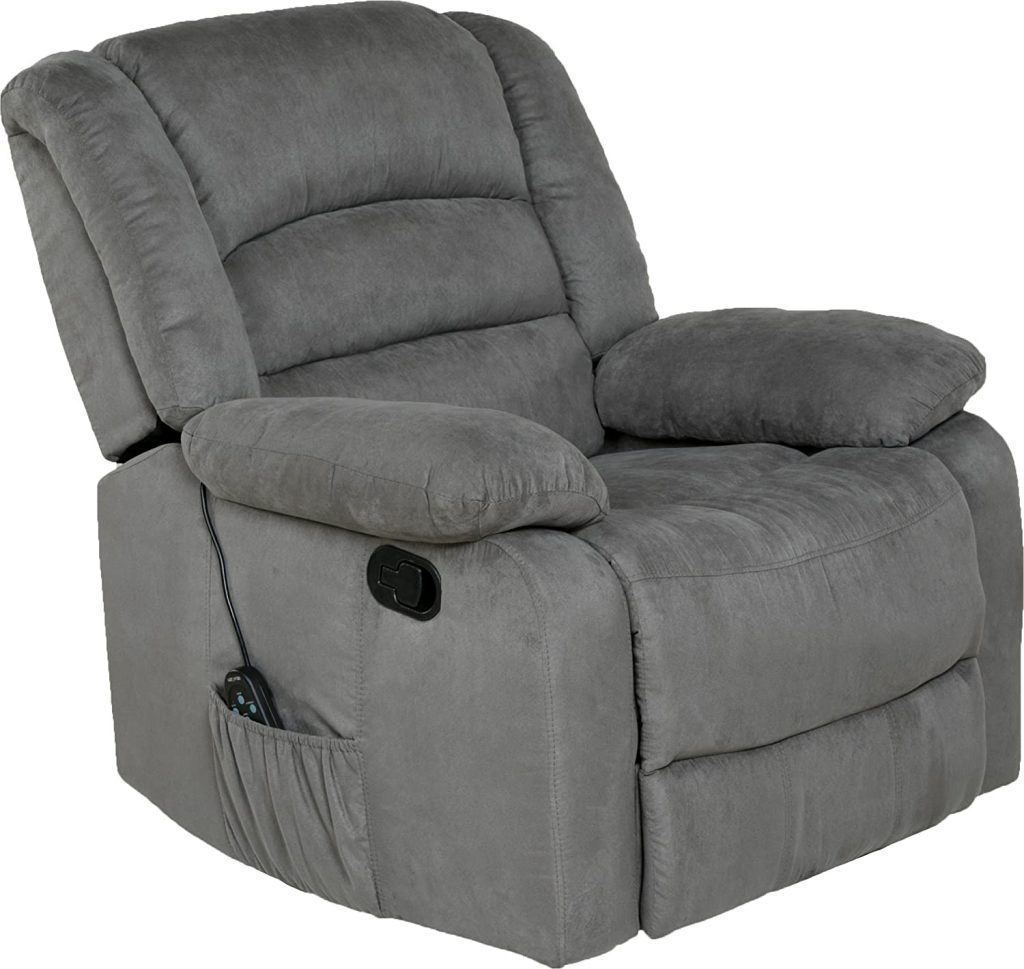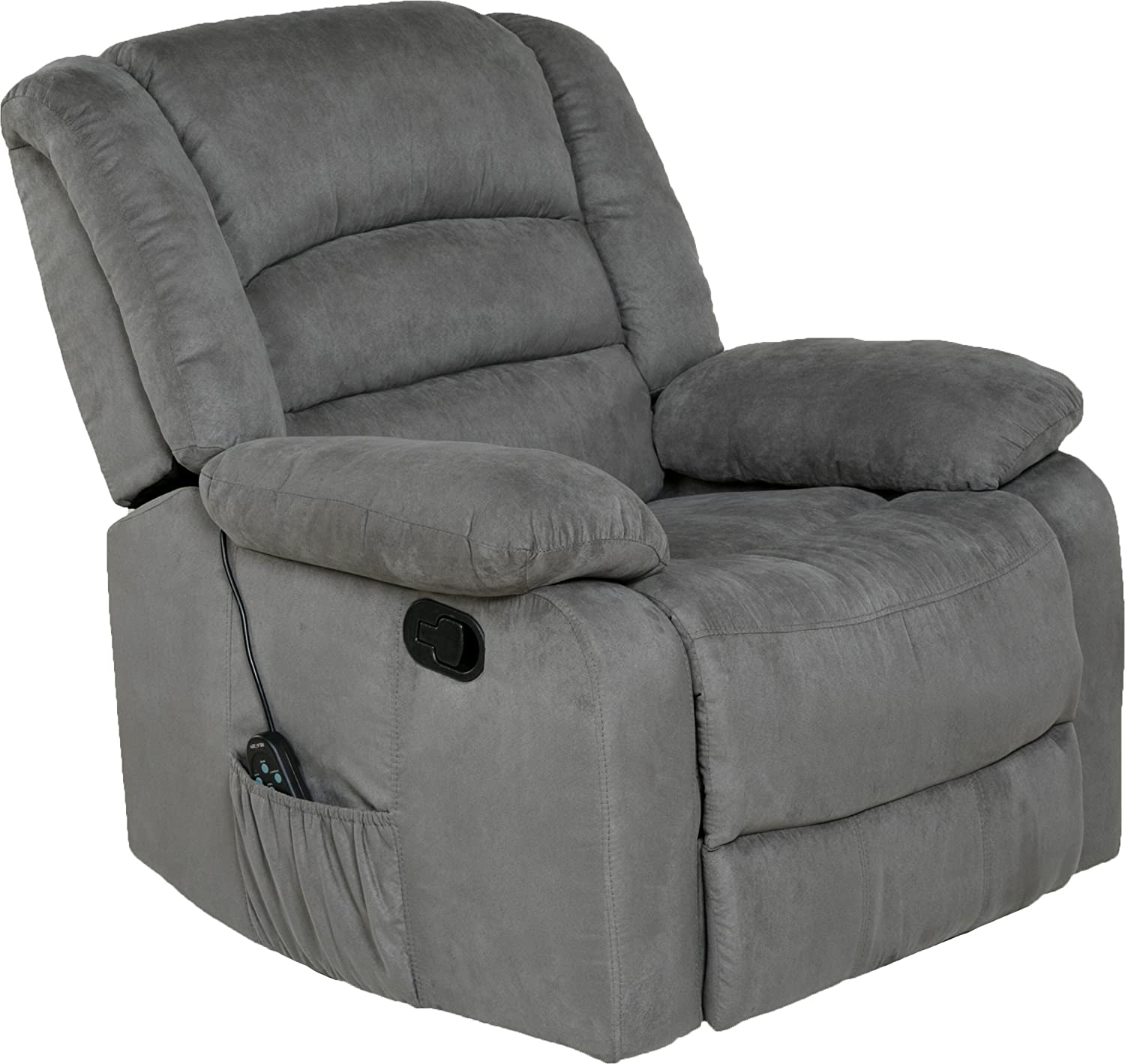 Most users love the entire design of this massage recliner, though it isn't the only feature it is best for. This multi-purpose chair can do massage, recline, and can be a rocker at the same time. This chair is famous for the eight powerful vibration massage motors that relax tired muscles. These massage motors target four zones with five intensity levels and mild lumbar heat. It helps your entire posture and muscles for maximum pain relief.
Additionally, this massage recliner has different modes, which you can easily adjust with just a touch of a button. The upholstery uses easy-to-clean premium grade microfiber and cottony soft foam padding. Another notable feature is the dual USB ports that enable you to charge your gadgets such as cell phones, speakers, etc. The easy-to-reach wired remote control with built-in-pocket makes it even better. The negative side of this chair is that the lumbar support is too high for some. Another issue is fitting pieces upon installation.
---
(2) Rocker Recliner with Massage, Heat and Dual USB ports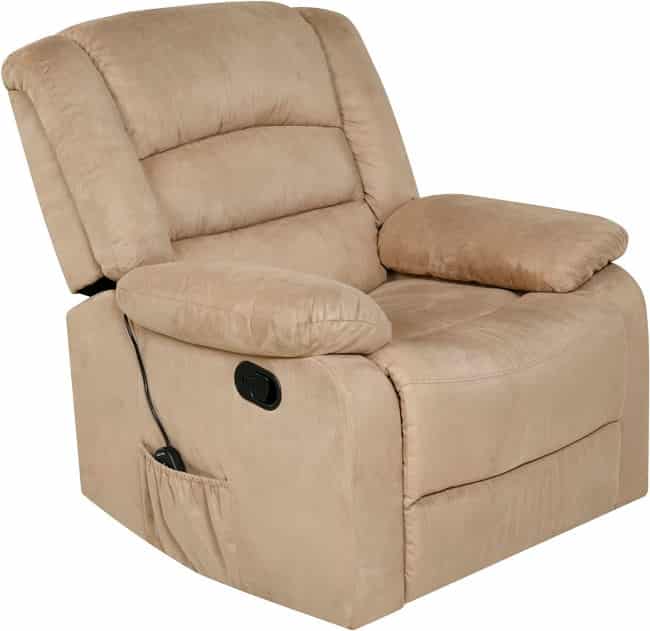 Feel relaxed and rejuvenated with this modern rocker recliner chair with heat and massage system. It does not only rocks and massages your body; it also offers a pullback control that lets you recline easily. The soft foam cushioning and the soft faux leather upholstery give you the extra comfort and relaxation you need. Its rich beige color perfectly blends with your home furnishings and decorations.
With the eight powerful massage motors, you can easily target your legs, thighs, lumbar and full back. Additionally, it comes with five intensity levels and nine modes that you can adjust using a remote control. Another feature is the two USB ports that allow you to charge your gadgets while you are relaxing or napping. On the negative side, the massaging chair is a bit soft. It's more like vibrating motors that vibrate at different intensities. You can not feel the hard rollers massaging your back. Lastly, some users mention that the headrest is short.
---
(3) Swivel Rocker Recliner Chair, Manual Reclining Chair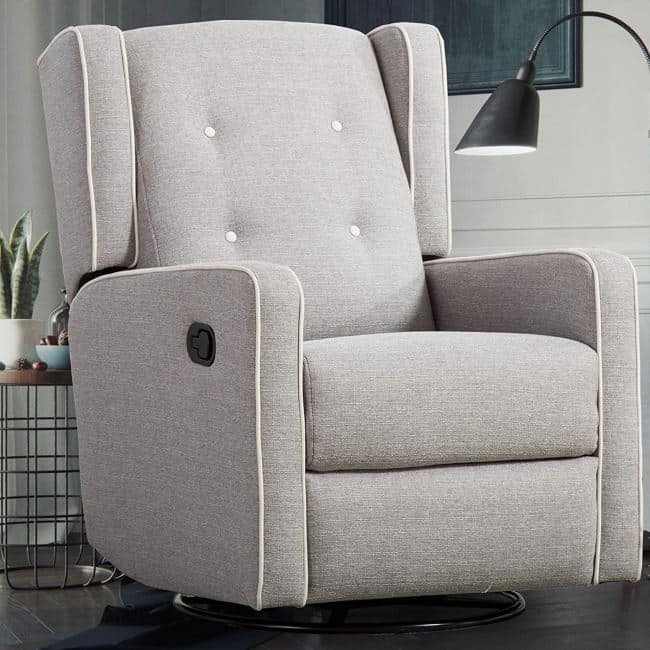 If you are looking for a dynamic recliner that combines style and functionality, then this chair is perfect for you. This manual swivel recliner chair comes in premium grade polyester upholstery that feels smooth on your skin. The white buttons and piping give accent to the chair, making it look classy and stylish. Its thickly-padded back, armrests, and seat cushions provide extra comfort and luxury.
Most users claim that this chair provides excellent back and lumbar support. Additionally, the track arm design offers a relaxing place to rest your arms. To retract the footrest, all you have to do is to use your heels and press against the middle of the red frame. Installation of this chair is quite easy; you don't need any tool to put it up. The shortcoming of this chair is that the footrest is quite difficult to close. Another downside of this chair is the swivel that sometimes squeaks during operation. Lastly, the swivel has no lock system.
---
(4) Recliner Chair Massage Rocker with Heated Modern PU Leather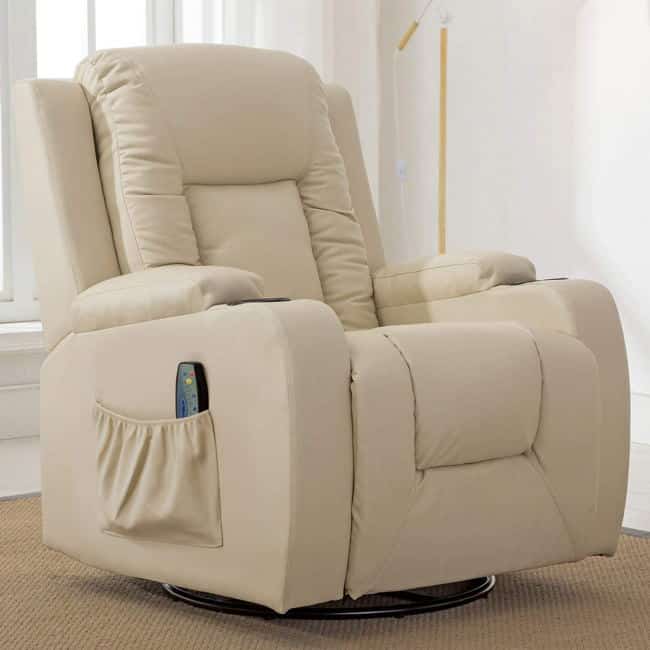 This massage rocker chair can do wonders with its awesome features. It is one of the best options for the elderly. This chair is also beneficial to those whose work requires a lot of sitting position all day long. It is a versatile and multipurpose chair that offers reclining, rocking, swiveling, massaging, heating, and vibrating features. Additionally, this chair allows you to make movements with its 360 degrees swivel feature. The 150-degree recline feature treats your lumbar and entire back generously. Also, it comes with an extra thick cushion padding that makes love sinking in it.
This awesome armchair with cup holders is built to the highest standards to provide strength and durability. Moreover, this recliner chair comes with an 8-point massage system that gives the ultimate comfort and relaxation you need. It offers a remote control that enables you to adjust the massage settings and the level of vibration intensity with ease. The drawback of this chair is that the heater and the massage work in unison. Also, the recliner tends to push you forward when you recline.
---
(5) Rocker Recliner with Massage, Heat and Dual USB ports, Gray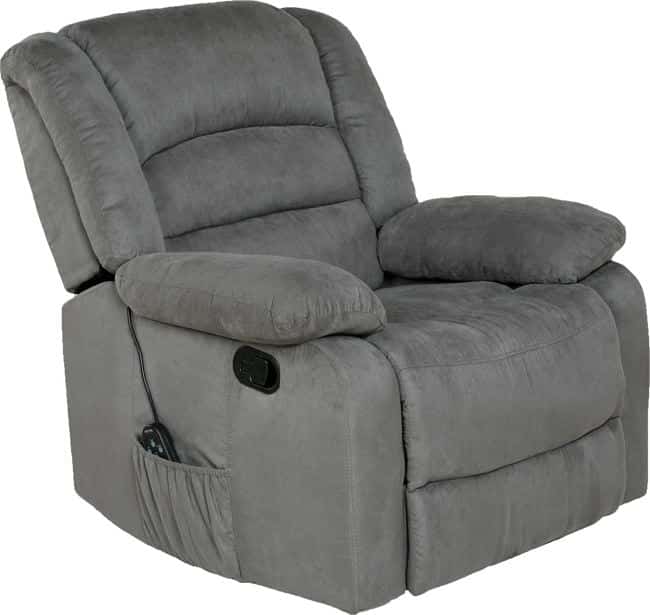 This rocker recliner is ideal for people who have difficulty getting in and out of the chair. The ergonomic lumbar support is effective in reducing stress on the back and waist. Its lift mechanism guarantees that this rocker recliner can tilt forward and lift effectively. The eight powerful motors target four zones of your body. Also, it comes with five intensity vibration levels and nine modes with mild lumbar heat. The chair can lean back to a semi-full recline position to give more comfort while napping. Its frame is sturdy and durable that it can hold and support up to 300 pounds of weight.
The microfiber upholstery is soft and breathable. Its foam density is cottony soft in the back and the seat, but it is firm enough for lumbar support. What makes it more attractive is the easy-reach remote control with a built-in pocket. Additionally, this chair provides a dual USB port to charge your gadgets while you are relaxing or napping. The only negative side of this chair is that it does not swivel.
---
How to Muffle the Noise When the Massage is on for a Recliner?
While most modern recliners are known to make much less noise there are a few that actually do. Don't worry, we'll guide you how you can reduce the sound so your siblings do not get bothered at all.
Sometimes, the sound of the massage recliner gets louder because of your wooden floor. You can place a small rug underneath the recliner to reduce it.

If you believe that your chair is getting noisy due to some light screws you should definitely tight its screws or bolts. Maybe the recliner's metal components are deformed. If this is your first you'll be covered with warranty else you need to spend a dime.

The moving parts need to be oiled at least twice a month if you're not a regular massage user. We recommend you to buy a metal-friendly lubricant spray.
9 Different Types of Heated Recliners
Power lift recliners

Rocker recliners

Electric recliners

Swivel recliners

Zero-gravity recliners

Extra wide recliners
How to Choose the Best Rocker Recliner with Heat and Massage?
Well, almost all rocker recliners are super comfy, easy to use, durable, and come with reasonably good heat and massage features. However, you've to prepare a checklist before buying one so you don't miss any important features.
What Type of a Recliner?
First, you've got to understand the type of a recliner and see if it's a rocker, lift or a regular recliner. Unlike lift recliners, rocker chairs will probably make you do a little hard work. You'll need to push the back of the chair using a lever to recline. Our experts have tested the Waterjoy Full Body Leather Massage Chair as well as Relaxzen 8 Motor Massage Recliner both of which are equally good in the overall performance. They get into an upright position comparatively faster. Not only are they fast, these chairs are pretty durable too.
Prominent among rocker recliners are Esright Massage Recliner and Homegear Recliner Chair. While they both are rocker they look almost entirely the same as the standard chair.
Lift recliners are probably the best of the types because they do all the lifting and reclining on their own without relying on your muscles. We would like you to take a look at the Mcombo chair. It's the best amongst its competitors.
What's Upholstery?
We recommend you to pick out recliners that have faux leather upholstery. Obviously you can always buy a genuine leather chair but that would be expensive. The faux-leather chairs are not only durable, they are comfortable too. These chairs trap heat and they don't feel sticky at all. Polyester and nylon are not only less durable as compared to faux leather they are easily stained too. Besides, they do not look as good as the faux leather recliner.
What's the Color?
While the color isn't a dealbreaker at all it does seem to play a significant role in the long run because recliners you buy will probably last 3 to 4 years. You don't want a chair that looks odd in your living room. Apart from the kids' recliners which can be in red, blue, or even some other bright shades, chairs for adults usually have brown shades, black, or even grey. These are probably the universal colors of the home furniture.
Does it Fully Recline?
It's true that a fully-reclined chair offers more comfort than the standard chair especially when you need to sleep on it too. However, they would take twice the space because both footrest and backrest will lean at the same time. You've got to see if your room can afford to give that much space to a fully reclined chair. Big and tall recliners also seem to leave big footprints on your rug.
What's the Weight Limit?
All recliners have limits, even the heaviest chairs too. If you attempt to cross that limit chances are that your chair would break. Nonetheless, most recliners weigh around 300 pounds which is not too heavy to move.
Can Heating and Massage Function Independently?
Of course! If you wish to use a massage function without heating you can use it. But it's always better to check out what recliner's features are the best. Some chairs have better heating than the massage.