Top 5 Recliners for Short People You'll Love in 2023
Recliners Guide is reader-supported. As an Amazon Associate, I earn from qualifying purchases. Learn more about our process here.
Just like tall and big people, short men struggle in being comfortable while they are sitting. The seat may be too high or too far back for them; thus, making them extremely uncomfortable. So, if you are hunting for a recliner chair, don't forget to consider your height. Recliners are getting popular on the market these days. These chairs come in various forms, shapes, and sizes to fit into your home or office spaces as well as short people. They come in a variety of features to help you distinguish one from the other. These recliners are not only for short men; they are a good option for the elderly as well.
When shopping for recliner chairs for short people, take into consideration the measurement that suits your needs. Make sure to check if you can reach the lever that enables you to operate the recliner. Read on to help you with your quests in finding the best recliner chair for short people.
Best 5 Recliners for Short People in 2023
---
RECLINER NO. 1 – Christopher Knight Home Walter Recliner, Light Beige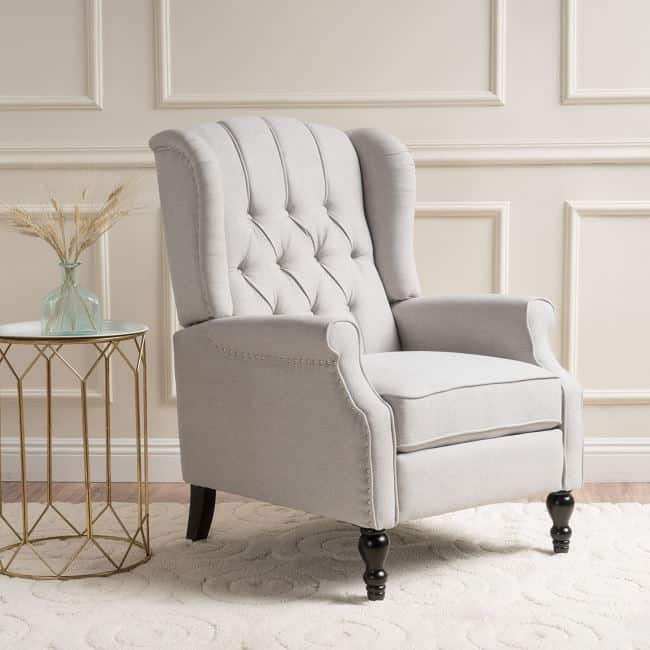 This chair is a compact recliner seat that provides the ultimate comfort for short men. It is
perfect for small spaces in your home or office. The frame of this recliner comes from a sturdy birch wood that can sustain pressure. This chair features a high backrest that supports your spine and armrests for your convenience and relaxation. Additionally, this recliner offers a firm yet ultra-soft padded cushions to give you the comfort you need. The outside fabric of this chair comes from a 100% polyester fiber that makes it look like real leather. Its light beige color blends well with any home décor or furniture sets. Moreover, this recliner provides an automatic footrest that pops out automatically when you recline the chair. The footrest gives a comfortable spot for your tired and weary legs and feet. For more customer satisfaction, the manufacturer of this chair offers a warranty on selected parts only.
RECLINER NO. 2 – Esright Fabric Power Lift Chair Electric Recliner for Elderly, Vibration Massage Chair with Heater, 2 Cup Hoders, USB Outlet & Remote Control, Brown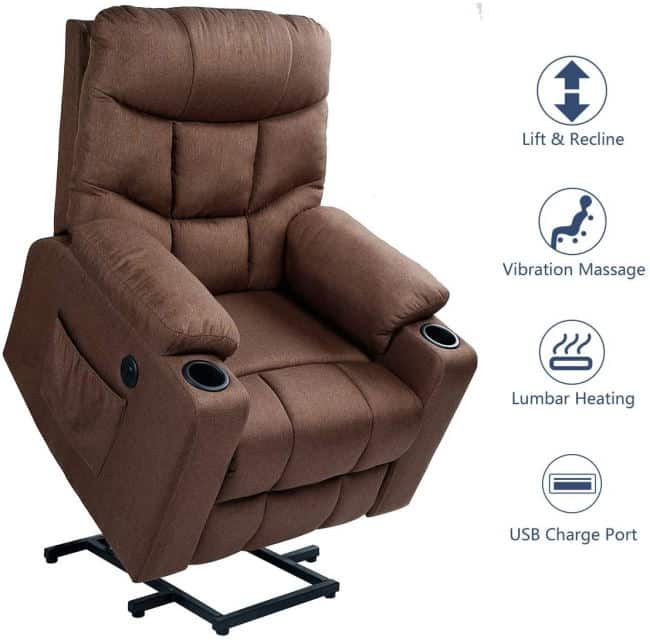 Are you shopping for a recliner chair that is ideal for the elderly family member? Then, your search is over; this trendy and comfy chair offers excellent features for elderly users. This wall hugging chair is capable of reclining 130 degrees, even if it is just 10 inches away from the wall. Some of the notable aspects include a power lift function, lumbar heating, vibration massage, and a sturdy frame. This powerful metal frames can sustain and hold up to 330 pounds of weight. Also, this recliner chair provides high-quality materials and excellent craftsmanship. The outer cover uses premium quality leather that is easy to clean and stain-resistant. Another attribute of this recliner is the power lift system that inclines forward to help the elderly stand up easily. It provides a control button that automatically adjusts to your desired position, and stop lifting or reclining when needed. On top of that, the footrest and the backrest can hold up to 340 pounds of weight and extends or retracts simultaneously.
RECLINER NO. 3 – Christopher Knight Home Mervynn Mid-Century Modern Fabric Recliner, Muted Orange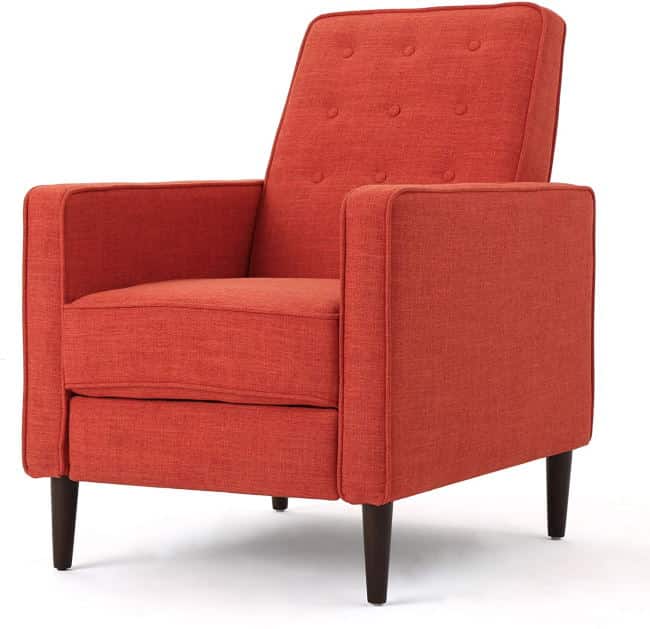 This top-quality and classic looking modern-day recliner chair is an elegant addition to your
home furnishing. It uses a rock-solid hardwood frame and a reclining mechanism that makes this recliner long lasting and resilient. The solid hardwood legs can hold up to 250 pounds of weight and can resist pressure. Its vibrant color complements with your home décor and furniture sets. The outer cover of this chair uses a high-quality polyester material that features clean lines and smooth finish. This recliner includes ultra-soft pads and cushions to give you that relaxation you ever wanted. The one-of-a-kind nail-head trim gives this chair that classic look and feel. It may not be your stereotype recliner, but it serves its purpose when you only need a smaller recliner chair for your living room or office. On top of that, this chair is easy to assemble; you don't need any tools to install its parts.
RECLINER NO. 4 – Dorel Living Slim Recliner, Beige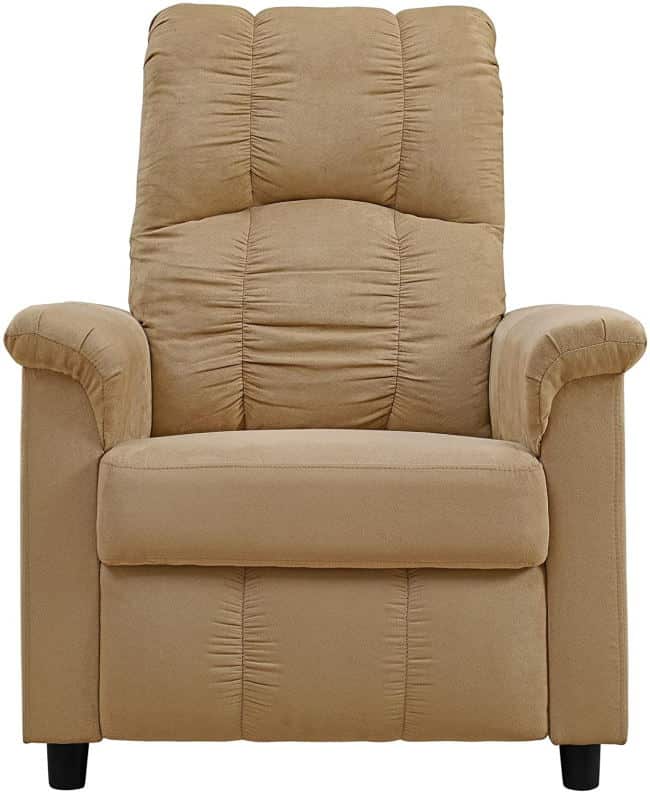 If you are among the short people looking for a comfortable and relaxing recliner chair, this slim recliner might be your best option. With its sleek and comfy design, this recliner chair is a perfect companion in your living room. The soft beige color complements with your furniture sets and decorations as well in the office, living room, or bedroom. Aside from its state-of-the- art design, the chair offers an adequate amount of support for your back and legs. The cottony- soft back cushions, a thickly padded seat, and pillow-top arms create a cradle-like comfort. The smooth and easy-to-use reclining mechanism allows you to lift the footrest without a sweat. Another notable feature of this recliner chair is the upholstery that uses stain-resistant and durable microfiber. On top of that, this chair takes less time to assemble as it does not need any tools to install its parts.
RECLINER NO. 5 – Dorel Living Padded Dual Massage Recliner, Tan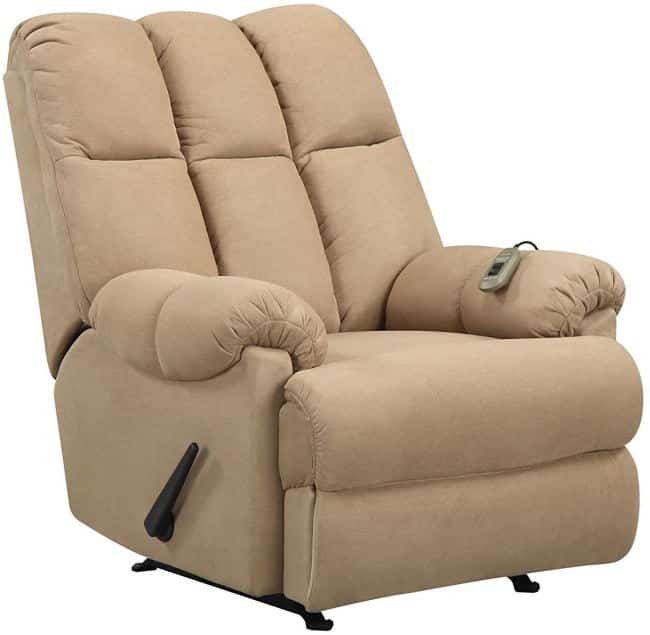 This rocker recliner sells like hot cake on the market these days. It is a surprisingly excellent yet cheap recliner that offers some surprises. It is ideal for people who stand between 5 – 6 feet tall and weighing less than 250 pounds. This large and versatile reclining rocking-chair is perfect for your living room or nursery. It comes with a built-in-massage system found in the seat and back of the chair. You can simultaneously operate the massaging zone or operate it separately. The side lever allows you to operate and control the reclining function of the chair. Additionally, this lacy padded massage rocker supports your legs and knees with its fully upholstered chair pad. The tan or chocolate colors this chair offers seamlessly blend with your furniture sets. When it comes to convenience and comfort, it uses traditional foam for padding and cushion. Finally,
this chair is easy to install; you don't need any tools to assemble.