Best 5 Recliner Chairs for Elderly Woman
Recliners Guide is reader-supported. As an Amazon Associate, I earn from qualifying purchases. Learn more about our process here.
Life doesn't stop when a person grows old, but it surely slows down one's ability to move. More often than not, the elderly spend more time sitting and suffer a variety of physical discomfort. Typically, there are several choices to help seniors enjoy and live a relaxed life. One option is to find a comfortable chair that helps them in getting up with minimum assistance. A power lift recliner is most suitable for the elderly with mobility issues. It helps the seniors to get out of the chair with ease and less hassle. It comes with a backrest that reclines when the back of the seat lowers down. Additionally, the footrest extends automatically when the back of the seat lowers down. The recliner chair for the elderly does not only help with mobility; it helps alleviate muscle stress and back pain as well. It is important to know that recliner chairs for the elderly vary in terms of design, style, and sizes. Listed below are the best recliner chairs for the elderly, please read on.
Top 5 Recliner Chairs for Elderly Woman
---
RECLINER NO. 1 – Domesis Renu Leather Power Lift Chair Recliner, Brown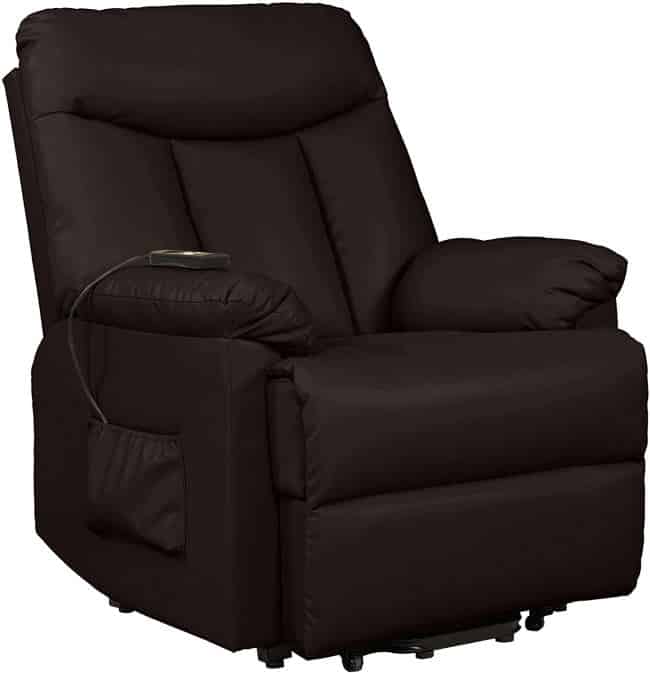 This fabulous classic-designed brown power lift recliner chair is a perfect company with any
room. It is the best option for those who have limited spaces in their living room, office, or
bedroom. The space-saving design of this chair requires only 4-inches clearance from the wall to recline or lift. It comes with a two-button controller that enables the user to choose the best position that makes them comfortable. The power lift feature helps the elderly in getting up or sitting own without much assistance. Also, it features a fully-padded design with high-density foam that ensures the senior's body is in a relaxed and comfortable position. Additionally, this recliner chair offers durable faux leather upholstery that is stain-resistant and easy to clean. One thing more, this chair is easy to assemble. You can dismantle or reassemble the chair in just a couple of minutes without using any tools. Finally, this chair uses laminated hardwood and steel frame to support up to 300 pounds of weight.
RECLINER NO. 2 – Mcombo Electric Power Lift Recliner Chair Sofa with Massage and Heat for Elderly, Faux Leather (Medium, Light Brown)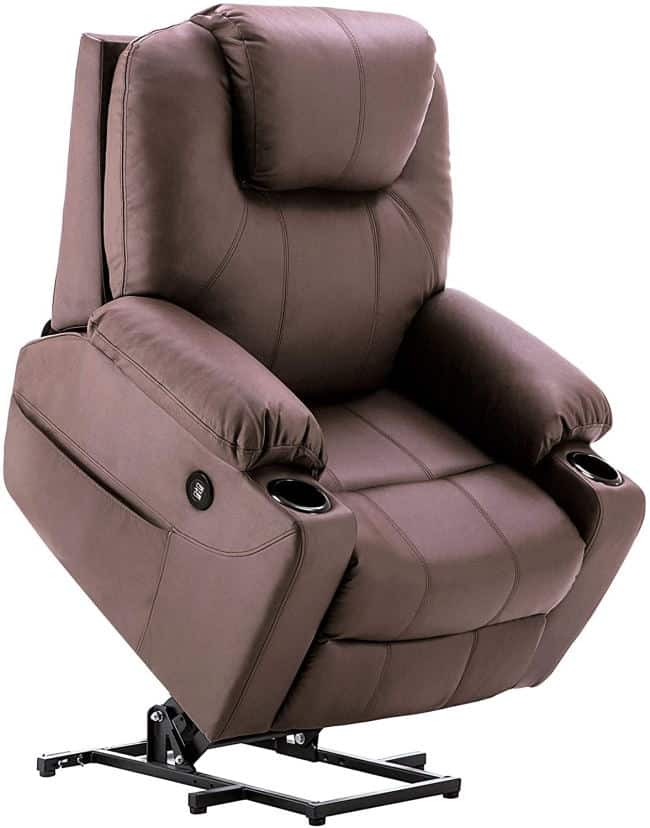 This power lift recliner comes with the special features essential for the elderly to enjoy sitting down. It includes a one year warranty of the electronic parts and the reclining mechanism. The recliner uses a durable steel frame that holds the weight of the seniors. It comes with two power buttons that enable the aged to adjust to any position they desire. The counter-balanced lift mechanism lifts the entire chair, helping the seniors to stand up with much ease. It reclines up to 145 degrees and features three different positions for more comfort. Additionally, the chair offers heat and massage functions that work independently with just a press of a button. Not only that, this recliner includes two cup holders, side pockets, and USB ports for more desirability and ease of use. The faux leather upholstery that covers the chair is stain resistant and easy to clean. Lastly, the chair is heavy, but it is easy to assemble and install.
RECLINER NO. 3 – Irene House Power Modern Transitional Lift Chair Recliners with Soft Linen(Brushed) Fabric (Blue)
This versatile and elegant product is ideal for seniors, especially those with back pain. It comes with a German technology that works as a power lift function and as a reclining sofa chair. The power lift function helps the elderly who finds it difficult to stand from a sitting position. As a reclining sofa chair, it tilts the chair into a reclining position with just a press of a button. The chair uses a combination of hardwood and steel for its frame to hold up to 300 pounds of weight. Another notable feature is the footrest that automatically extends when the chair reclines. Additionally, this chair offers a side pocket that can hold small belongings like cell phones, remote controls, etc. The vibrant blue color perfectly blends with any furniture set inside the living room or in the office. It includes an over-stuffed pillow design for the back seat and armrest to provide more comfort and relaxation.
RECLINER NO. 4 – Esright Power Lift Chair Electric Recliner for Elderly Heated Vibration Massage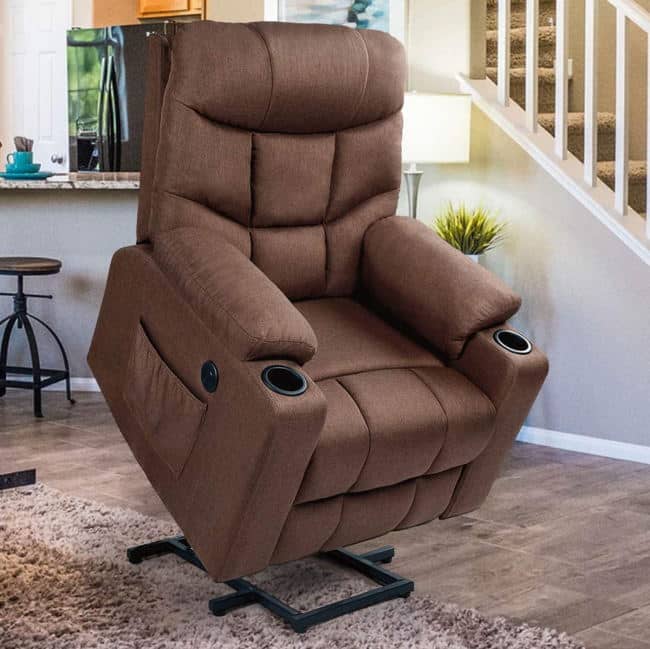 This sleek and attractive brown recliner is suitable for seniors who have mobility issues. It helps them stand up or lie down without asking for assistance. The electric lift mechanism pushes the entire chair and lifts the aged smoothly and safely. It features three positions seniors can choose from using the control button. The chair offers a retractable footrest and an adjustable backrest that works simultaneously for optimum comfort and relaxation. It is perfect for reading, sleeping, or napping. Additionally, this massage recliner chair gives full support to your back, neck, arms, and legs using the correct angle for maximum satisfaction. This chair includes an attractive contemporary styling, side pockets, dual cup holders, and a USB port. The 6-point massage system and five modes of vibrating massage are ideal for tiredness and anxiety relief. This recliner uses a durable metal frame for stability and strength. Lastly, its superior microfiber upholstery is easy to clean and stands up to long time use.
RECLINER NO. 5 – Mcombo Electric Power Lift Recliner Chair Sofa for Elderly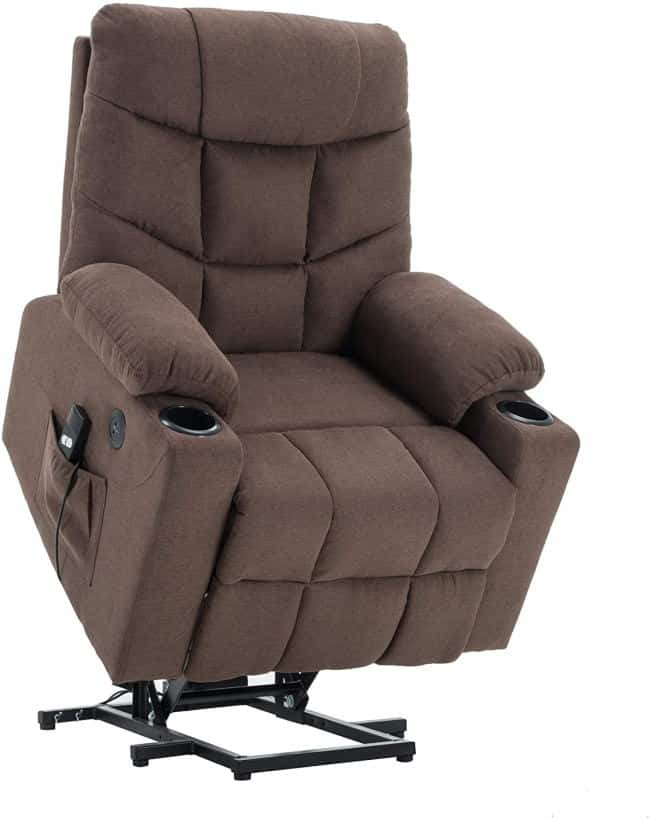 This electric power lift recliner for the elderly is one of the most popular recliners for senior
citizens. It features a lift mechanism that helps the elderly to stand from a sitting position with ease. This lift mechanism gains TUV approval that ensures better performance and a longer life span. With the use of power buttons, the seniors can adjust to any comfortable position they prefer. The chair frame comes from durable steel that can hold the weight of the aged. This remote control chair for the elderly comes with overstuffed padding for more comfort and relaxation. Additionally, the back head uses extra thick cushion for enhanced support. The upholstery includes premium faux leather material that makes the chair more durable and long-lasting. Moreover, the recliner includes dual cup holders and two USB charging ports for charging your devices while the user relaxes or taking a nap. Another feature is the dual side pockets that keep small items within an arm's reach.