When it comes to senior persons or those who find it difficult to stand up, lift chair recliner is the perfect option. However, power lift recliners with heat and massage provide ultimate lounging experience for everyone. These chairs have an added advantage of heater and massage functions. Also, they tend to have remote controls that are pretty easy to use by seniors.
5 Best Power Lift Recliners with Heat and Massage in 2021
---
(1)
Signature Design by Ashley Yandel Upholstered Power Lift Recliner for Elderly, Brown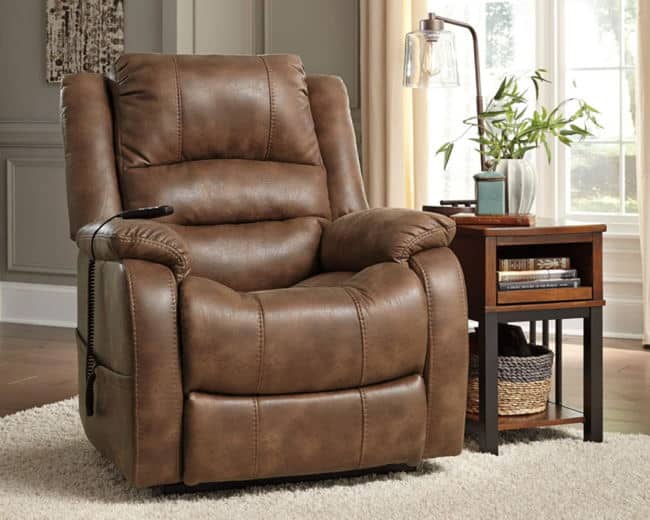 👍Pros
The Signature Design by Ashley is an ideal choice for elderly individuals as well as people with disabilities.
It takes full one minute from fully reclined position to the lift posture. Therefore, the slow power movement is highly recommended for senior citizens.

This is a dual motor lift chair recliner.

People with disability issues likely enjoy the Signature Design by Ashley.
It's super quiet and extremely cozy.

It is upholstered with smooth saddle brown thick poly fiber, which is soft, durable and it has feel-good touch.

This chair is super comfy to lounge and a compellingly attractive piece of furniture.

It feels like top grain leather (because unlike vinyl, which is sticky it has smooth feel and nice touch).
Assembly is pretty straightforward. All you need to do is to follow the instructions.
The recliner can get through the 30-inch doorway.
The back rest as well as the leg rest works independently. It also reclines to a full 180 degrees.
It's a good choice for tall individuals.
---
(2)
Mcombo Electric Power Lift Recliner Chair with Massage and Heat, Adjustable Headrest & Extended Footrest for Elderly People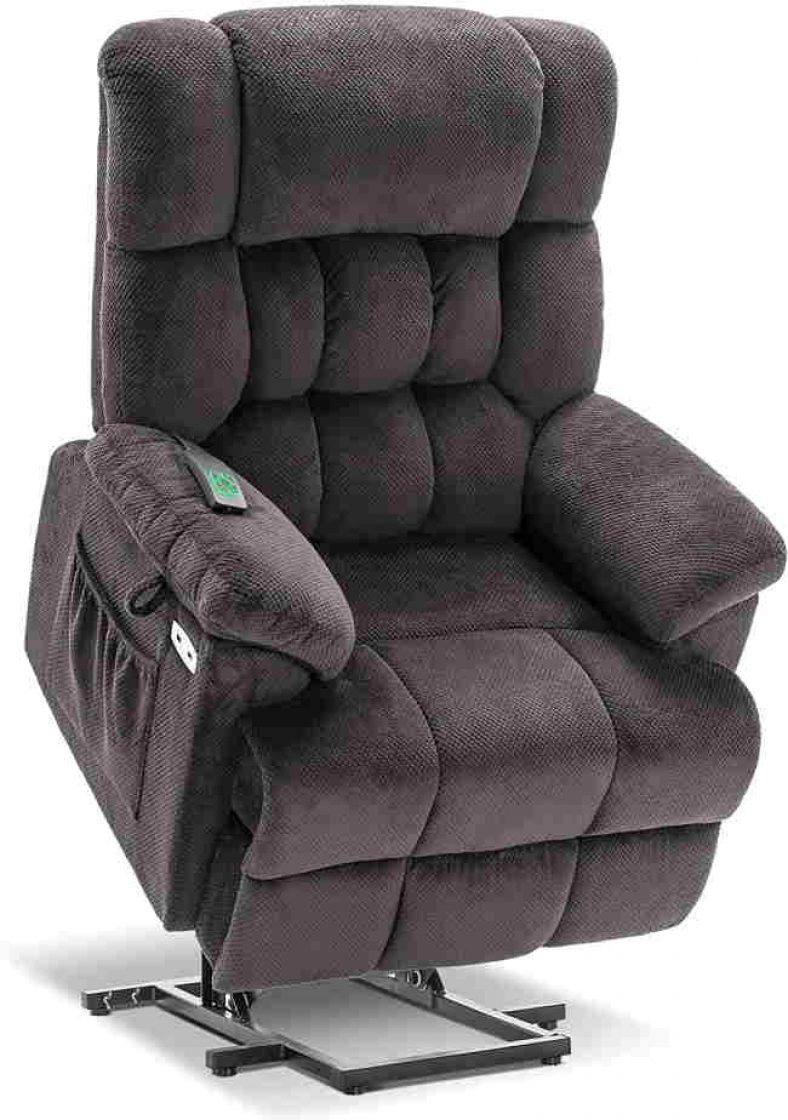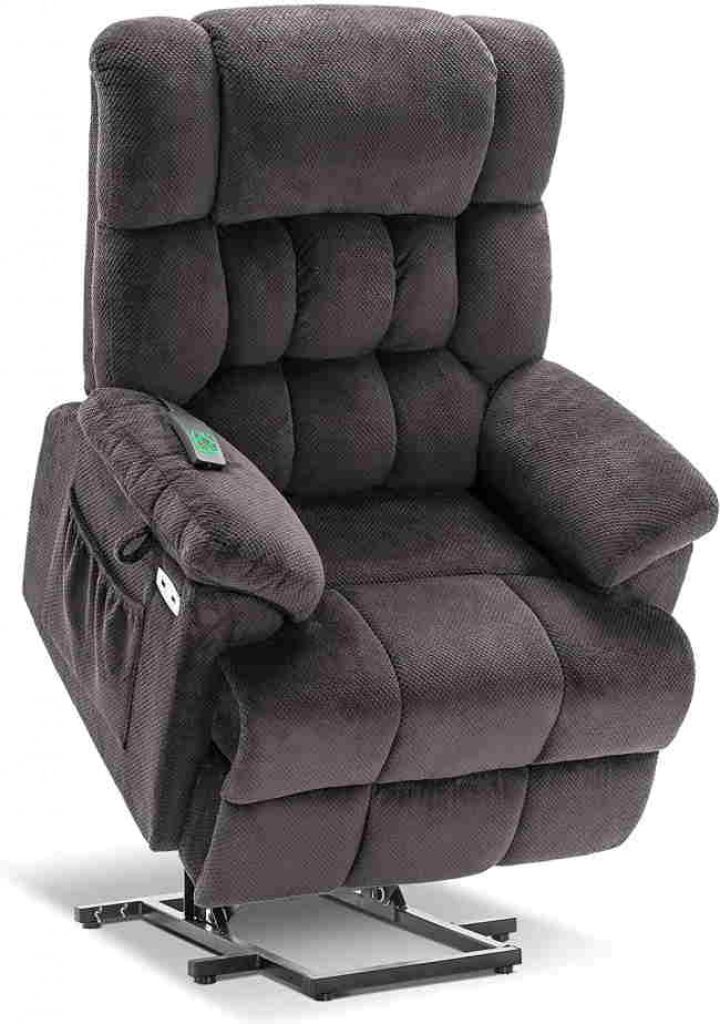 👍Pros
Unlike any other recliner, the Mcombo Electric Power Lift Recliner has a counter-balanced lift mechanism which provides you the extra support. This will come in handy especially for those individuals who are lately recovering from surgery or with mobility issues.
The footrest is comparatively larger than its contemporaries. This will allow your entire body to fully stretch without any cutting off blood circulation.
It has an adjustable headrest. If you wish to sit upright so you could watch movies you can do so.
It comes with side pockets where you could put some stuff like mobiles.
No need of any tools to assemble the chair. You can put it all together in no time.
Cons👎
The recliner is not recommended for tall individuals with a height of over six feet.
---
(3)
Signature Design by Ashley Ballister Contemporary Power Lift Recliner, Brown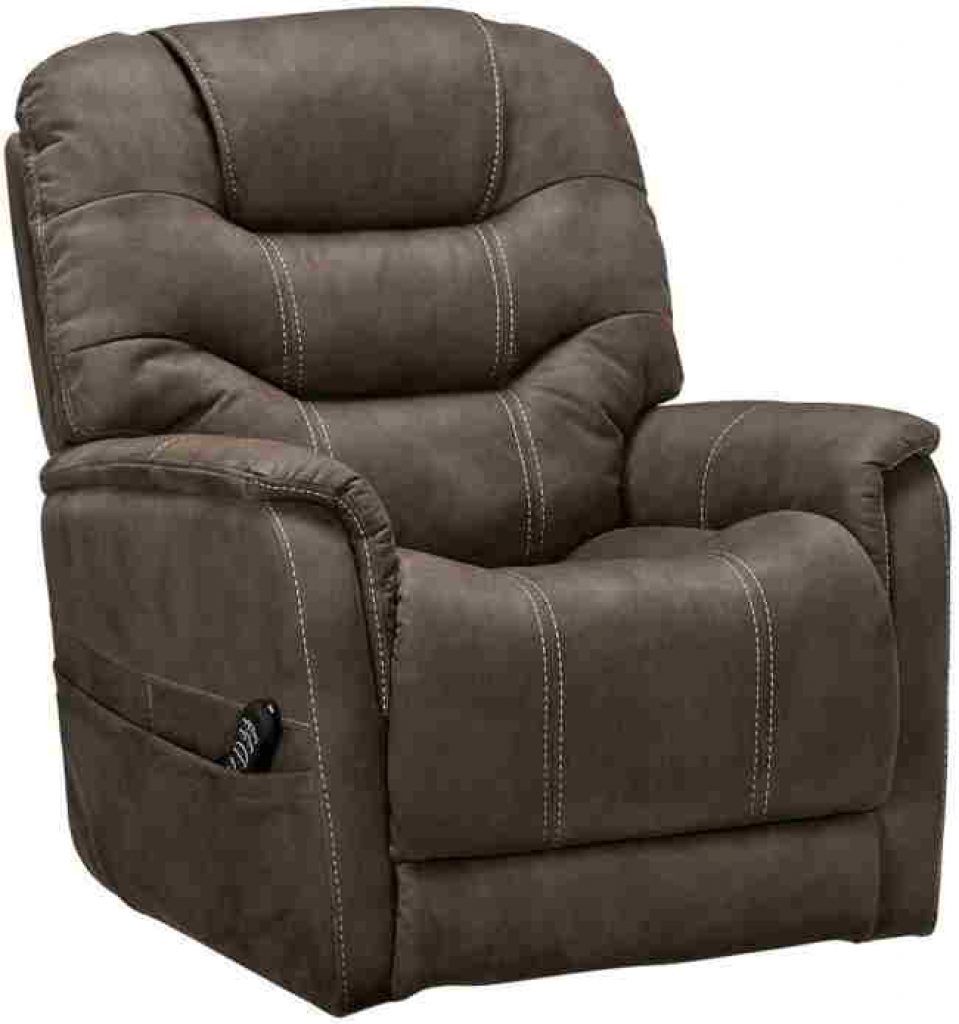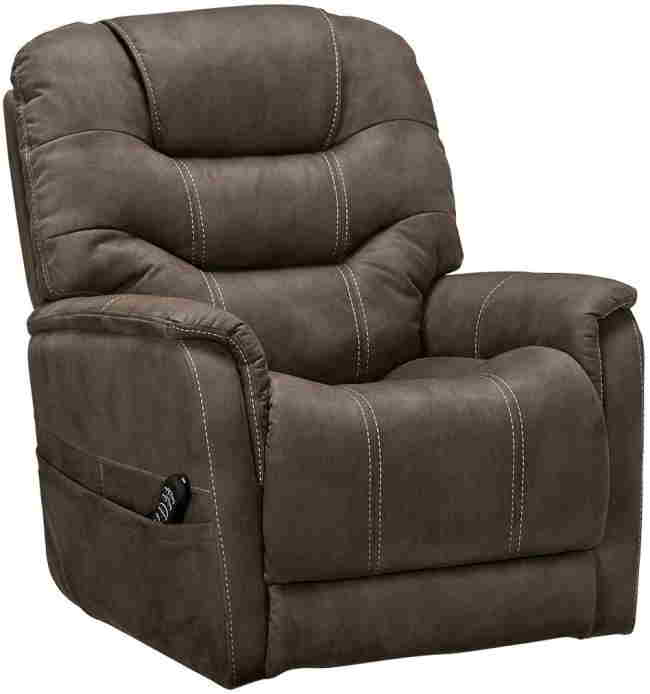 👍Pros
The Ballister Contemporary Power Lift Recliner is as gorgeous as it looks in the first place. Its dark brown shade ideally complements your overall home decor.
It recliners with just a touch of a button.
We recommend this particular chair for big guy or gal. It can easily support heavy individuals.
It comes with adjustable headrest.
You can control the chair with the remote control and there's a pocket where you can put it.
No need to put extra pillows to make you feel comfortable.
There are four motors involved in the mechanism that do not only adjust headrest or height but also the lumbar support.
You can do a work on your laptop. You only need to raise the seat up high so you're in a between standing and sitting posture.
Pretty easy installation. Clear instructions but you'll need a screwdriver to install the chair back.
Cons👎
The remote control is not wireless.
---
(4)
Mcombo Large Power Lift Recliner Chair with Massage and Heat for Elderly Big and Tall People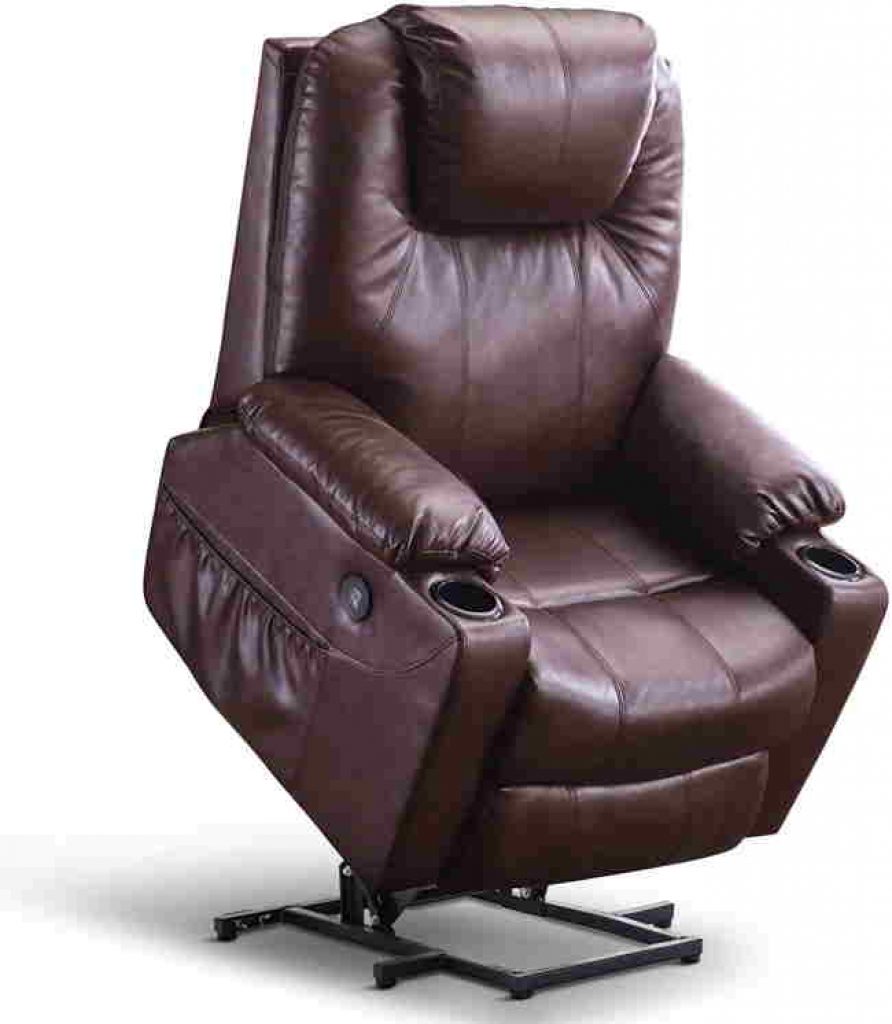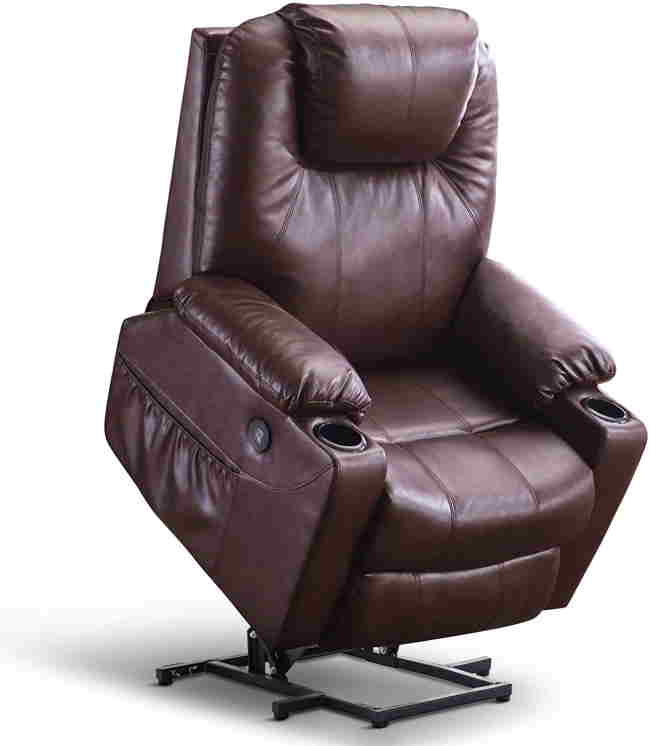 👍Pros
The recliner will do a full body massage and provide the required lumbar support.
It comes with many different heating functions not to mention the 8 vibrating points and 9 modes.
The extended backrest as well as the footrest makes sure tall gals feel equally comfortable.
This is a perfect match for seniors or people with mobility issues. There is a counter-balanced lift mechanism that pushes the recliner up so it could absorb all the stress on knees or back.
It'll take 10 minutes to put it all together.
Cons👎
The massage is just a little noisy.
---
(5)
Electric Power Lift Massage Sofa Recliner Heated Chair Lounge w/Remote Control USB Charging Ports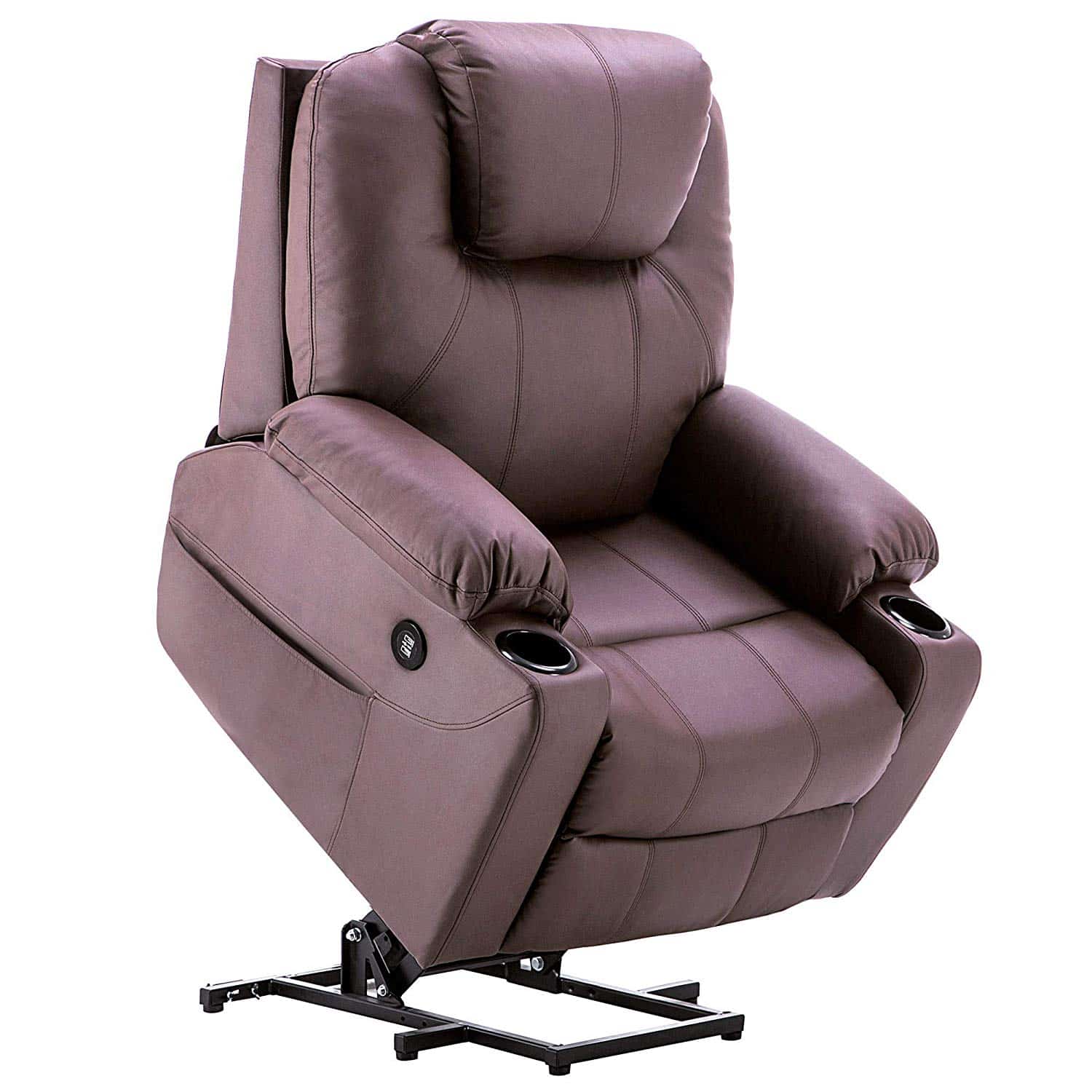 👍Pros
Material:
This chair is upholstered with nice medium brown and high-quality bi-cast leather, which is soft and allows for easy cleaning with dry or damp lint free cloth.
High level Comfort & Reclining Feature
It has very good warm system for your waist area thanks to its 8 vibrating nodes, 4 different intensity levels and two motors.

It provides great help even for those who are suffering from bad knees.

This chair softly reclines and lifts up with an easy-to-use electric remote.
Other Features
This lift chair with heat and massage also includes 2 cup holders on either side of armrests and 2 USB charging ports on its right side.
Cons👎
This chair does not recline all the way back to almost horizontal position. But it leans back up to 140 degrees. 

It requires a distance of at least 11.8" from the wall.

This chair is pretty heavy to lift it inside.

The remote control has no back light.

While the chair in reclining mode, it doesn't have mechanism to lower the footrest.

It is slightly on the smaller size.
Dimensions:
34.6"(W)x30.7″(L)x41″(H)
Seat Area: Width 22″ x Depth 20.5"
Capacity: 350 lbs
---