Editor choice
9 Best Power Lift Recliners with Heat and Massage in 2023
Recliners Guide is reader-supported. As an Amazon Associate, I earn from qualifying purchases. Learn more about our process here.
Modern recliners seem to be more popular these days thanks to the extra features for a premium level of comfort. They are perfect pieces of furniture for just about anyone, especially those having some kind of back pain. However, since there are a lot of recliner chairs out there, it becomes quite overwhelming to choose some of the best power lift recliners with heat and massage.
9 Best Power Lift Recliners with Heat and Massage in 2023
---
Given the durability and the level of comfort, we have compiled a list of top-notch recliners after going through hours of research. With time, it becomes rather difficult for most seniors to get up on their feet from a seated posture. For that reason, these power lift recliners come in handy since they assist the elderly to get back to an upright posture by a simple touch of a button. Moreover, these chairs are an ideal choice for people suffering from back or neck problems thanks to their gentle reclining mechanism.
(1) Mcombo Electric Power Lift Recliner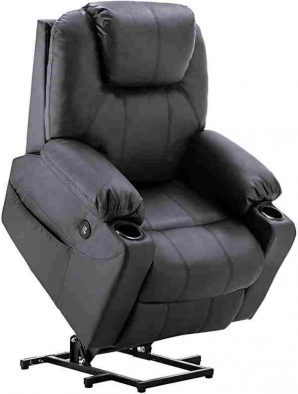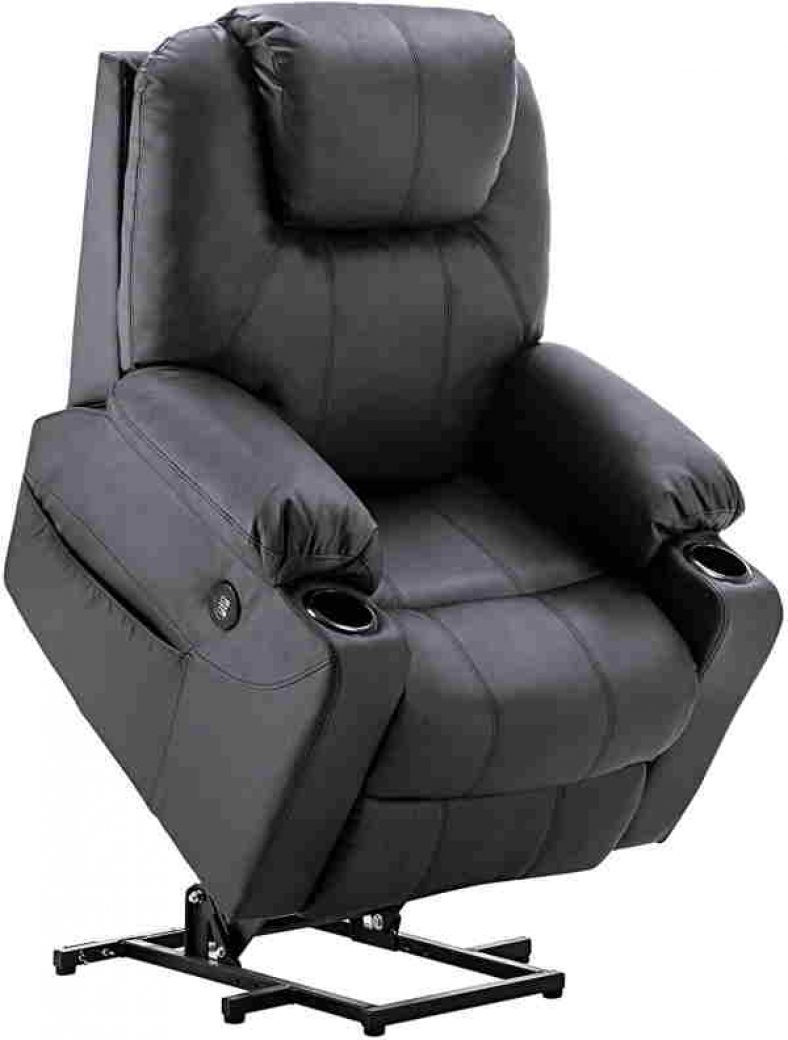 This electric lift recliner from Mcombo is hands down our top pick for the best lift recliner with heat and massage. It contains all the essential features and capabilities of a high-end recliner. The backrest and the footrest works together, thanks to a single motor. Despite the fact, this chair leans back up to 140 degrees, it allows the user to have a comfortable posture for a brief nap.
This chair is one of the most elegant and attractive pieces of furniture thanks to the faux leather covering. This leather is pretty high-quality and it is also available in five different shades. What's more, cleaning this kind upholstery is a cinch so you don't have to worry about any liquid spills anymore.
Two cupholders on both arms of the chair are also pretty handy. Plus, there is a convenient side pocket on each side for storing magazines or controls. If you want to recharge your electronic devices, it comes with dual USB outlets.
With 8 modes of vibration, it has a cool massaging feature that operates on 5 different intensity levels.
Features
Cup holders and side pockets

USB outlets

Weight Capacity: 320 pounds
What We Like
Very easy to assemble

8 vibration nodes with 5 intensities

Massage timer for 10, 20 or 30 minutes

One-year warranty
What We Don't Like
If you're a tall figure, this recliner may not be an ideal choice for you.

There is only one motor for the backrest and the footrest, which means they cannot move independently.

It doesn't lean all the way back to flat position
---
(2) Esright Massage Recliner Chair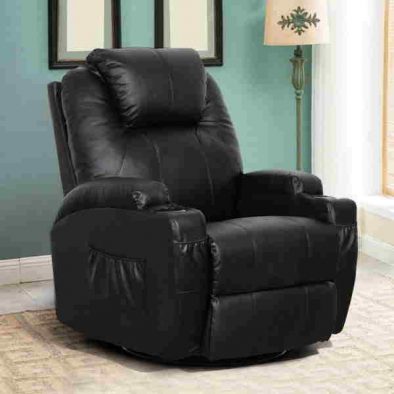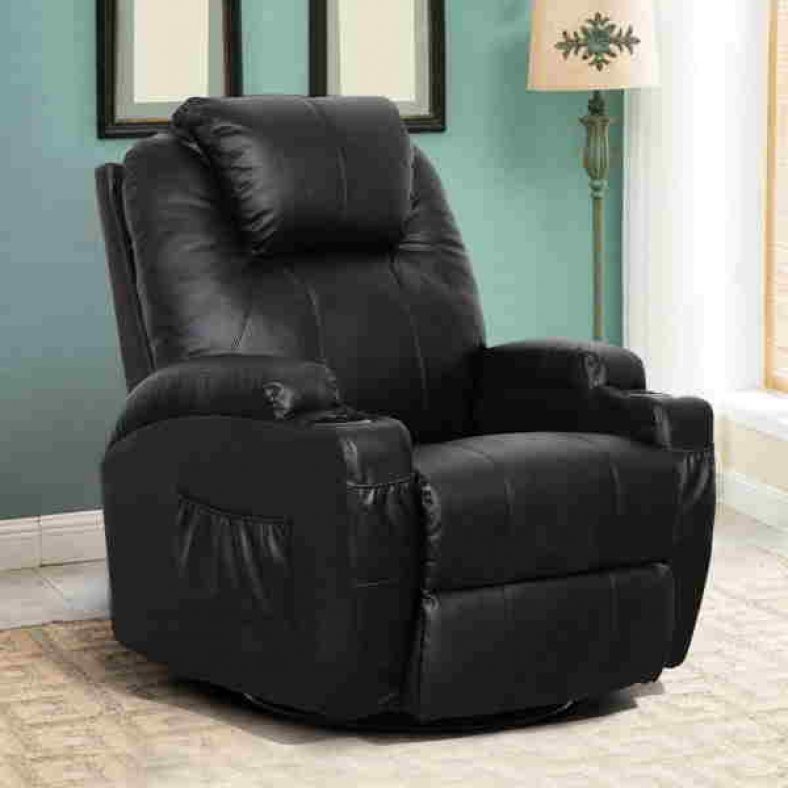 With eight vibration modes for various body areas, this Esright massage chair contains all the features of any comfortable recliner.

In order to have an instant relief to your lower back, it has a cool heating function to keep you warm and cozy. Not only this, this chair also rocks and swivels to a 360-degree angle.

The iron frame construction makes sure that it may hold up well for years. It is strong enough to hold up to 300 pounds of weight. There is thick padding on its backrest and arms, providing ultimate comfort.

It has a PU leather upholstery, which is smooth, soft and easy to clean. This leather is available in three different colors and is also stain-resistant.
---
(3) Esright Power Lift Chair Electric Recliner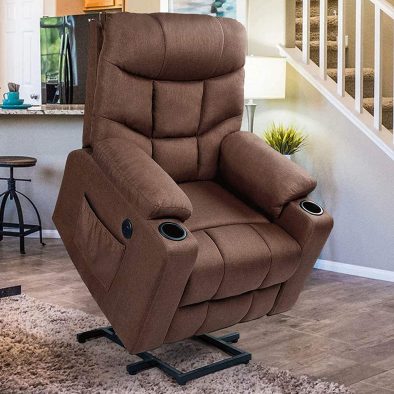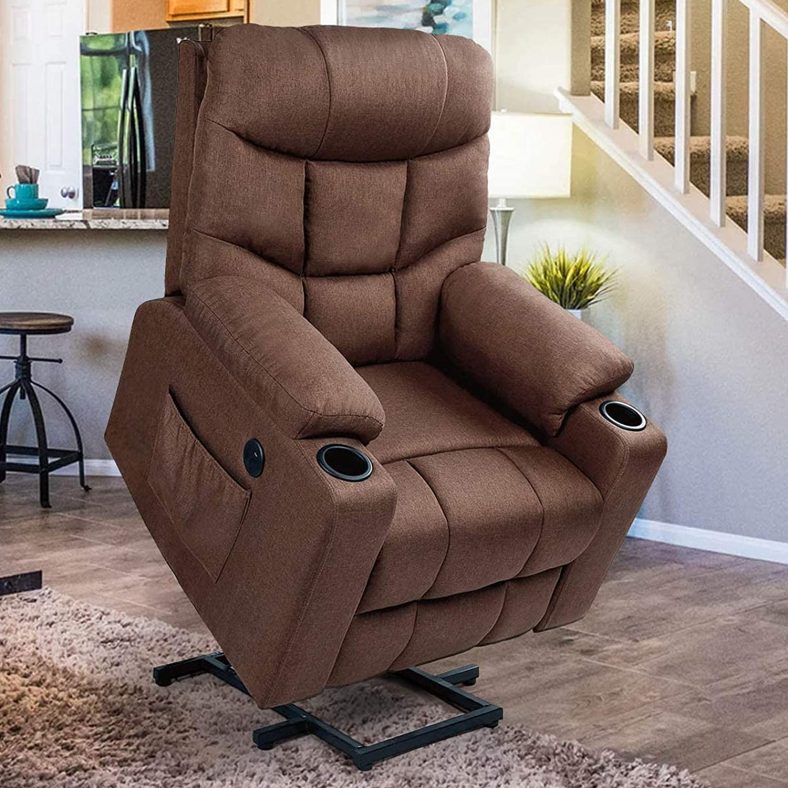 If you're an elderly or a person who finds it hard to get up, this Esright chair is an ideal choice for you. It is the perfect recliner for people with mobility issues or those facing arthritis problems.

Thanks to its lift mechanism, this chair gently pushes forward and allows the user to stand upright without putting any strain on his knee joints. It also helps people from falling over since it is very safe and secure.

The heating feature targets thighs, legs, head, and back areas. In this way, it relieves a lot of stress from stiff muscles of such body parts. What's more, you can adjust the massage modes as well as the intensity levels as per your needs.

In addition to being comfortable, it is also quite durable and sturdy recliner. The frame is made of alloy steel and CARB timber material, making sure that it can hold up to 330 pounds of maximum weight. This recliner leans back to a comfortable angle of 150 degrees.

It has ergonomic design and thickly padded cushions for extra comfort. It comes in five different colors and also contains features like USB port and cupholders.
---
(4) Esright Power Lift Chair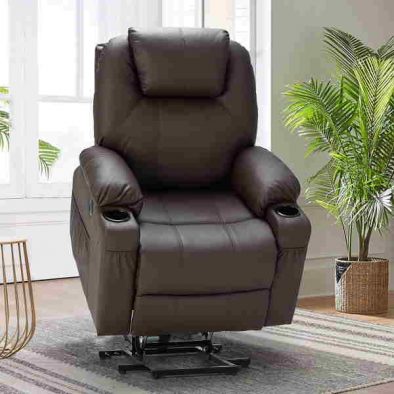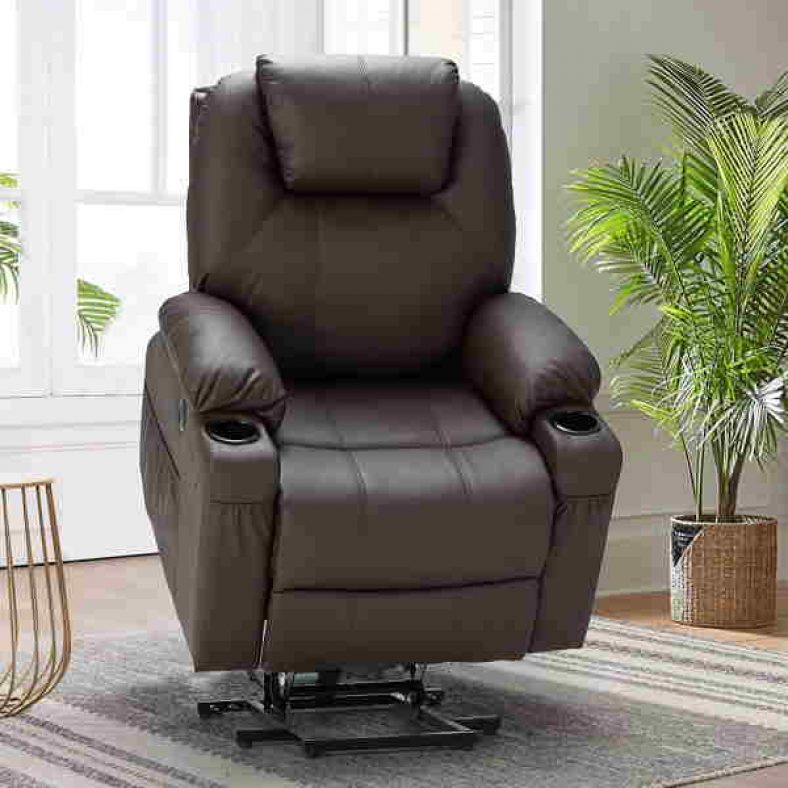 This Esright power lift recliner has sleek and ergonomic design. The overstuffed arms and back cushions ensures a high level of comfort for the user while faux leather upholstery is pretty to clean too. The lift feature of this chair is smooth and quiet.
This lift chair offers a deeply penetrating massaging function, thanks to its six-point massage with five vibration nodes. The fact that it can lean back up to 160 degrees makes it an ideal choice for napping. Besides, the steel frame ensures durability and strong enough to carry 330 pounds. There are two cupholders on each side along with handy side pockets.
---
(5) Magic Union Power Lift Chair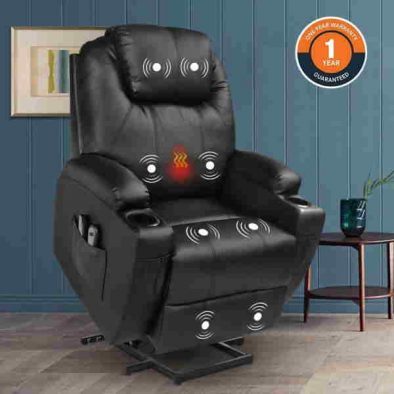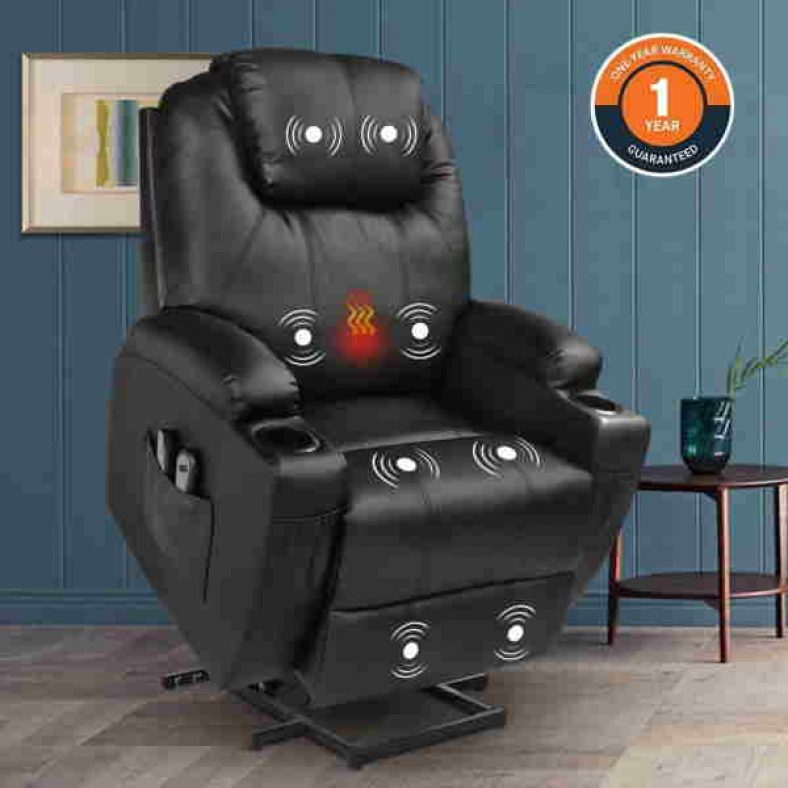 This Magic Union massage recliner is one of the best sofa for people with bad backs. It has pretty nice heating feature for your lumbar area while the messaging takes your comfort to a next level. The wooden frame structure is sturdy enough to carry up to 330 pounds of weight.
Both armrests are overstuffed and there is plush foam padding at the back as well.
There are 8 points for massage along with 5 modes. It can lay almost flat up to 140 degrees and give you an ultimate comfort.
---
(6) ANJ Electric Massage Power Lift Recliner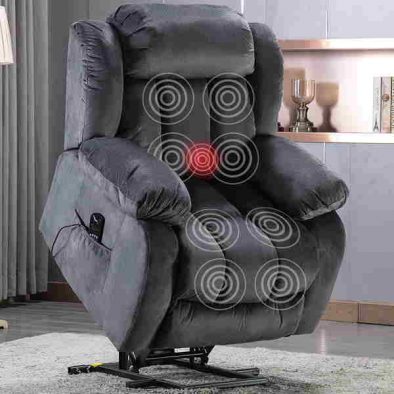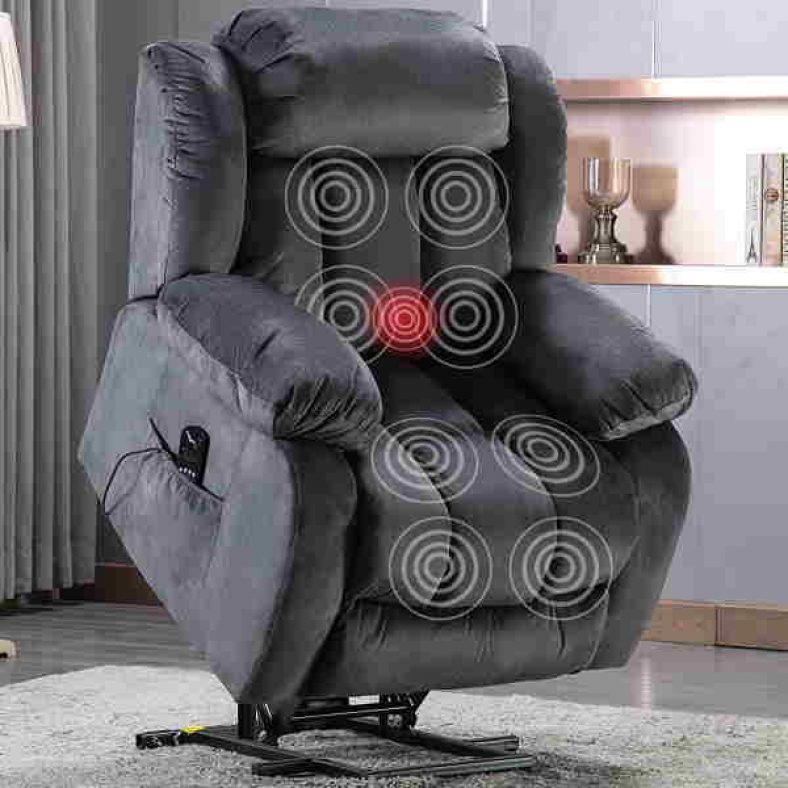 Thanks to its wide armrests and bulky outlook, this ANJ power recliner is an excellent choice for tall frames. This chair offers massage for four areas including shoulder, lumbar and thighs. You can also enjoy a soothing relief to your lower back thanks to its heating feature. You can adjust the intensity level and the target area for massage with 10 various modes.
In order to have premium lounging experience, the heavy-duty chair tilts and lifts gently as per your requirements. There is also a pretty nice side pocket for putting magazines or books.
The extra foam padding on its wider armrests provide the ultimate relaxation experience. It has high back and overstuffed pillow for a cozy sitting feel.
This chair can lay back up to 160 degrees while anti-skid upholstery prevents the user from slipping away.
---
(7) U-MAX Massage Recliner Power Lift Chair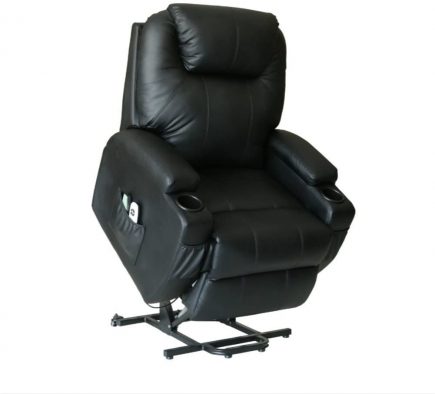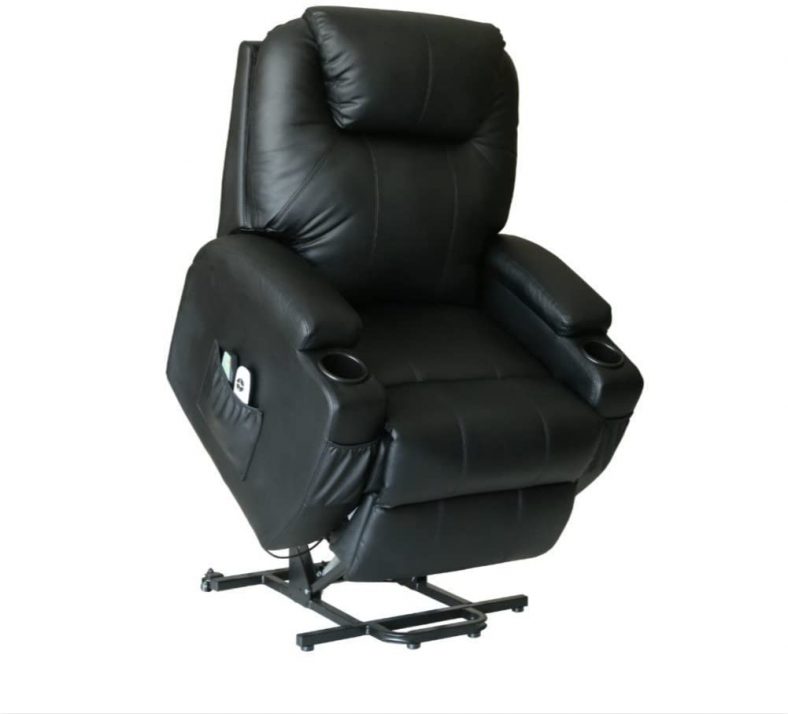 This chair is upholstered with PU leather, which is soft, smooth and durable. There is an extra thick sponge at the back and seat cushion while the overstuffed arms provide additional comfort.
Since it is power lift recliner, it comes with two remote controls with one for the lift and other for laying back.
In order to meet your specific needs, it comes with 5 massage modes and 4 areas of focus including back, leg, thigh and lumbar. You can easily maneuver this chair since it contains pretty nice wheels at the bottom. What's more, the transition from a reclined position to the lift posture is smooth, safe and quiet. The only downside is that this sofa is on a smaller side and so, it is not suitable for tall frames. Despite that, this U-Max lift recliner is highly comfortable and sturdy thanks to PU leather covering and thickly padded all-round foam cushions.
Since there is a separate remote for operating the footrest and the back and the other one works for reclining and lifting functions, there is no hassle of pressing wrong buttons.
---
(8) Catnapper Power Lift Recliner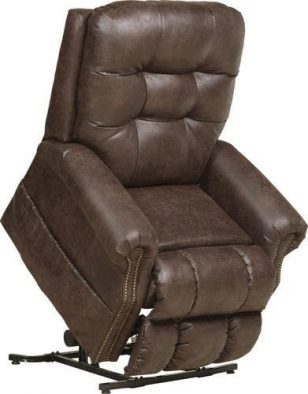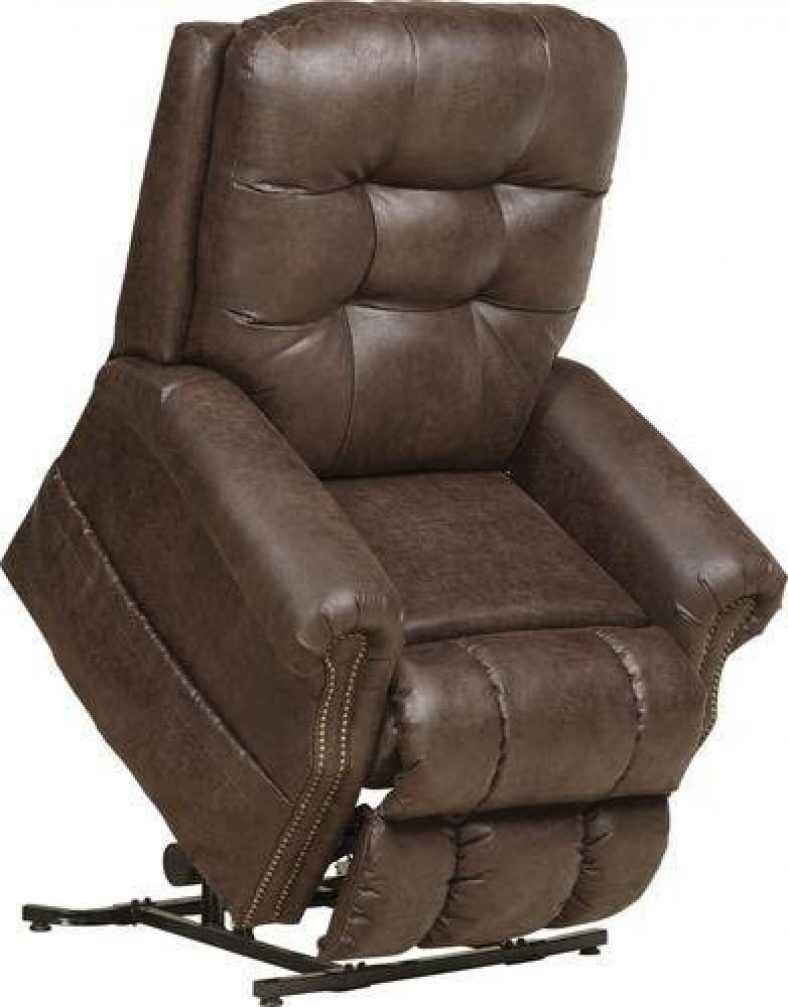 This Catnapper lift recliner has ergonomic and channeled chaise pad design. The nailhead trim looks particularly appealing to eye. This recliner has tufted back design and it is made of faux leather upholstery. The comfort-gel feature of its seat cushions makes it even more comfortable while its coil seating ensure more durability.
Thanks to its design, it provides instant relief to your various body pressure points.
Heat and massage functions are especially quite effective and easy to operate. If the power runs out, there is an extra 9V battery supply box, which comes in handy as a battery backup supply.
The entire chair has a steel frame construction, which makes sure that the sofa will stand the test of time.
---
(9) Mega Motion Heavy Duty Lift Chair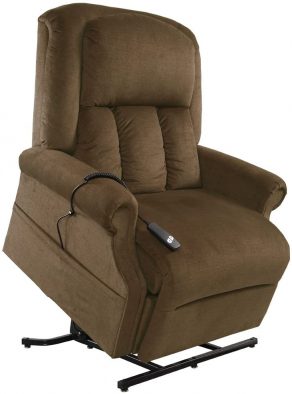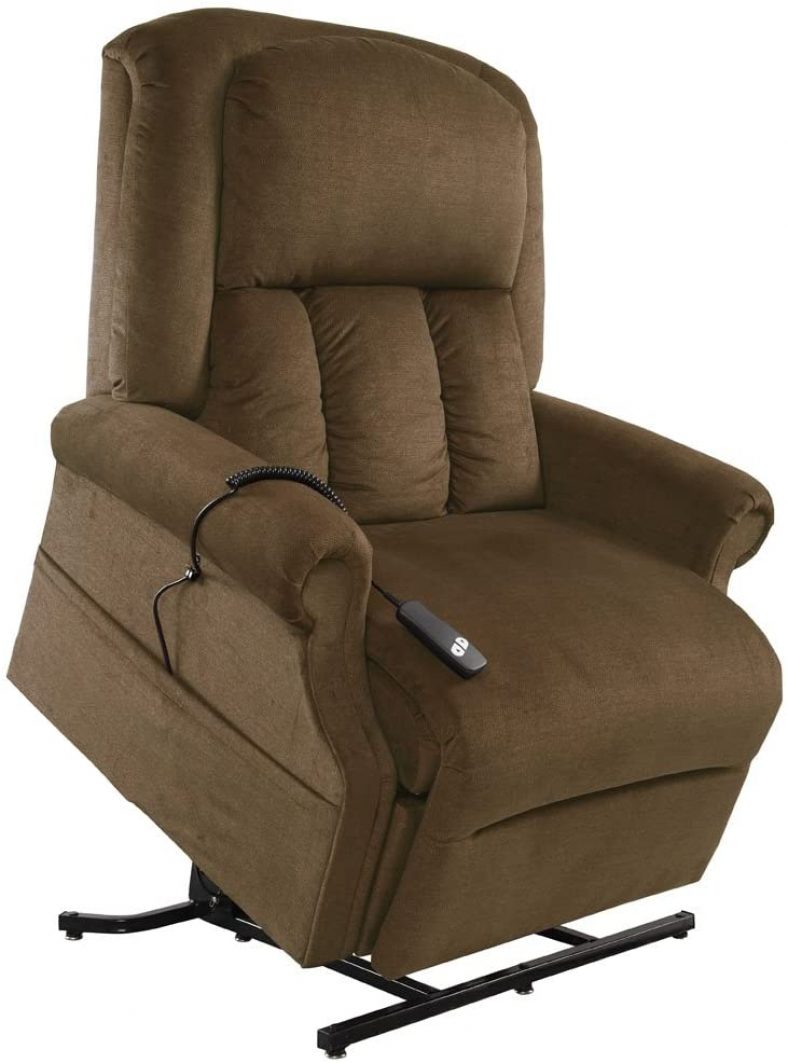 This Mega Motion chair is one of the most heavy-duty and durable recliners on the market, thanks to its steel lift mechanism. It has bulky outlook and it is strong enough to carry up to 500 pounds of weight. It means it is the ideal choice for heavier individuals. Unlike standard lift chairs, this chair is fairly bulkier, deeper and taller in size.
It allows the user to recliner and lift with three position settings. What's more, if you're a senior or a person who's struggling to get up on your feet, this is an excellent option for you. With a gentle lift mechanism, this chair can easily push the person without putting any extra stress on this knees. Besides, the lift and recline operates with the help of a handy remote controller which is connected to the chair itself. It has an elegant chaise seat with a split back design to ensure premium level of comfort for just about anyone.
What is a Power Lift Chair?
Lift chairs are quite similar to standard recliners in that they also lean back to any comfortable angle. However, in addition to that, they also assist the elderly to stand upright as the chair gently pushes forward. By means of a powerful mechanism, the lift chair actually tilts the base and pushes the chair forward so that the user may easily get off from the seat. This feature is extremely useful especially for those who struggle to get back on their feet from the seated posture. Once the individual wants to get up from the reclined position, the chair helps him to stand upright without any hassle of putting stress on his knee joints. What's more, these chairs often come with a handy remote control that operates the lift feature. With the help of just a few buttons, the user can get up easily and quickly.
In addition to the lift feature, such recliners also come with a lot of other useful add-ons like heat and massage options, cupholders and side pockets.
Who needs a Power Lift Recliner?
Lift chairs are essentially for those people who have some kind of difficulty in getting up from a seated position on their own. With the help of lift chairs, it becomes quite easy for them to get up since they don't have to put any undue stress on their knees. For that reason, these recliners are particularly useful for elderly folks because they are the ones who have a typically hard time for sitting down or getting up. Without lift chair, it would be challenging for your loved ones to get up on their own because otherwise you may need a caretaker to look after them.
Besides, the lift recliner also provide premium relaxation to your seniors especially when they need to spend a lot of time on their own. It gives them a kind of independence since they are no longer dependent on their family members to constantly look after them.
The lift recliner is not just for older people, it is also quite useful for young ones if they suffer some kind of chronic back pain or mobility issues. Moreover, these chairs come in handy for people who are recovering from surgery or those who have may find it hard to move around due to any medical condition.
Last but not least, they lift chairs are equally helpful for people having sore back or arthritis problems.
Benefits of a Lift Recliner Chair
Having a lift chair provides immense benefits for you thanks to the therapeutic benefits of these recliners.
One of the great advantages of these kinds of chairs is that they tend to give you a sense of independence. Despite the fact sitting down or standing up on our feet looks like a routine for normal persons, it becomes really demanding if you're suffering from any back pain or other illnesses. It can cause a lot of inconvenience when you have to depend on your loved ones for getting up or sitting down. Also, you feel a sense of degrading to yourself when others assist you. However, lift chairs give you a sense of independence that you need because it allows you to stand back without seeking any human help.
Moreover, lift chairs are really helpful in improving the posture of your body. Since most of these recliners also come with a handy remote control, it makes it super easy to change the posture with just a touch a button. There are a lot of chairs that have a wide range of positions to offer and so, you can easily choose the most suitable position for you. In view of the fact that lift chairs rise and recline gently and smoothly, it doesn't put any strain on the sore muscles of your body while you change position.
For elderly folks, it has a lot of benefits in that they don't have to use manual effort to getting up on their feet or leaning back. This is important because otherwise seniors would use a lot of effort which can easily wear them down. Unlike standard recliners, lift chairs do not put a lot of fatigue on your shoulders. The reason being, the chair reclines with the help of remote controls instead of manually pushing the backrest to lean back.
If you sit on a place for far too long, there are chances you may get edema, which is basically the excess of fluid in your body tissues. As a result, your legs may swell and it would be very difficult for you to move around. However, a lift chair allows you to either raise the legs above your heart or change the positions.
Besides, you may also get pressure ulcers or bedsores if you spend a lot of time in the same position in your bed. In order to get away with it, you need to move around and change your positions quite often. That's where lift chairs come in handy since they assist people with mobility issues.
Additionally, lift chairs also helps in the circulation of blood and it prevents swelling or pain of your legs. Last but not least, they are also effective in reducing joint degeneration as well as muscle tone.
How to Choose the Best Power Lift Recliner for your Needs?
As it is clear from above, lift chairs offer a lot of therapeutic benefits for just about everyone. However, there are quite a few things that you need to look at before picking the best lift recliner with heat and massage. For that reasons, it is super important to consider your personal needs and preferences before you settle down on having one.
First off, you need to decide what kind of material is most suitable to your needs. If you're the one who drinks or eats quite frequently, it would be better off if you purchase a lift chair with leather or perhaps vinyl upholstery. One of the benefits of this kind of upholstery is that it is an absolute breeze to clean this kind of upholstery. This way you don't have to worry about any liquid spills and also because it doesn't stain as much as other materials.
If you have pets around and they also seek to cuddle up with you quite often, you may consider buying a wider recliner so that they may also fit comfortably with you.
How often do you sit on a recliner and whether or not you want to sleep on it or just want to use it for relaxation, are very important things to consider ahead of time. There are typically three kinds of recliners out there: two-position, three-position and infinite-position chairs. If you want a recliner where you can spend a lot of time sleeping or relaxing, you must consider buying an infinite-position recliner. These chairs are perfectly suited to just about any kind of comfortable position for sleeping or napping.
Make sure you sit on your selected lift chair and check whether you feel comfortable from your back, neck, shoulders or arms. In order to have the most comfortable and healthy relaxation, you need to consider the support for these pressure points. If the chair looks perfect from all-round, it will alleviate stress from your stiff muscles or sore back.
If you are the one with some kind of mobility issues, you need to make sure that the lift recliner serves your purpose correctly and may not cause you any hassle instead.
Key Things to Remember Before You Select the Best Power Lift Recliners with Heat and Massage
---
Before you choose any lift chair, it is super important that you consider whether or not it is strong enough to stand the test of time. Thus, the durability of the chair is the foremost thing to consider. For this, you should look out for those chairs that have a high-quality building material. Thus, if the frame of the chair is made of hardwood base, it would be much better off as compare to the plastic one. Likewise, the quality of the upholstery and the seat cushions must also be high, breathable and resilient.

In addition to durability, the assembly of the recline is also equally important. Once you buy a recliner, you need to set it up right away. However, there are some recliners that are quite tricky to assemble without proper instructions. For that reason, you should choose the one which you can assemble easily and quickly.

Since you're looking to buy a power lift recliner, make sure that the lift mechanism has reliable and sturdy frame construction. Recliners with a heavy-duty frame like 7 gauge steel system are pretty strong and can hold up for years to come. Despite the fact there are also manual recliners but power lift recliners are always the best due to high voltage.

Once you fold or unfold the recliner, you'll have some know-how about the quality of the materials. Make sure there is no noise while you fold it and check whether the materials are of high-quality or not. For manual recliners, you need to check the lever which pushes the backrest to recline. The reclining mechanism need to be as smooth and quiet as possible. However, for power lift recliners, make sure you check the reclining and lifting mechanism by pressing a few buttons on the remote control.

You also need to make sure how far back does this chair go. Check the maximum angle of reclining back. If it lays back by up to 135 degrees, it's very good angle for premium relaxation and napping. Besides, you also need to ensure where your head is while you stretch too far. Finally, make sure to check the range of positions and see whether there is any position that may cause you back pain or not.

Last but not least, the remote control that comes with it also need to be easy to use. Most lift chairs have a built-in remote with just a few buttons to lift or recline. Therefore, make sure the reclining or lifting mechanism is sturdy and reliable.
FAQs About Power Lift Recliners
---
How Much Does a Power Lift Recliner Cost?
The average starting price for a two-position lift recliner range from $500 to $600. However, the three-position chairs tend to cost about $50 or $100 more than these chairs. But infinite-lift chairs tend to be the most expensive since they start by around $1,100.
Who Makes the Best Power Lift Recliners with Heat and Massage?
The La-Z-boy lift recliners are some of the best in the market these days, thanks to the durability and comfort level they offer. Not only this, they are also elegant, comfortable and appealing to the eye.
Pulaski lift chairs are made of high-quality, stylish and offer premium level of comfort for its users. Thanks to the attractive outlook, these chairs add a touch of class to your living room decor.
Does Medicare Cover Lift Chairs with Heat and Massage?
Yes, Part B of the Medicare covers 80 percent of the lift chair mechanism. However, it does not cover the cost of the message feature or the cost of the recliner itself.