10 Best Heavy Duty Power Lift Recliners in 2023
For PWD's and elderly people, getting in and out of a chair can be challenging. However, power lift recliners solve this problem using a motor that is capable of lifting and reclining the chair. Modern recliners come in different shapes, sizes, weight capacities, and accessories, making them more attractive. With various types of power lift recliners on the market these days, finding the best is quite confusing. To help you with this dilemma, we list some tips in buying a heavy-duty power lift recliner.
Functionality – In finding the best heavy-duty power lift recliner, it is essential to determine specific features such as heating and massage. Also, check how the chair really works, such as the ability to adjust to different reclining angles and positions.
Measurements

– It is necessary to consider the seat's height, width, and the seat's depth. You need to find a chair that suits your height, body size, and shape to make you comfortable and relaxed.

Budget Range

– The more added features a recliner chair has, the more costly it becomes. This means a heavy-duty dual motor recliner with added accessories costs higher than the ordinary and normal recliners.

Warranty

– Considering that power lift recliners are mechanical in nature, it is essential to check on the warranty of its power reclining mechanisms. If you are planning to regularly use the recliner Apart from the mechanisms, you must also check if the company offers a warranty on its parts, especially if you will use the recliner regularly.
Quick Links:
10 Best Heavy Duty Power Lift Recliners – Performance Tested in 2023
---
(1)
Power Lift Chair & Recliner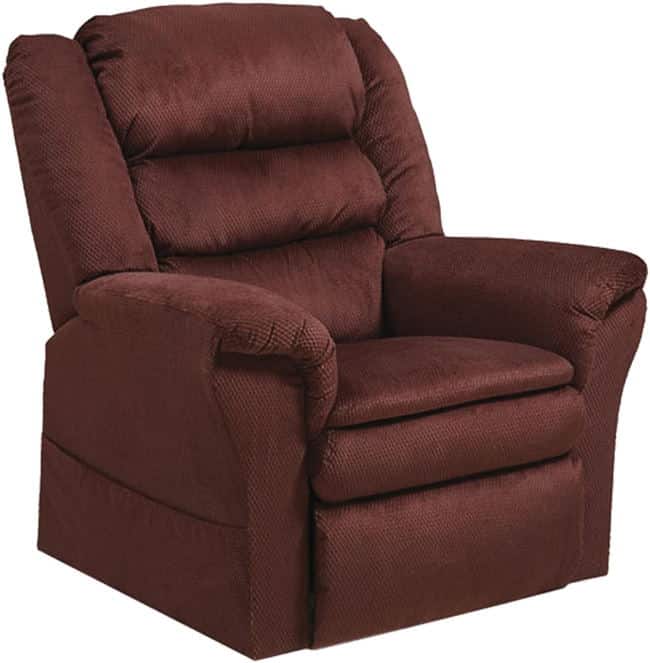 The Catnapper Power Lift Recliner is affordable as well as stylish, and it's one of the best options for a variety of users. It comes with durable and soft polyester upholstery available in chocolate brown color. The cushion and backrest are thickly padded, making it more comfortable to relax or take a nap. Most users note that this chair is a bit firmer; thus, you will not feel like you are sinking deep into the chair. You don't have to lift a finger to control the reclining mechanism and lift. All you have to do is to use the remote control. Also, this chair comes with wide cup holders in each armrest and a USB port for charging your gadgets.
---
(2)
Pride Mobility Heritage 3-Position Lift Chair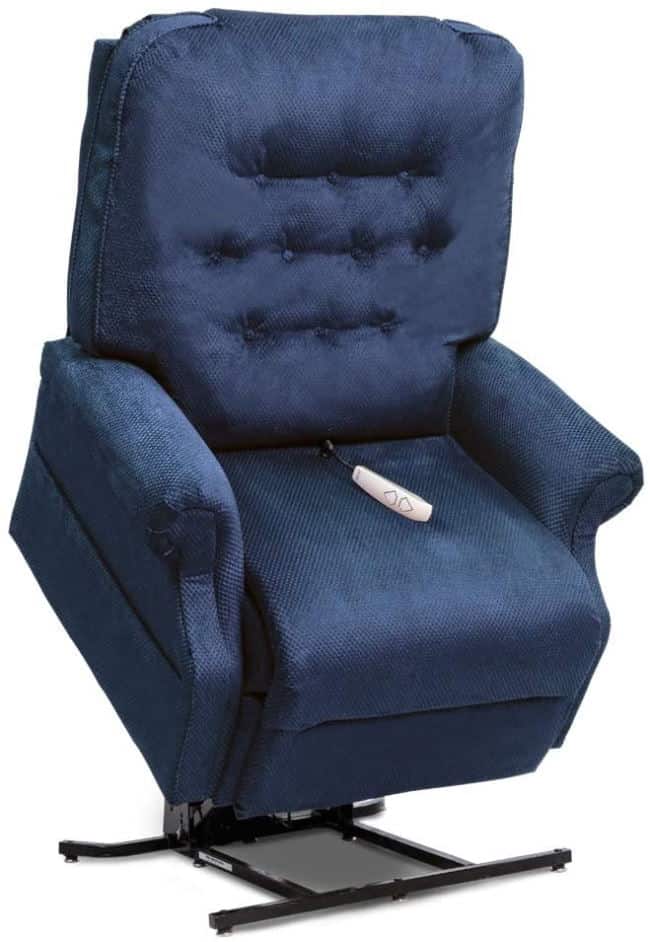 If you are searching for a lift recliner that is a combination of comfort, style, and state-of-the-art engineering, then the 3-Position Lift Chair Recliner is a perfect for you. This recliner offers three comfortable reclining positions as well as a lifting mechanism. You can easily adjust the lift system with just a touch of a finger. Additionally, this heavy-duty lift recliner allows people with mobility issues to get out of the chair easily. This chair also comes with a dual-motor sync system to ensure long-lasting quality and performance. On the negative side, this chair is a little bit hard to sit and requires a lot of space behind the chair to recline.
---
(3) Comforter Extra Wide Medium-26 Dual Motor Lift Chair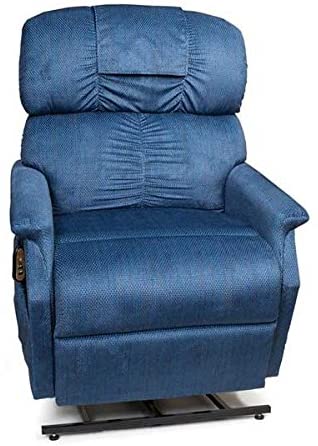 The Dual Motor Lift Chair is a top-of-the-line recliner chair that offers optimum comfort and luxury. It is both spacious and fashionable that perfectly blends with any of your furniture. This 3-position, elegant, and luxurious lift chair offers total body support. It offers dual motors to endure increased weight capacity. Additionally, this handmade dual-motor lift recliner comes from durable and premium quality materials, making it long-lasting. Also, this chair offers a quiet motor that operates smoothly and silently. On the negative side, this chair is its weight. Considering that it is an oversized chair, it weighs heavily, and it is quite too high for medium-built individuals.
---
(4) Comforter Extra Wide Medium-26 Dual Motor Lift Chair
Are you searching for a lift recliner that offers a wide seating area and powerful lifting system? Then, the Comforter Extra Wide Chair is indeed right for you. This dark blue-colored recliner is a great company in your living room or office. It blends well with your furniture or home decoration. It uses dual-motors for added strength and support. Another feature includes a smart tek system that ensures a safer lift system. The upholstery uses high-grade fabric that wraps thickly padded cushion, firm enough to provide excellent lumbar support. The negative side of this chair is that some users find it too soft and cottony.
---
(5)
Pride Mobility Heritage Line 3-Position Lift Chair Recliner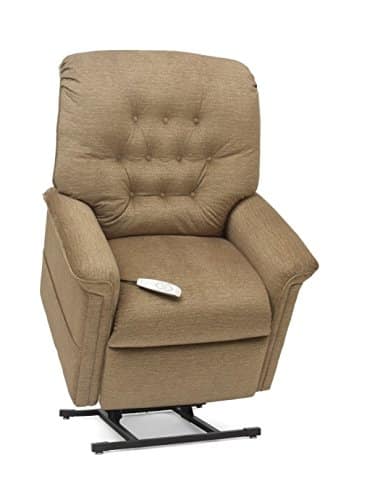 For those who are dreaming of unlimited comfort and convenience, the Pride Mobility Heritage Chair suits you best. This 3-position recliner uses handheld control attached to the chair. It is capable of adjusting various reclining positions and angles. Unlike other recliner chairs, this lift recliner offers a variety of fabrics to choose from. It provides rock-hard stability to carry and hold 600 pounds of weight. Moreover, you can easily adjust the lift system using the lever at the side of the chair. On the negative side, the leg or foot area does not extend flat, and it does not have batteries to get it down in case of power interruption.
---
(6)
Classic 3-Position Lift Chair Recliner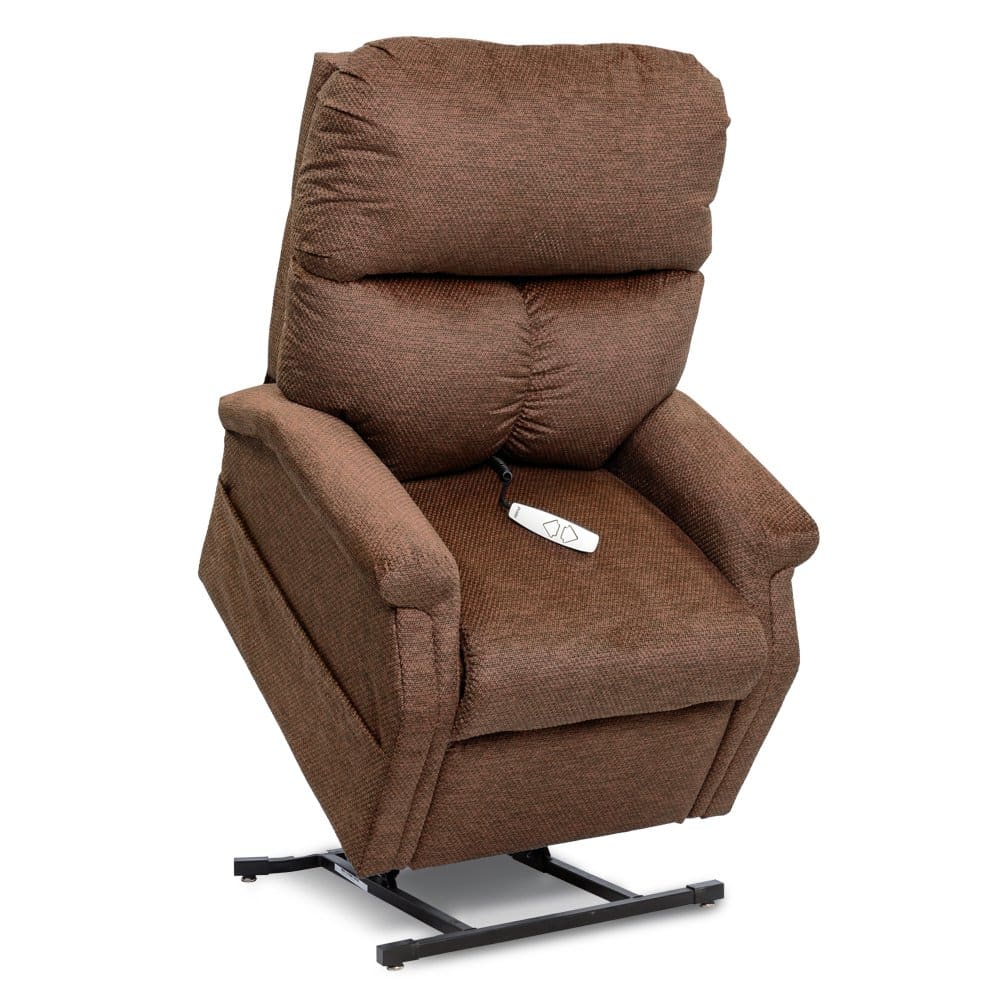 If you are looking for a top-rated 3-position lift recliner, you might want to consider this lift chair. It offers elegant style, fashion, and functionality at a very reasonable price. This lift recliner offers a heat and massage system for a maximum relaxation experience. Additionally, this lift is a heavy-duty and thickly padded recliner, capable of holding 200 pounds of weight. With a variety of contemporary designs and fabrics, this chair blends perfectly with other home furnishings. On top of that, this item undergoes extensive factory testing to ensure outstanding reliability and long-lasting durability. The drawback of this chair is the height; most users find it too low.
---
(7)
Comforter Extra Wide Dual Motor Lift Chair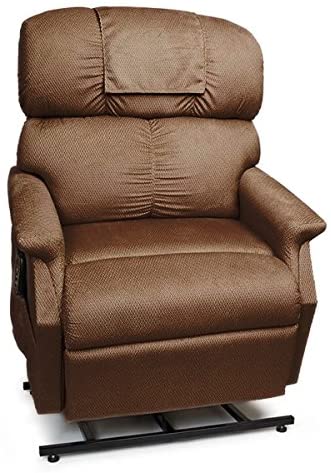 This heavy-duty 3-position lift recliner chair is a good option for those who wish to feel comfortable on a recliner one that is easy to control too. It enables the elderly or PWD's to easily sit or get up from the chair without much assistance. This 3-position medium- sized lift chair offers an extra-wide seat for more comfort and total body support. Additionally, this recliner comes with a dual-motor system for increased weight capacity. Also, the backrest, armrest, and seat come with overstuffed cushions for enhanced comfort and relaxation. On the negative side, this chair is not ideal for tall people and needs a lot of space to operate.
---
(8)
Pride Mobility Line 3-Position Lift Chair Recliner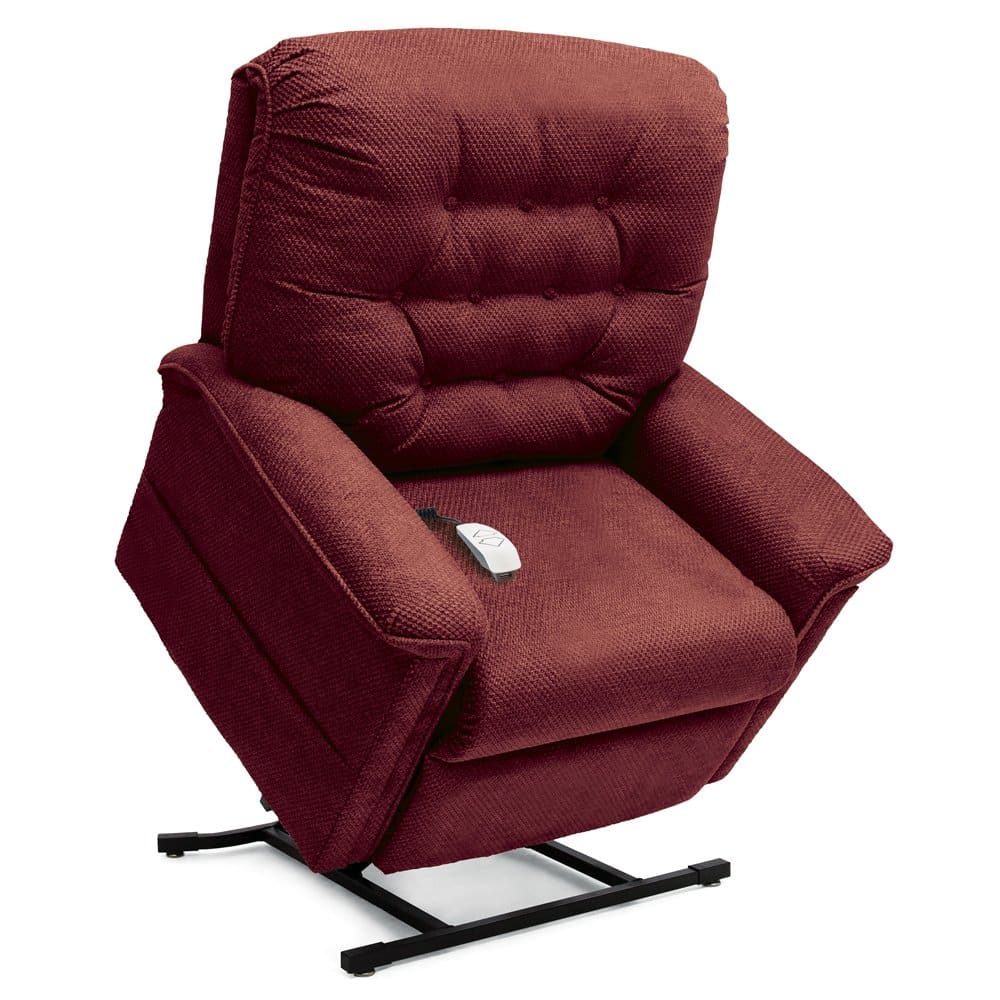 This 3-position elegant and cozy lift recliner is a combination of beauty and functionality. It is capable of moving from upright to a semi-lying flat position. It comes with an upward lift that offers stand assist for getting in and out of the recliner easily. This lift recliner offers amazing features such as battery back-ups, heavy-duty motor, and a durable frame. For added comfort and relaxation, this model offers a massage and heating system. The upholstery uses high-quality fabric and color that will perfectly blend with any furniture or home decoration. Despite its size, this item is quite heavy. Another drawback is the fabric that some users find it rather scratchy.
---
(9) Mega Motion Easy Comfort Superior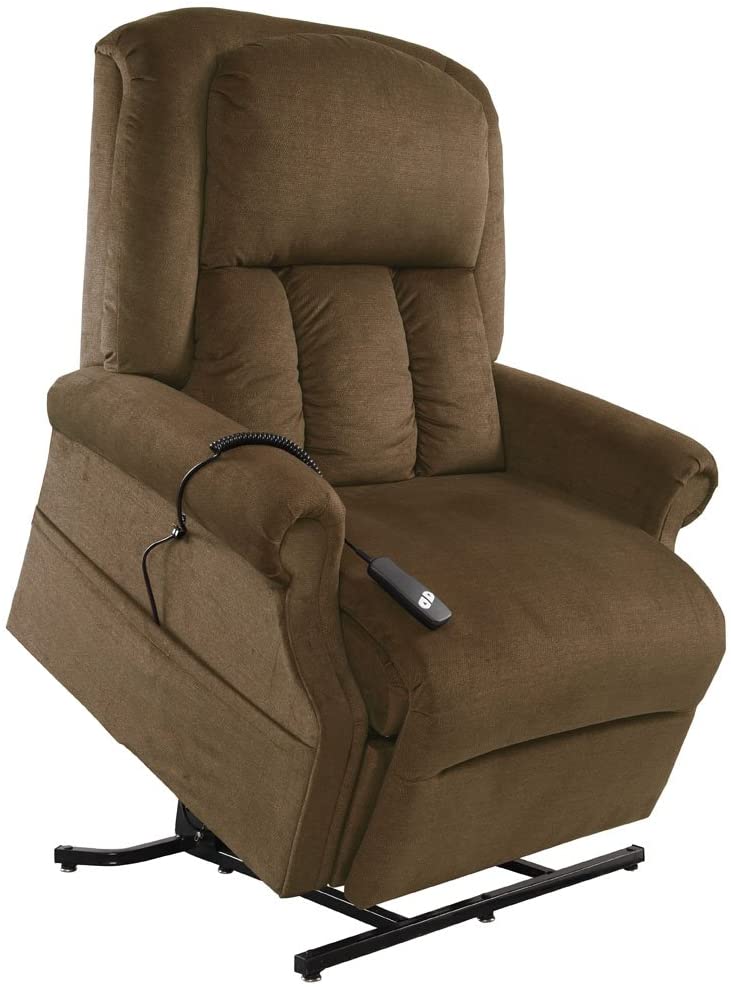 The first thing you will ever notice when you see this chair is that it appears to be huge. It looks comfortable and relaxing, but the size may pose a problem, especially if you have a small house or apartment. The Easy Comfort Superior Chair comes with a power-lift system and heavy-weight capacity to suit plus-sized people. This lift recliner does not only provide independence but also less muscle pain and strain. Moreover, this chair allows you to rise or recline the chair by using the remote control. On top of that, it offers side pockets on both sides of the chair to keep your gadgets, chargers, or remote control.
---
(10) Pride Mobility 3-Position Lift Chair Recliner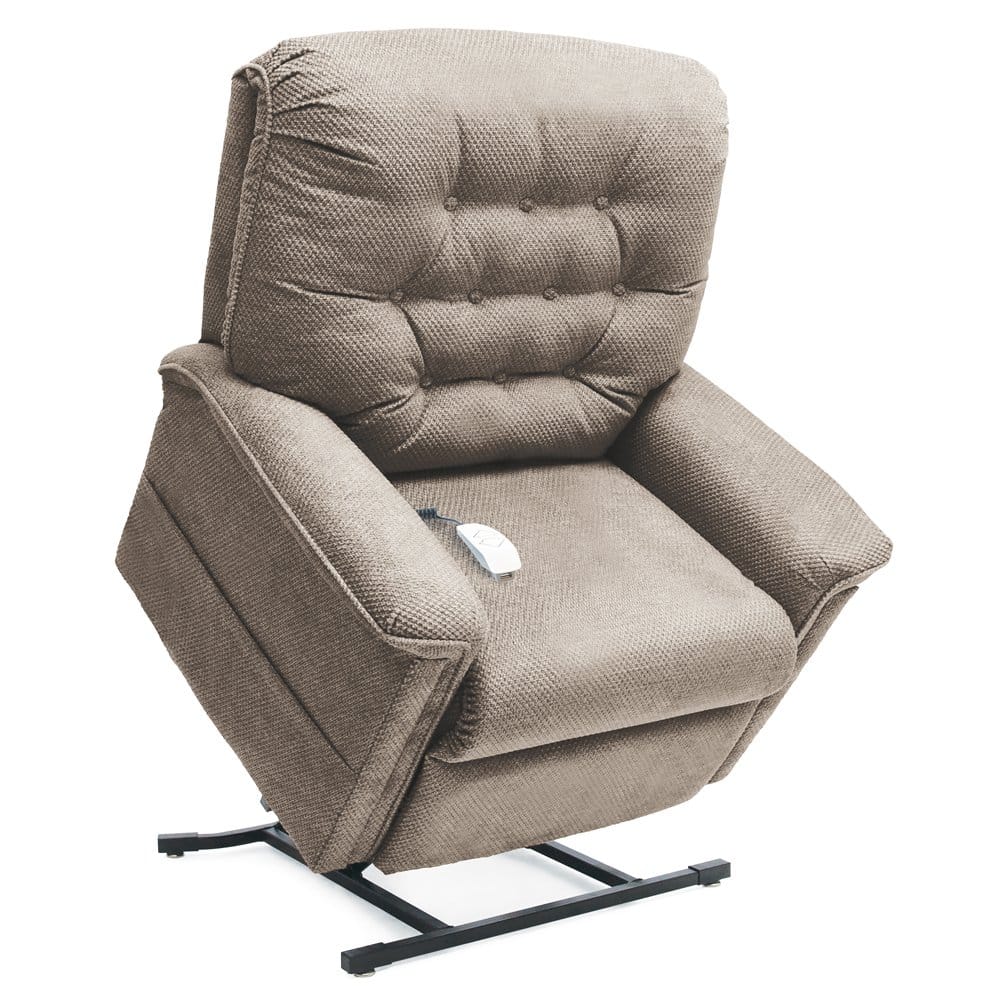 This oat-colored chair functions as a lift and a recliner. These functions are adjustable using a remote control. You can easily stand or recline the chair with the use of remote control. The lift system is smooth and quiet when operating. The upholstery uses premium grade fabric material that is easy to clean. It comes with a thickly-padded backrest, seat, and armrest to give you that extra-comfortable and relaxing experience. Additionally, this lift recliner provides an integrated battery to back you up in case of a power outage or failure. The only drawback of this lift recliner is a short –wired remote control.
How Do You Choose the Best Heavy Duty Recliner in 2021?
---
It really comes down to choosing the right heavy-duty recliner. What are your requirements for the recliner? Do you need it to be a comfy spot to sit and watch TV? Do you want a power model that has a lift function? No matter what your reasons are for wanting a heavy-duty recliner there are many features that can make it great. We'll be exploring them here. We will examine the various types of recliners and the upholstery options, as well as the dimensions and weight capacities, additional features and the price.
Type
There are many options for recliners, but we will be focusing on the highly rated. The most commonly used type of recliner, the regular recliner, can come in either a manual or an electric version. Regular manual recliners require you to pull a lever to recline. An electric recliner requires you to press or hold a button and the angle will change automatically. The wall-hugger recliner comes next. This type uses less space because it sits straighter than most recliners, and can even be placed against a wall to save space. Signature Design by Ashley Hogan is an excellent example of a wall-hugger and also comes at a low price. Because they are narrowly designed, they can't be extended very far. Finally, a lift recliner helps you get up off the chair. This function is helpful for those who have difficulty standing on their own.
Upholstery
Upholstery refers to the materials used in making a heavy-duty recliner. You can see that there is no universal consensus on the best upholstery material. It is easy to see why some fabrics are so popular. It can be quite difficult to remove stains from fabric, especially if they are embedded in the fabric. The most commonly used materials are leather and suede. These materials feel smoother, are easier to clean, and are more durable. The Lane Home Furnishings Dorado has a soft feel when you sit on it. It's important to maintain the upholstery. A stain on your recliner should be removed quickly in order not to have it soak into the fabric.
Dimensions
Although some recliners are large, they can be very portable. It can be placed almost anywhere in your living space, so it won't feel overwhelming. To make it fit comfortably, you'll need to leave approximately 50 by 50 inches of space in your living area for single-seat recliners. You'll need 60 inches for the Signature Design by Ashley Hogan. It has a larger base. For an example of single-seat recliners: The Catnapper Malone is our largest, measuring 45 inches wide by 44 inches deep. Our Signature Design by Ashley Yandel is the smallest, measuring 35 inches wide by 40 inches deep.
Color
As with heavy-duty recliners' upholstery, recliners come in a variety of colors. It is entirely up to you to choose one. Many models from our selection come in a range of colors. When choosing the right color for you, don't forget your needs. It is important to match your room's interior design and aesthetic with the color you select. You might choose a lighter color recliner to brighten up the space. Because it is not very good at hiding stains, choosing a lighter color recliner is always risky. It is possible for the stain to soak into the fabric and leave permanent marks if not addressed immediately. A darker recliner is better for hiding stains than lighter-colored ones if you have children. You will find the perfect Mcombo Electric Power Lift Recliner for you. It comes in many different colors.
Reclining Angle
Many heavy-duty recliners have the ability to recline to 180 degrees. You can find the Catnapper Malone able to provide you with a range between 140 and 180 degrees. Although you may not be fully lying flat at 140 degrees it is more likely that your upper body will be slightly elevated and your feet and legs almost flat. Despite not being completely flat, this position is great for watching TV or taking a nap.
Additional Features
While functionality is the most important aspect of a heavy-duty recliner, certain recliners have additional features that can improve its overall value. You might find recliners that have a massage function. This can increase the comfort of your chair while you're sitting down. Cup holders are also available on some models. This is an extremely handy feature that eliminates the need to carry a small table or swivel tray. Side pockets are an additional feature, which not all recliners have. These pockets make it easy to keep your books, magazines, and even your remote controls in place.
Weight Capacity
The heavy-duty recliners are expected to have a large weight capacity. Maximum capacity is not standardized, but recliners with a maximum weight capacity of 300 pounds are considered standard. Mega Motion Heavy Duty Lounge Recliner has a capacity range from 250 to 500 lbs. The difference in weight is not significant, but it is worth noting that these heavy-duty recliners require a strong motor to support the weight.