4 Best Recliners for Sleeping Comfortably – Performance Tested
Recliners Guide is reader-supported. We may earn a commission through products purchased using links on this page. Learn more about our process here.
Over the past few years recliners have turned out to be a very significant part of your living room. You may argue that they aren't meant for sleeping. Maybe you're right! But what if you've recently recovered from a foot injury or surgery, or you're undergoing a serious nerve condition like CPS. Just to let you know that a CPS is a condition in which a patient has constant pain in his legs and he/she cannot lay flat on bed. He has to move his legs all the time. For a person like him, a recliner is the only bed.
4 Best Recliners for Sleeping Comfortably
---
(1)
Living Room Power Lift Massage Recliner Chair for Elderly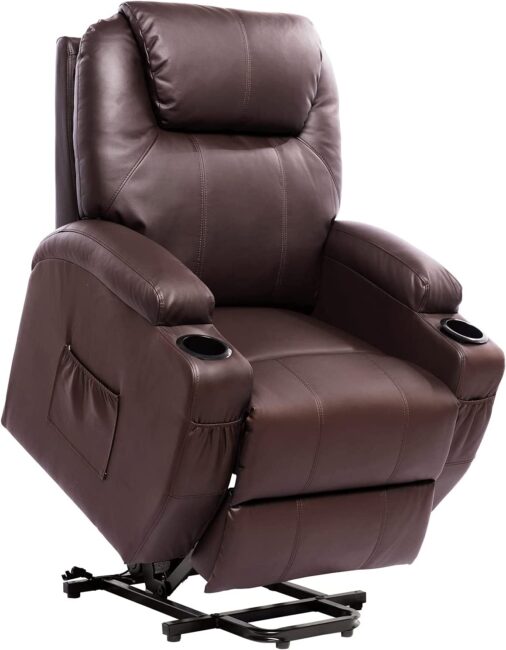 The Power Aurora Massage Chair brings along so many additional options on a reasonable price. You can fall asleep on it as it feels like you're sleeping on your bed. The chair reclines at 150 degrees–ideal for sleeping as it provides an elevated position. With five massage modes and easy-to-clean upholstery this baby offers a great lumbar support. The reclining process is automatic. The chair has two cup holders but no USB ports. Prolonged sleeping won't bother you at all. It has a steel frame so the chair lasts longer than cheaper recliners.
(2)
Esright Power Lift Chair Electric Recliner for Elderly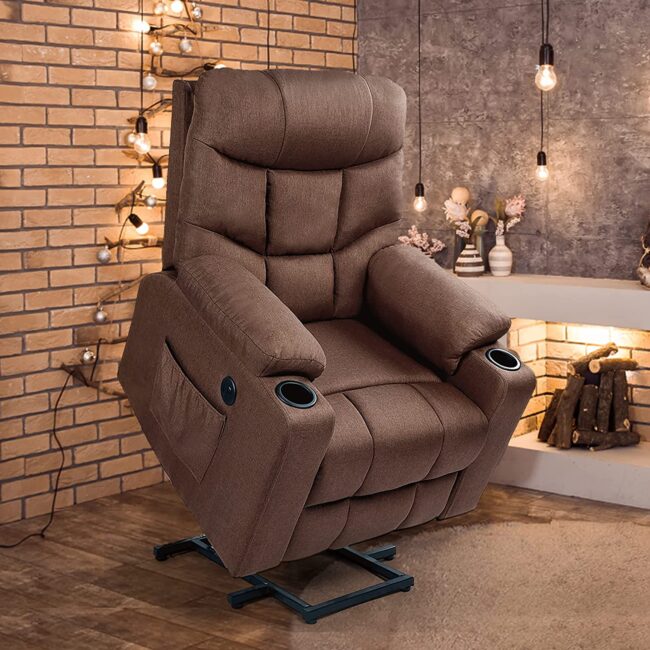 The Brown Esright Power Lift Chair will heat your back and ease your nerve pain. The chair will lift you to stand. Its optional features include two large pouches right outside the arms. Cup holders are pretty handy, you can put your water bottle in it. The overall built quality is great and that includes the arms of the chairs too. If you use it gently, the chair will last longer. You'll see chair in two boxes so assembly will take around 25 minutes.
(3) Large Power Lift Recliner Chair with Massage and Heat
A Breathable Biege Power Recliner will provide you the comfort all day long including night. However tall or bulky you are, this chair will make you feel it's built for you. A massage is reasonably good but the heat function won't disappoint you. The recliner comes with instructions and equipment so you can assemble it in minutes. It's more than ideal for an average individual as the seat isn't deep. It does take just a little space so not a wall hugger at all.
(4)
Lift Chair with Heat and Massage Recliner Chair for Living Room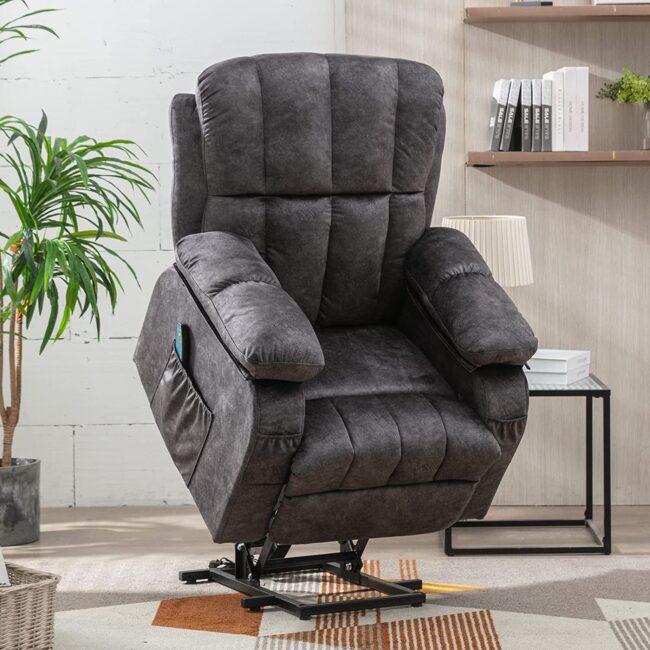 A Gray Massage Chair is for all those who feel difficulty in getting up. It's cozy and you can use it your way. You can sleep on it or you can use it as a work chair. The massager needs power to operate. The massager is only at the lower pillow. The upper pillow not only lacks massager it's also not as adjustable as the lower pillow. People with lower back pain will find this chair a pure remedy. All screws and equipment comes with it so you can put it all together without professionals. The color will add to your decor.
How Do You Find the Best Recliners for Sleeping?
---
Power Recliner or a Manual Chair?
You might be wondering if a power lift recliner is best for sleeping because it reclines and lifts up automatically. However, what you don't know is that first, power recliners are slow; secondly, they need to be placed somewhere near the power outlet. And the worst thing about them is that if the power goes out for your chair it'll stop immediately no matter what you do. If it goes out with you, you're stuck. You'll have to make a lot of effort to get up from a leaning position if the power goes out while reclining. If it goes out in the upright position, you can't sit in it. While we do recommend power recliners for elderly people all these limitations will probably make them less comfortable for sleeping. In an emergency situation you'll need to wait for the recliner to do its thing. Having said that all, if you're suffering from nerve conditions, lower back pain, and your feet have low power then you'd probably choose power recliners for sleeping.
Unfortunately, whenever you'll search for comfortable chairs to sleep in you'll mostly, if not always, get power recliners which is frustrating. Plus, a few manufacturers offer recliners that lay flat like the Catnapper Owens Power Full Lay Out Recliner Chair and it says that the chair has supposedly a power and manual option both but when you use it you'll see it's a power recliner.
Size of the Recliner
If you are six feet tall and your feet hang over the edge of the footrest then you shouldn't sleep on it and use it only for sitting. No matter what your height is, you must have an accurate measurement of the recliner you need. In case you choose a big and tall recliner and you're short, you'll have to make extra effort to get out of the chair. Similarly, if your feet hang over the edge you'll probably feel numbness because the blood circulation gets interrupted. Nonetheless, you
Upholstery
We recommend you to choose recliners which have reasonably better upholstery not to mention the real leather quality. Genuine leather isn't only easy to clean, it's durable too. Besides, your pet dog or cat can't scratch it easily.
Padding
We expect you to choose the chair with a good amount of padding so your back and feet do not bother you while you're asleep. However, you do not want to cherry pick the chair that has excessive padding unless you don't have any back pain at all. People who need lumbar support or suffering from lower back pain are not recommended to sink into the chair while they are asleep. It will only make your pain worse. Plus, these extra padded chairs will make it harder to get out of it, particularly if you're above 70 years old.
Massage Features
While the massage-like features have less to do with your sleep, they can definitely add up to your overall comfort and relaxes your muscles. Maybe it's not a deal breaker if you already bought a recliner without a massage feature but we bet you'll get a sound sleep all night long if you have one in your chair. Other additional features include, but not limited to, built-in chargers, cup holders, heating, and side pockets to put some magazines.
Room Size
If you're living in an apartment, maybe it's not a bad idea to go for wall hugger recliners, one that occupies comparatively lesser space.
Budget
Ideally, you'd want to choose recliners around $300 – $500 but added features along with the power function will always add up to your cost.
Types of Recliners
Two-Position Recliners
They are usually the most affordable and can be swiveled between upright or fully reclined positions. You can manually move the lever at the bottom of the chair to switch between the two positions. If you have a power recliner you can push the button at the armrest. They can be fully reclined and take up more space than other recliners so they are probably recommended for large rooms.
Rocker Recliners
These chairs combine the benefits of both a rocking chair (in an upright position) or a recliner (in a reclining position). This is a popular choice for nursing mothers as they can gently rock their baby while nursing, then recline the chair and take a break. You can also adjust the angle of recline to make it suitable for smaller spaces.
Swivel Recliners
This chair allows you to turn without having to get up. This feature is often found in rocker recliners.
Pushback Recliners
You can move the chair from a sitting position to a reclining position by simply leaning on the back. It is usually smaller than a 2-position recliner so it can be used in small spaces.