Top 10 Rocker Recliners in 2023 Reviews & Guide
Rocker recliner chairs have a number of benefits and they also come in various sizes, shapes and designs. They are not only cushy and comfortable to lounge, but they gently rock back and forth too. This extra feature makes them more appealing and sought-after furniture. Now let's take a look at some of the best rocker recliners that have all the features that you desire. 

RECLINER NO. 1 –
Ashley Furniture Signature Design – Ludden Rocker Recliner – 1 Pull Manual Reclining Sofa – Contemporary – Cocoa Brown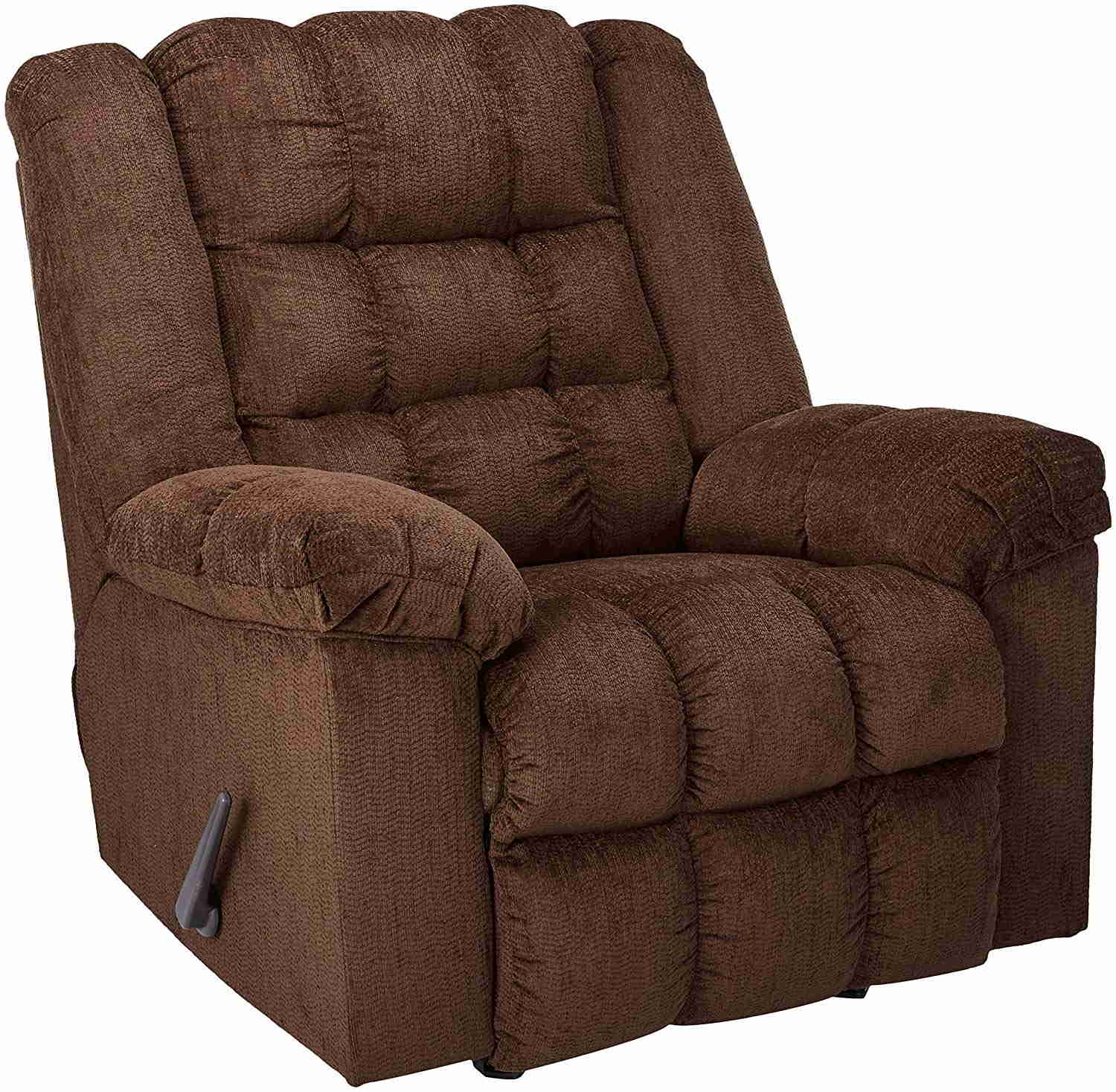 👍Pros
Material
This rocker recliner chair is made of ultra-soft polyester upholstery and has rich warm, cocoa brown color.
High-level Comfort
It features deep cushioned comfort thanks to its pillow top armrests and high resilient foam cushions.

Being a large and fluffy chair, it has very good support for your back and arms.

It has very nice cushioning on its footrest and armrest. Thus, it is super comfy to lounge and well padded all around.

This chair has quite wide arms and seating cushion, and also plenty of space for large persons.

This iconic recliner has very gentle and smooth rocking motion. 
Cons👎
Armrests are slightly low.

The footrest doesn't pop up while you are in the sitting posture.

Its a little bit hard to push down the lever in order to get back to original position.

While reclining, the armrests don't really stay with you and there appears a slight gap where your elbow need to rest.
Dimensions
40 W x 43 D x 43 H inches
Weight: 94 lbs
---
RECLINER NO. 2 – Esright Massage Recliner Chair Heated PU Leather Ergonomic Lounge 360 Degree Swivel (Black)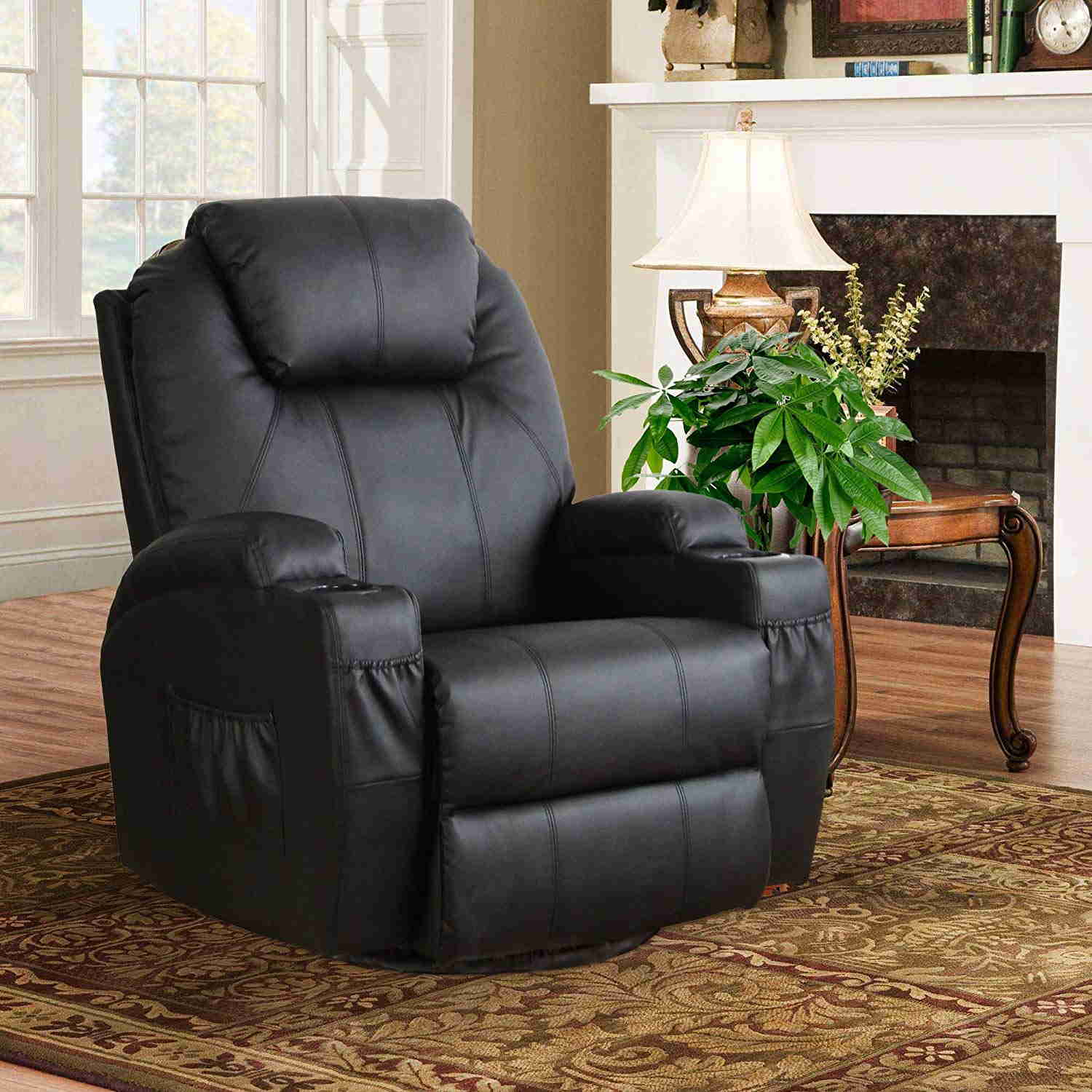 👍Pros
Material
This swivel rocker recliner is made of PU leather, which is soft, sturdy and smooth to the touch.
Comfort
It features extra thick sponge on its back and armrests.
Hidden pull cord
In order to lean back, there is a pull cord on the inside of the couch, which is pretty handy to use. Besides, it blends so nicely with the chair that it is barely visible.

The chair rocks, swivels and reclines smoothly and quietly.
Tip: The plugs are color coded and you don't need to attach any extension cord.
Space-saving chair
It is not an oversized rocker recliner, so it is perfect recliner for small living rooms.
Tip: You can use the back heater without massage function turned on, because both these features operate independently.
Other Features:
2 cup holders

4 storage bags

Remote control and power cord

Recline: 150 degrees

Swivel: 360 degrees
Tip: If you're having difficulty in closing down the footrest, just try this out! Actually, there are two triangle-shaped wooden pieces under the footrest (on each end). This wood often sticks out and prevents the leg rest from getting closed. Try applying some pressure inward and on the bottom of both pieces. Either it will snap or bend a little bit. As a result, you'll now be able to close the footrest.
Side Note: There is a Velcro flap on the back side to access plugs.
Cons👎
The seat cushion is slightly firm.

When reclining, it doesn't stay in the reclined position. You'll have to push the back of the chair to stay in the fully reclined position.

As for its massage, it's more of an intense vibration.

It requires a little bit of effort to click back the footrest into its locked position.
---
RECLINER NO. 3 – La-Z-Boy Anderson Reclina-Rocker Recliner, Sand
👍Pros
Recline features
It has beautiful and convenient handle on its right side that releases the legrest.

You can lean back without releasing the legrest i.e. the back reclines without popping out the footrest (if you want).

It has sturdy frame thanks to its state-of-the-art design.

You can enjoy customised reclining positions because it allows the back side and the seat to move together or independent of each other.
Footrest & Size
In order to enjoy comfortable positions of your choice, this chair also features three-position locking mechanisms of its footrest.

It is a space-saving recliner so it works great in small living rooms.
Cons👎
The chair is slightly on the smaller and shorter side. It is also a little bit narrow.
Side Note: There is a sudden "clunk" as soon as the legrest releases, which is normal.
Dimensions
35 x 32 x 40 inches
---
RECLINER NO. 4 –
Christopher Knight Home 299603 Elizabeth Tufted Accent Chair in Charcoal Gray, Single Recliner Armchair, Elegant and Comfortable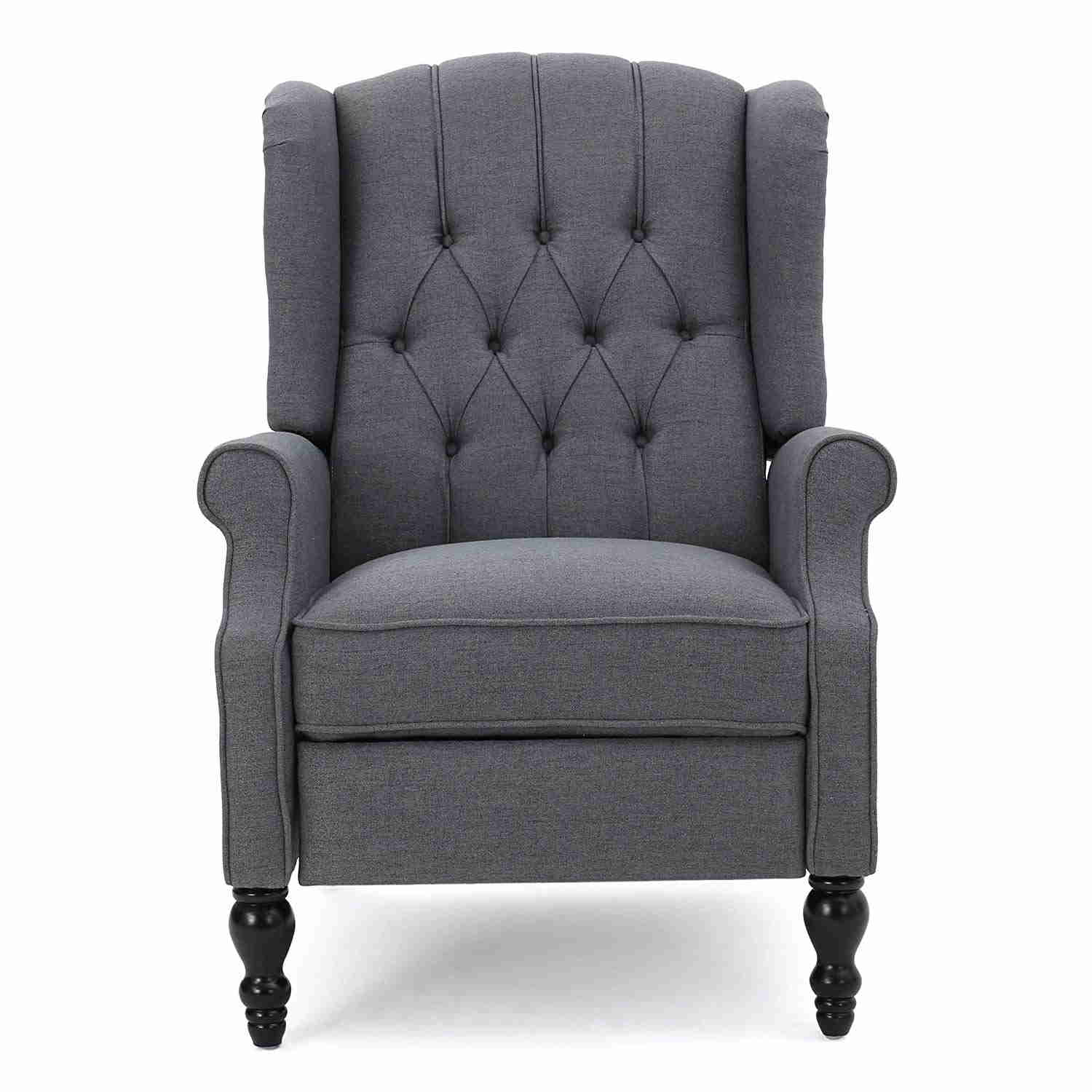 👍Pros
Color, Style & Design
It has beautiful dark charcoal and on-trend gray color.

This classic, antique-style fabric recliner has sophisticated wingback design that is not only elegant-looking, but also gives you the feeling as if you are Lord or Lady of the Manor.

With its high back, tufted fabric and nailhead trim, this recliner chair makes a bold statement in any room.
Lightweight
It is quite a lightweight furniture so you can easily place it at any cozy reading nook.
Note of Caution: The footrest may retract quickly, so beware if you have small pets who may hide under it and get stuck.
Cons👎
The seat cushion is slightly firm. It also seems to be a little wobbly.

In order to recline, you'll have to push down the back because there is no handle or lever.

Its color may appear charcoal gray, but it has more like light blue shade.
Dimensions
34.8 x 28 x 41.2 inches
---
RECLINER NO. 5 –
DIVANO ROMA FURNITURE CAM008 Recliner Chair Black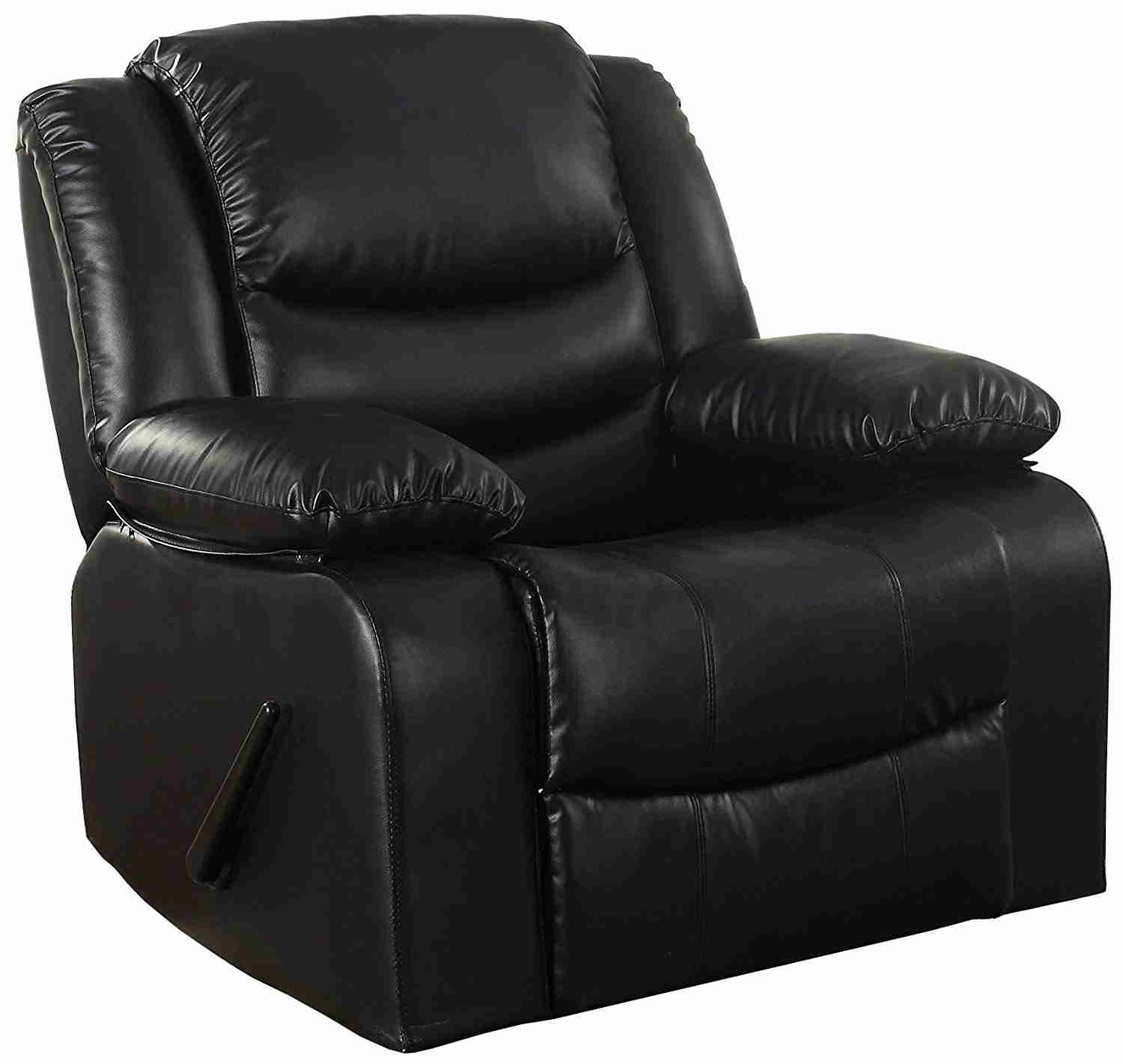 👍Pros
Material
This rocking recliner sofa is made of very soft, smooth and high quality bonded leather upholstery.

You can easily wipe off sticky spots or pet hair from its material.
Comfort
The seat cushion seems to be a tad "springy". Besides, it has pretty overstuffed and cushy padding on its armrests and back.

The legrest and the seat don't have any gap.
Cons👎
It is slightly on the narrow and smaller side.

The back is a tad small for tall persons i.e. tall persons may find it hard to support the back of their head in sitting position.
Dimensions
42 x 40 x 37 inches
---
RECLINER NO. 6 –
Flash Furniture Contemporary Softsuede Graphite Microfiber Rocker Recliner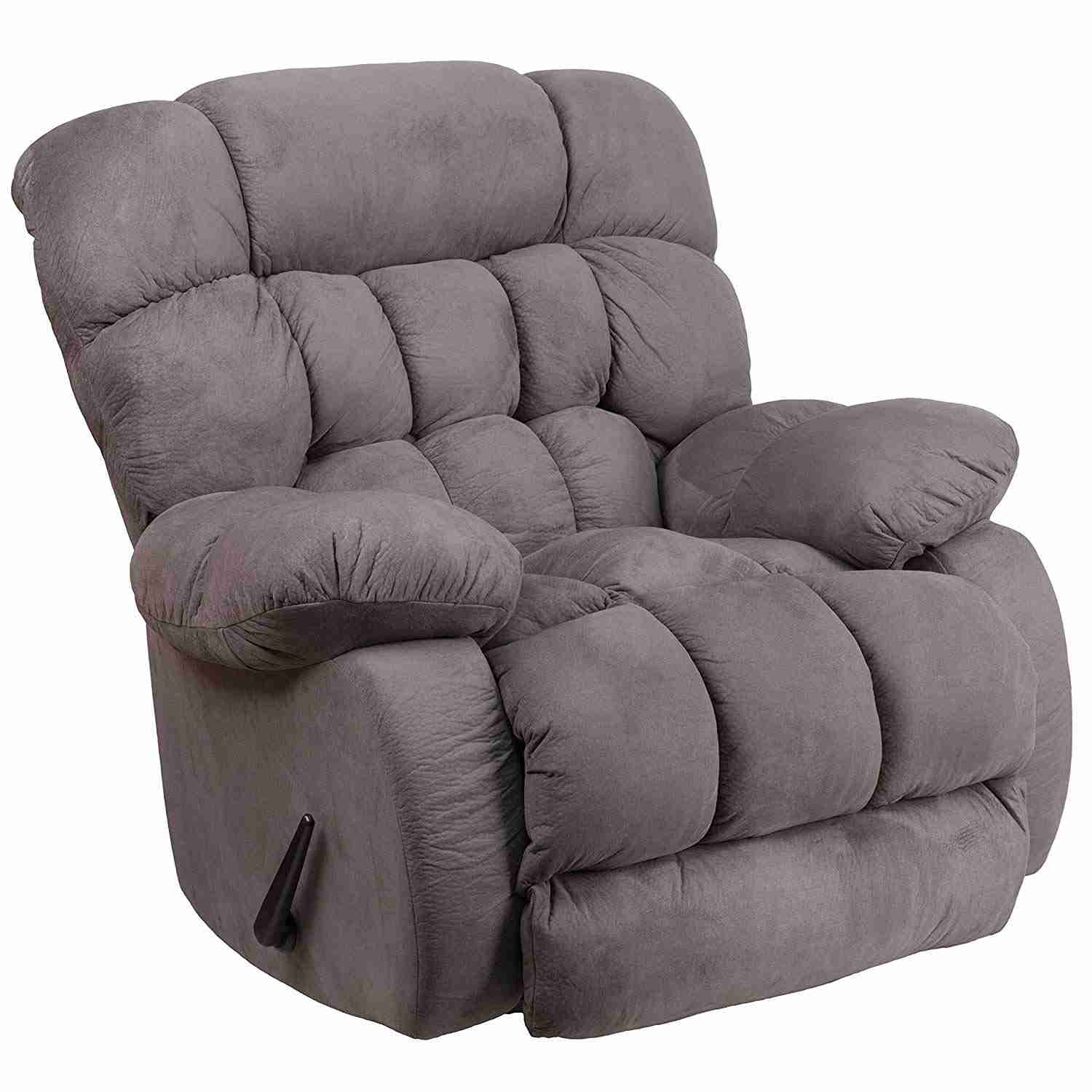 👍Pros
Material
This rocker recliner has contemporary style with its plush arms and armrests as well as softsuede graphite microfibre fabric.

You can easily wipe down its velour-like fabric with bristle brush.
Rocking features
This chair has very gentle rocking motion.

It rocks gently, smoothly and easily.

   
Tip: In order to get out of the couch, you must first lock the lever into its place. This way the legrest will fully retract back to its original position. 
Cons👎
The bottom part is a bit heavy.

Its seat cushion is a tad firm.

Its footrest needs slightly more padding.
Dimensions
67 L x 39 W x 48 H inches
---
RECLINER NO. 7 –
Dorel Living Padded Dual Massage Recliner, Tan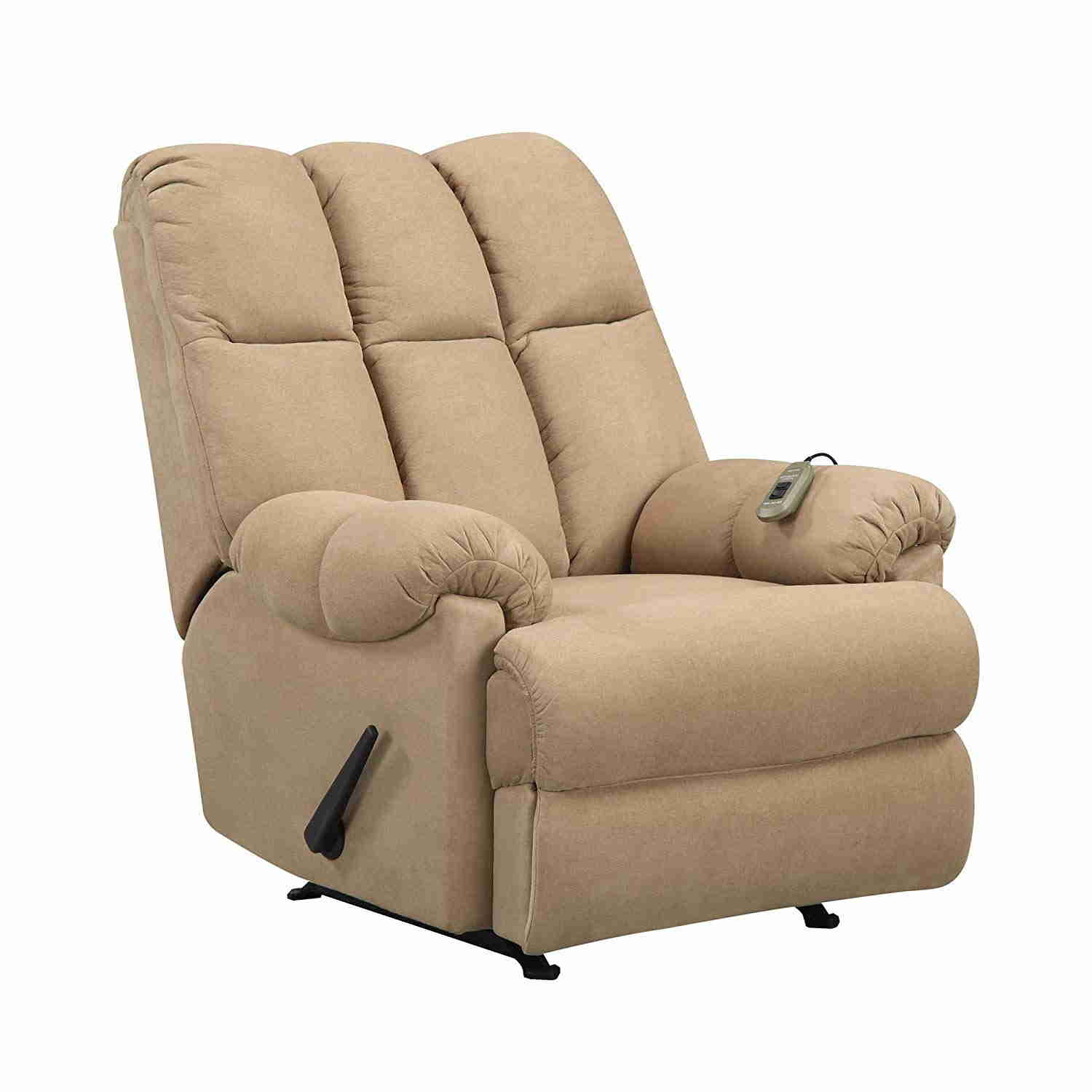 👍Pros
Material
It is made of neutral tan microfiber fabric and sewn-in seat that adds a touch of casual style in your room.
Massage
This fully upholstered couch has massage for its seat as well as its back. You can use massage for back and seat together or independently.
Comfort
The foam seating, along with back and armrests have very soft cushions for added comfort.
Recline & Rock features
It reclines back comfortably at two positions.

This chair has smooth and relaxing rocking mechanism. As a result of its forward rocking motion, it becomes rather easy to get up.

It is a lightweight and sturdy furniture.
Cons👎
The back doesn't click or lock into the reclined position.

The chair rocks gently during the upright posture and the back doesn't recline unless you lift the footrest up.

If you're a little taller than 6 feet, this may not be a good fit for you.

Its massage is more like a vibration and it makes a little bit noise too.

This chair is slightly on the narrow side.
Side Note: At first, the lever may be hard to pull back and forth. However, it will loosen up over time.
Dimensions
36 L x 41 W x 40 H inches
---
RECLINER NO. 8 –
Larkinhurst Traditional Earth Rocker Recliner with Nailhead Trim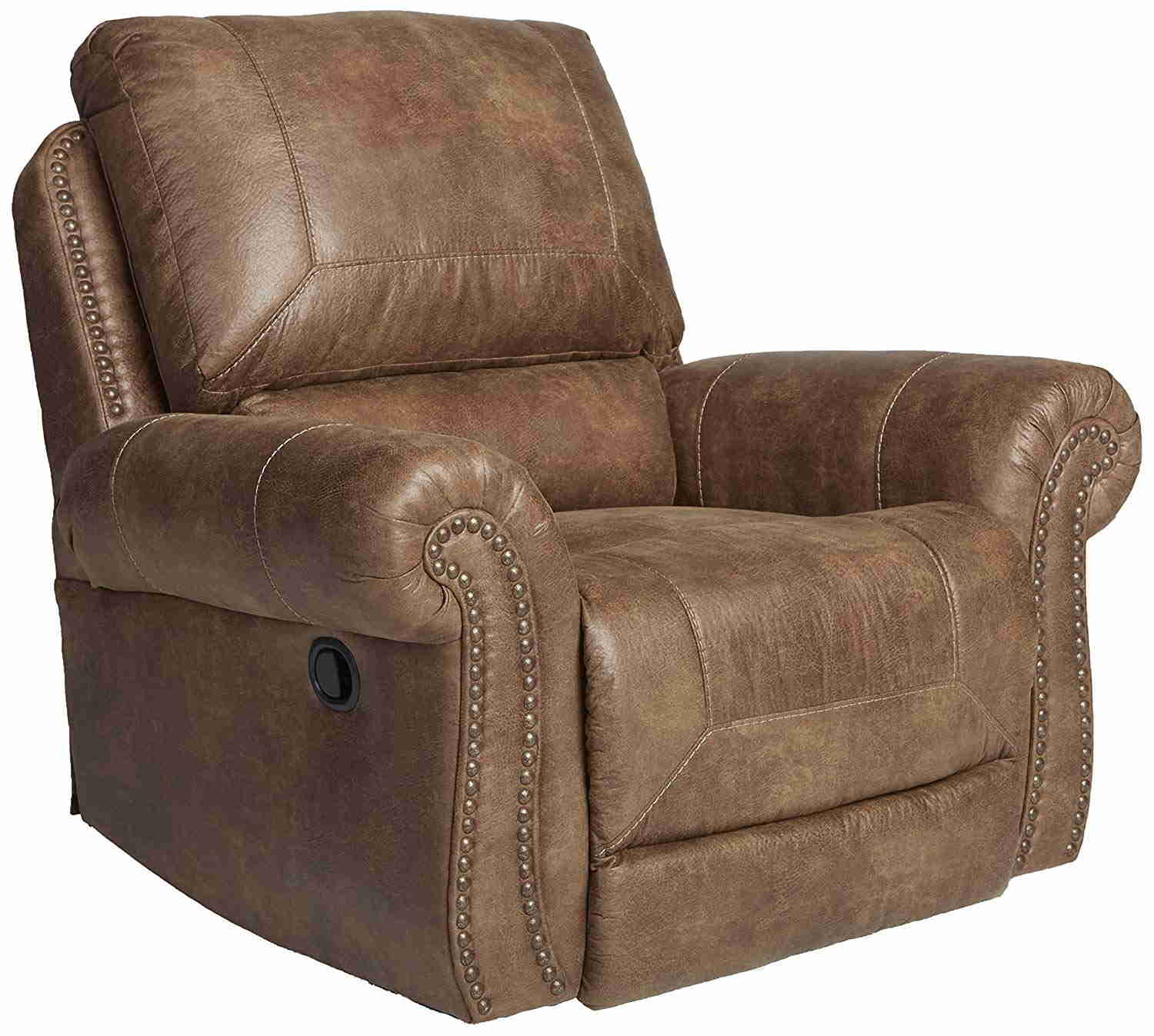 👍Pros
Material & Look
This chair has rich texture of polyester material and weather faux leather, which is pleasing to the eye.

With its nailhead trim accents and stylish rolled arms, this couch has traditional, rustic look. 

It has wider arms and plenty of space for obese persons.

Its leather is smooth, soft to the touch and looks really like genuine leather.
Cons👎
It has minimal head or neck support.

It requires little bit of effort to shut down the footrest.

The seat cushion is a tad shallow i.e. you may not be able to curl up your legs.
Dimensions
43" W x 40" D x 40" H
---
RECLINER NO. 9 –
Naomi Home Odelia Swivel Rocker Recliner Cream/Microfiber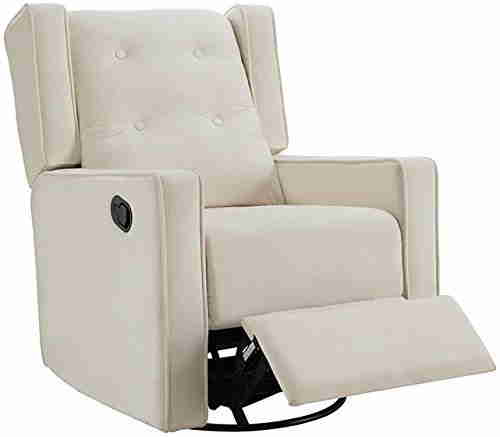 👍Pros
Material & Comfort
This rocker recliner swivel chair has plush cushions, sturdy construction and well-padded arms.

The seating cushion has spring core foam and it is wrapped in velvet-like microfibre upholstery which is super soft.

This chair has very good lumbar, back and head support.
Design
The square silhouette backrest has beautiful button tufting, welt trim detail and track arm design.
Recline features
It goes into a recline mode, smoothly and easily.

This recliner glides, swivels (360 degrees) and leans almost completely flat.

Its motors are super quiet while the cushions are soft, fluffy and super comfy to lounge. 
Legrest 
The footrest is not only adjustable but well padded, thereby giving you the extra layer of comfort and flexibility.
Cons👎
If you're a pregnant woman, you may not find it too comfortable while sitting upright. This is because this couch allows you to sit straight up (when not reclined) and you may have to have a lumbar pillow for your back.
Dimensions
37″ D x 30″ W x 41.80 H
---
RECLINER NO. 10 –
Flash Furniture Plush Brown Leather Lever Rocker Recliner with Padded Arms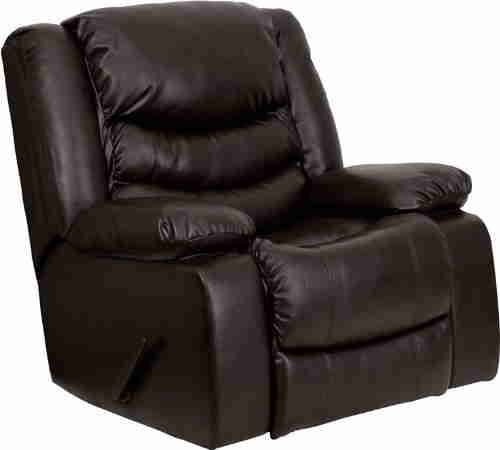 👍Pros
Material & Durability
It is made of brown vinyl material, which cleans up great.

This plush recliner has an extra wide design and incredibly solid construction.
High-level Comfort
In order to provide a very good level of comfort, this chair has substantial padding on its back and armrests.

The chair sits upright when the rockers are on and it is super comfortable to lounge.
Recline & Rock features
This recliner sofa is quite comfortable at all angles and it leans back at different reclining positions.

It reclines all the way back to almost flat position, thanks to a quick pull on the lever which sends you in nap haven in no time.

It has quite gentle back and forth rocking motion that soothes you and your babies.
Cons👎
The seating cushion is a tad firm.

It is not made of leather, but vinyl.
Dimensions
66 L x 40 W x 42 H inches