4 Best Big and Tall Recliners 500 lbs in 2023
Recliners Guide is reader-supported. We may earn a commission through products purchased using links on this page. Learn more about our process here.
Having a large body built is quite tormenting, especially when you try to find a comfortable seat. Either the chair is too small for you, or you will be sitting uncomfortably. Apart from that, some chairs have an exact weight limit that it can hold before it breaks apart. For that, finding a comfortable seat becomes a dilemma for men with a large body built. Fortunately, there are many seating options for bigger and taller men on the market these days. So, if you are more than 6 feet tall and weigh more than 250 pounds, you can still find a comfortable seat that suits your needs. The below-listed recliners will help you find the best heavy duty recliners for big and tall men. It contains things like weight capacity, ease of use, and handy features that can guide you in making your choices according to your needs.
Quick Links
4 Best Big and Tall Recliners 500 lbs in 2023
---
1
Seatcraft Julius – Big & Tall – Home Theater Seating

The recliner is comfy and featured-rich–ideal for prolonged sitting for gamers and disabled. It has an adjustable headrest one that'll support your shoulders too. A footrest is just a little on the shorter side but overall the chair is excellent. It will last long just like other expensive recliners. A wooden-built recliner has lots of storage and it's noiseless. We recommend this for taller folks.
---
2
Lane Stallion Big Man Comfort King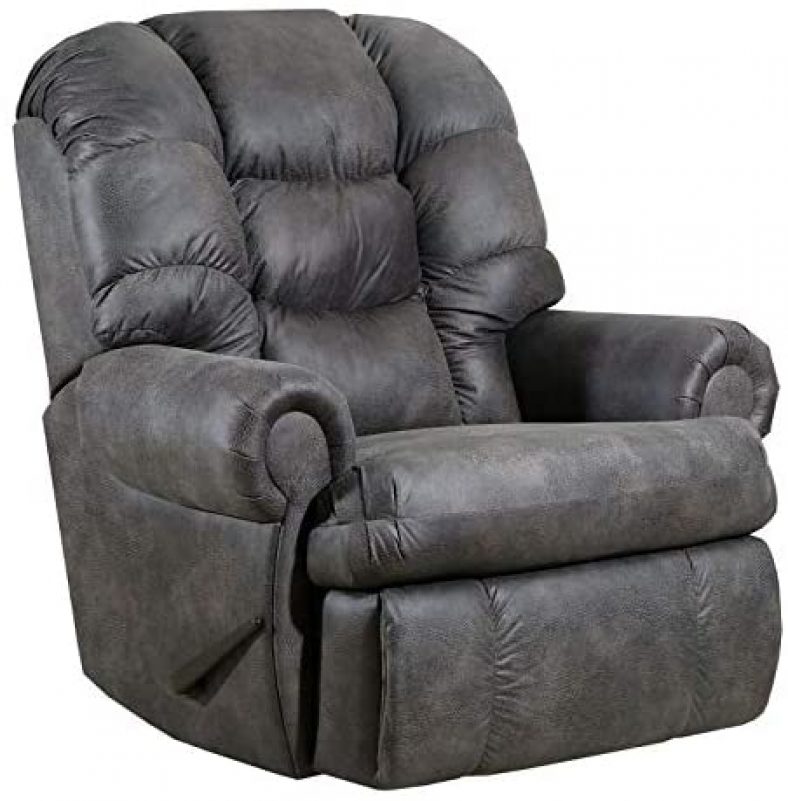 👍Pros
The Lane Stallion Big Man recliner is a huge recliner. It has a width of about 25 inches.
It has a unique but sober charcoal color.
The recliner can support up to 500 lbs weight.
It's a rocker recliner.
The weight of the recliner is about 169 pounds.
It is designed for both heavy individuals as well tall people.
The kidney pillows are extremely cozy.
It is durable and sturdy.
If you recline it fully it will become a king size mattress.
---
3
Sunset Trading Luxe Leather Power Recliner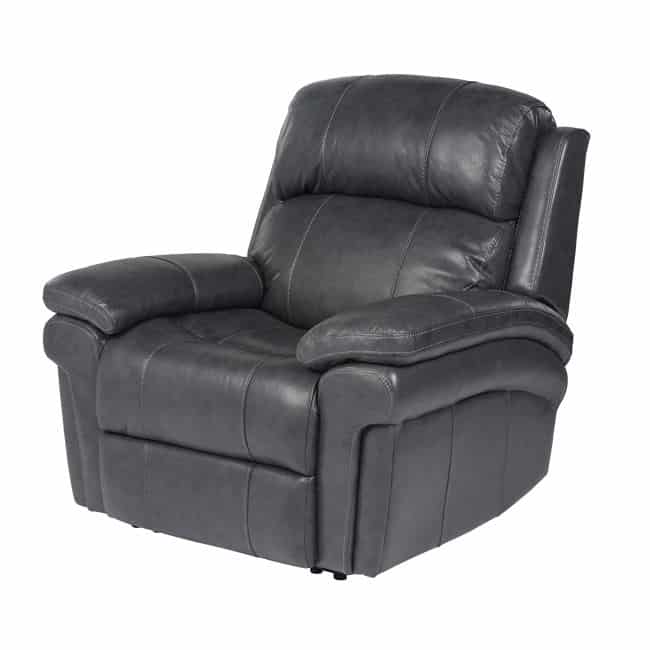 👍Pros
If you want to get the best and more comfortable recliner chair for large and taller people, then this elegant and cozy recliner chair is perfect for you.
It offers handy features such as power reclining buttons, USB charging port, and power headrest.
The headrest automatically moves out and up to give an extra 3 inches back height to support your head and neck.
It provides the highest quality top-grain leather that is weather and stain-resistant. Additionally, the high tension coil wires provide more support and buoyancy. Thus, giving you all the comfort and convenience you ever need.
For durability, this chair uses hardwood for its frame and a steel rail system to withstand against all kinds of weather. Despite its size, this recliner chair is a space saver and a wall hugger giving more useable space in your living room or office.
On top of that, it uses the softest pads and cushions, making it more like a cradle than a chair.
---
4
Lane Home Furnishings Walnut Rocker Recliner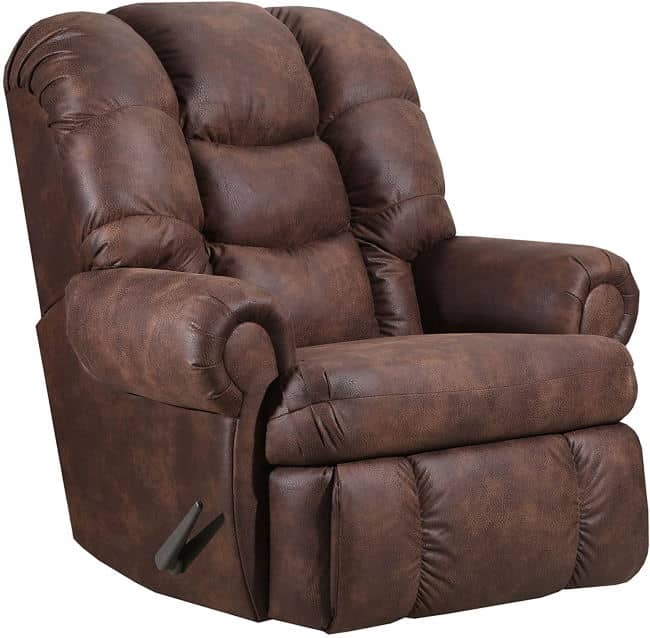 👍Pros
This recliner chair may cost you more money, but it is the best investment for you. It comes from a well-known brand that creates a durable and long-lasting recliner chairs.
It is the best option when it comes to large and tall reclining chairs.
This model offers a hardwood and plywood frame that can stand against the test of time. It includes steel reclining mechanisms that can hold up to 500 pounds of weight.
This recliner comes in a wide seat box and a tall backrest making it ideal for tall and large men. The walnut color fabulously matches all of your home or office furniture.
For more comfort and convenience, this chair comes with a 100% polyester cover showing-off a faux leather look. Another significant feature of this recliner chair is the HR foam and bolt on arms for added strength and durability.
Lastly, this recliner stretches up to 79 inches when you fully recline the chair that matches the length of a king-size mattress.