Top 5 Recliners That Don't Look Like Recliners
These days recliners come in different shapes, styles, and designs. Some look like the traditional one, while other recliners don't look like recliners at all. Today's modern recliners offer a lot more variety and comfort. Modern recliners do not really appear like recliners; most of them look like stylish armchairs or trendy loveseats. So, if you want to have a recliner that doesn't look like a recliner, here are some bright ideas for you.
Legs – Most traditional recliners were square and antiquated stuff that do not show legs. However, modern recliners are trendy and often exhibit a fashionable, well-carved wooden leg. They look like a foundation of a posh and a chic armchair.
Upholstery – Just like legs upholstery is one of the most important aspects when buying a recliner. Old recliners usually use easy-to-clean vinyl faux leather that does not last longer than you expect. Modern recliners, on the other hand, offer a variety of upholstery materials and fabrics to choose from. It ranges from simple cotton fabric to classy and premium leather upholstery.
Body style – If you are traditional and old fashioned, you can still choose the old-style recliners or the classic wingback chairs.  However, if you are the trendy and fashionable type, you may opt for the neo-modern furnishings with exotic styles. Lastly, most modern recliners offer zero clearance or gravity-free lawn chairs.
Top 5 Recliners That Don't Look Like Recliners
---
RECLINER NO. 1 –
Christopher Knight Home Chris Recliner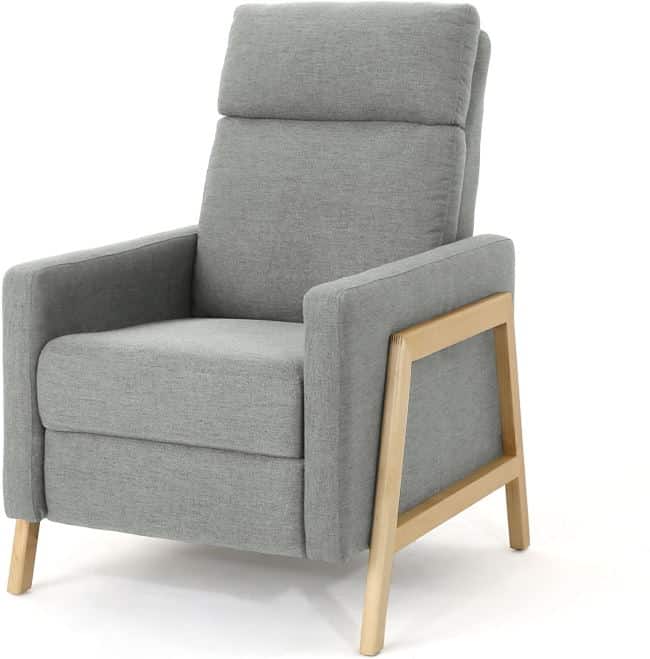 Are you looking for a push-back recliner chair that provides maximum comfort and relaxation in an affordable package? Then, this easy to recline, Mid-century modern recliner is for you. It comes with an easy installation package that even a senior citizen can set it up without assistance. It features a luxurious and extra-padded-cushioned seat back with push-back functionality that gives optimum comfort. The footrest automatically comes out when you recline the chair. The natural gray color of this recliner complements in any home furnishing or decoration. To make this chair last longer, it uses a durable birch wood frame that can hold weight without breaking apart. Additionally, it uses 100% polyester upholstery that is stain resistant making it easy to clean. It comes with fine lines and a smooth finish that no one will ever notice it is a recliner chair. Moreover, this recliner is a space saver; it only takes 58.75 inches when you fully recline the chair.
---
RECLINER NO. 2 –
Christopher Knight Home Chris Recliner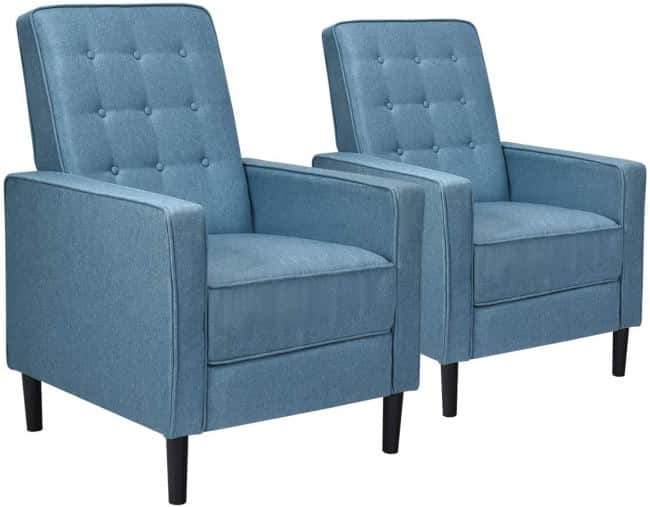 This high leg recliner offers the most when it comes to luxurious seating solution. It comes with an adjustable backrest and footrest. You can push and adjust the backrest from 90 degrees up to 160 degrees to give you the most comfortable position you desire. The adjustable footrest uses a durable metal frame to let you fully stretch your legs for maximum comfort.  It is ideal for napping, relaxing, or just enjoying your favorite tv shows. Additionally, this recliner chair uses high-resilient thick sponge as fillings to give you that extra-soft and relaxing feeling. It features fine linen upholstery that provides a gentle texture and friendly touch. The solid rubber wood legs ensure durability and strength to hold up to 330 pounds of weight. Its clean line and button-tufted design create a chic and elegant look that makes your room fabulous. The vibrant blue color perfectly blends into any home décor and furniture, making it perfect for your living room or office. 
---
RECLINER NO. 3 –
Mid Century Modern Fabric Arm Chair, Beige, Walnut & Rosella Fabric Ottoman, Linen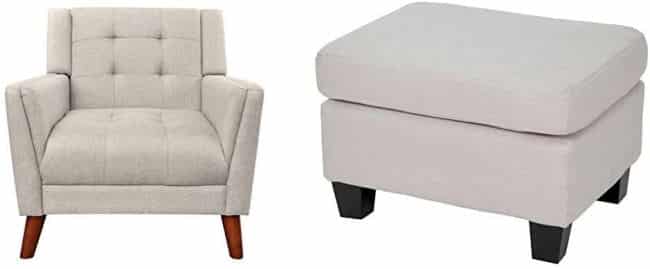 Two fashionable recliners are better than one. This pair of mid-century modern fabric arm chair comes in a beige color that blends well with your home furnishings. This beige fabric recliner and ottoman set is a combination of contemporary style and comfort. The classic style and design will add elegance to any living room or office. This recliner chair uses 100% polyester fabric upholstery, making it easier to clean. It comes with sturdy and durable rubber legs that hold up to 330 pounds of weight. In addition, this armchair provides a plush pillow top to give you more comfort and relaxation. Moreover, the upholstery of the ottoman comes from an easy-to-clean premium polyester fabric. You can use this chair in your living room or office as an extra seat or footrest. Lastly, both the arm chair and the ottoman are easy to assemble. It comes with tools and instructions to make installation a lot easier. 
---
RECLINER NO. 4 –
Mervynn Mid-Century Modern Fabric Recliner, Muted Purple / Dark Espresso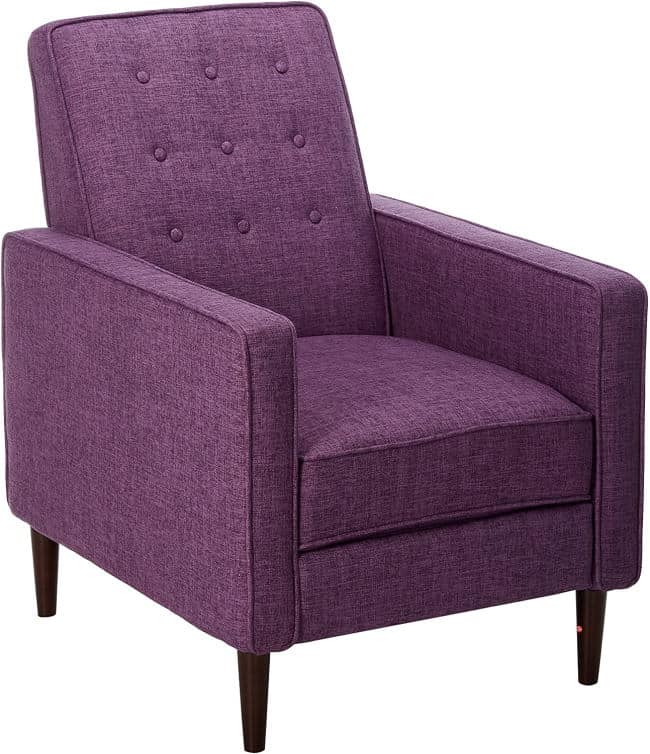 If you prefer a mid-century fabric recliner, then this moody muted purple or dark espresso recliner is for you. This contemporary chair is a versatile piece of furniture that fits into a traditional, modern, or fashionable room or office. The darkly-stained legs provide a pleasant contrast with the muted purple or dark espresso upholstery. The legs come from a durable birch tree that is capable of holding moderate to heavy weights. It provides 100% premium polyester upholstery with clean lines and a smooth finish. Additionally, this recliner provides lightly-tufted back and over-stuffed cushions for optimum comfort and satisfaction. Installation of this piece of furniture is quite easy that even an elderly can assemble it without much assistance. Just like its counterparts, this chair automatically extends its footrest once its back reclines. Lastly, this chair is a space saver; it does not consume much space even if you fully recline it. 
---
RECLINER NO. 5 –
Mid-Century Modern Fabric Recliners, 2-Pcs Set, Grey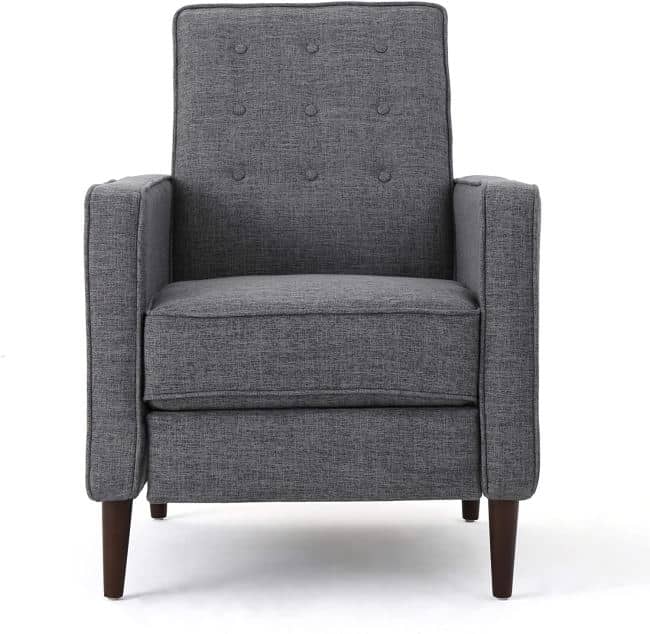 Consider yourself lucky if your preference is mid-century modern fabric recliners. This recliner features grey fabric upholstery that goes well with any furniture and decors in your house. It is perfect for guests and taking a nap or watch your favorite tv show when your guests are gone. This high-leg recliner chair provides a sturdy birch tree wood for its frame to carry at least 330 pounds of weight. The upholstery of this recliner uses premium polyester fabric that resists stains making it easier to clean. Its sophisticated grey color blends perfectly into any furniture or home décor inside the room. It is a perfect company in your living room, bedroom, or in the office. Additionally, this chair provides thick padded cushions to give you the relaxation and comfort you ever need. Lastly, you can assemble and install this recliner chair without a fuss.